The Sage Colleges was honored to host Supreme Court Justice Sonia Sotomayor on the Russell Sage College campus on April 4, 2017, as part of its Centennial celebration. During her visit, Justice Sotomayor candidly answered questions posed by Sage students during a Q & A in Schacht Fine Arts Center; she graciously posed for photos with the students and shook the hands of those in aisle seats as she spoke. More than 1,000 students, faculty, staff, trustees and alumni attended the Q & A, moderated by President Scrimshaw.
Following the Q & A, eight students and a small group of faculty, staff and alumni who had been selected via lottery enjoyed a private lunch with Justice Sotomayor.
Sotomayor was nominated by President Barack Obama and became an associate justice of the U.S. Supreme Court in 2009. "The entire Sage community was thrilled to host such a trailblazing woman of influence," said Sage President Susan C. Scrimshaw, Ph.D., who presented Justice Sotomayor with an Honorary Doctorate of Public Service from Sage at the event. "She has made history by serving on the nation's highest court as the first Hispanic and the third woman."
Student Reactions
Comments have been lightly edited and condensed.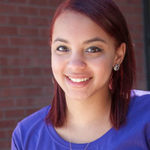 Javeiya Cognetta Anderson SCA '18
Sociology Major, with a concentration in criminal justice
On having lunch with Justice Sotomayor: "My mother did not know classes were going to excuse us, but her initial response was 'I don't care what class you have to skip, you better go!'
I did not pose a personal question to Justice Sotomayor, but I did sit right next to her, so that was awesome. She emphasized the fact that every new scenario we come into is scary, but that does not mean we should prevent ourselves from striving for success in these new environments. I kid you not, the next day I went to open interviews in my hometown, and I got the job I wanted on the spot; I think I have Justice Sotomayor to thank."
[Note: Javeiya's new position is as a direct support professional, working with individuals on the autism spectrum.]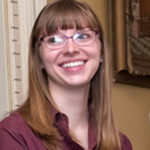 Amanda Griffiths RSC '17
Nutrition Science Major
On having lunch with Justice Sotomayor: "When Justice Sotomayor arrived, she came to each of us individually and asked us about ourselves. When she heard I was a senior at Russell Sage she asked me what my plans were after graduation. I replied that I would be going into the graduate school at Sage and she said this was a smart move.
During lunch she said we could ask her any questions we wanted. Although I did not ask a question directly, I enjoyed listening to the conversation. We talked about a variety of things from her new books that will be coming out to her favorite court cases and experiences.
Other events that I have attended that were somewhat similar would be the WORLD Series events my first year at Sage. At these events, local activists, authors and other women of influence discuss their work and various topics. Although there was never a speaker as famous as Supreme Court Justice Sotomayor, the events were similar because they showed the power of strong women. This complements the lessons learned in not only the WORLD classes but also in my nutrition classes. It is proof that if we as students are confident in ourselves and work diligently we will be able to make a difference in the world just like the WORLD Series speakers and Supreme Court Justice Sonia Sotomayor.
Just another thing I wanted to add: the most notable characteristic/aspect of Justice Sotomayor is her great personality. In Schacht and in a more intimate setting at lunch it was clear that she was enthusiastic about being there, realistic, sincere, caring and personable."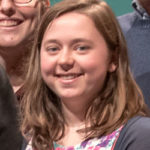 Becca Houle RSC '20
Accelerated Health Science to Physical Therapy major
Question for Justice Sotomayor: "What is your favorite childhood memory?"
Inspiration: "I wanted something that was different and something someone might not have asked. Immediately I thought of that question and I went with it. I loved her response, "Being hugged by my grandmother." I love getting hugs from my grandmother and she allowed me to connect with her. Asking Justice Sotomayor a question was a unique experience which I would not have been able to have if I did not attend Russell Sage College.
When one of my friends from back home found out I was asking Justice Sotomayor about her favorite childhood memory, she said 'That's an interesting one. It can give you a lot of information about a person. I like it.'
I took WORLD 101 in fall 2016 and it was cool to learn about an amazing woman who fit the trait of someone we could have learned about. Justice Sotomayor fit what WORLD stands for."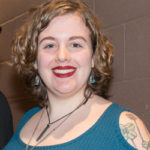 Victoria Marcario RSC '18
Creative Arts in Therapy major with a concentration in Visual Arts.
Question for Justice Sotomayor: "What is the best part of being a Supreme Court Justice?"
Inspiration: "I wanted to ask a question that was relatively open and not too specific because the person who answers the question usually follows up their answer with an anecdote or reasoning as to why they gave the answer they did. And thankfully Justice Sotomayor gave a brilliant answer!
I was on the bus on my way to work when I found out my question was selected, so I sent a screenshot of the email from Justice Sotomayor's office to my friends and family with a caption that read, 'OH WOW GUYS LOOK, AAAHHH I'M GOING TO CRY ON THE BUS!'
I am a member of Spectrum, an LGBTQ+ club here at Sage, and I recently made wire wrapped jewelry to sell at a club event, which we held in order to raise money for our transgender students to legally change their names. The event was a great success, and using my talent to help others was incredibly rewarding. Justice Sotomayor also used her talents and passion to drive herself to success, and she didn't let anything stand in her way. When I was a freshman we read Justice Sotomayor's autobiography, My Beloved World. I remember reading and thinking that her ability to overcome obstacles and stand up for herself was wonderful, and she is just as powerful and eloquent in real life."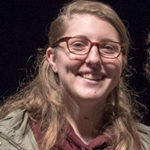 Emily Stadnik RSC '18
Psychology major
Question for Justice Sotomayor: "Reading your memoir, it seemed that there were many seemingly small life events that ended up making a big impact on your life. If you could go back and change anything that happened throughout your life, would you and what would it be?"
Inspiration: "I read Justice Sotomayor's memoir, My Beloved World, as a freshman here at Russell Sage for my WORLD 101 class … I enjoyed it so much. Mostly, the memoir made me feel like I was walking through her life with her, and it was a life so much different than my own. It inspired me to read more non-fiction books, especially those written by or about inspiring people. Her story encouraged me to stay in school at a time when I felt so alone and scared as a college freshman.
As I read her memoir I reflected on my own life and thought about so many things that I wish I could change, or thought what if so and so didn't happen? I wanted to know if she ever felt this urge to go back, or if she thinks that everything that happened led her to where she is today. I was happy and impressed that she went further than just saying "No" she wouldn't change anything. It was really interesting to get her reflections on how she was affected by life events, and why she wouldn't change them. I think that in a way it also helped me to realize that the same can be true for my own life."
Citation for Sonia Sotomayor, J.D.
Presented and Conferred by Susan Scrimshaw, Ph.D.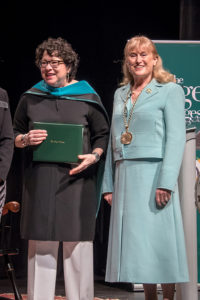 Sonia Sotomayor, as an assistant district attorney in the New York County District Attorney's Office; as a justice on the U.S. District Court, Southern District of New York; a justice on the United States Court of Appeals for the Second Circuit; and today, as an Associate Justice of the Supreme Court of the United States, you have worked on behalf of New Yorkers and all Americans to ensure the law is administered fairly and to uphold the Constitution of the United States.
Your commitment is also evident in your community service. As a prosecutor, and later, as an associate and then a partner at Pavia & Harcourt, you performed significant pro bono work on behalf of the Puerto Rican Legal Defense and Education Fund, which promotes political, economic, social and educational opportunities for Latinos; the New York City Campaign Finance Board, which holds candidates accountable for using public funds responsibly; and the State of New York Mortgage Agency, which promotes home ownership for low- and moderate-income New Yorkers.
In your memoir, the bestselling My Beloved World, you refer to yourself as a "student for life." You write of an innate optimism that helps you persevere through challenges, savor your accomplishments and remain hopeful for the future, concluding, "My highest aspiration for my work on the Court is to grow in understanding beyond what I can foresee, beyond any borders visible from this vantage." This is a mindset that especially resonates with us at The Sage Colleges. Sage has changed in ways perhaps unimaginable at our founding more than 100 years ago, but these changes are now part of a foundation that will help our college continue to transform "beyond any borders visible from this vantage."
You have been an adjunct professor at New York University School of Law, a lecturer at Columbia Law School, a trustee of Princeton University and you are a frequent speaker on college and university campuses. As you candidly share your life and career experiences, you inspire future leaders to cultivate "an optimism stronger than any adversity."
You graduated summa cum laude from Princeton University, where you received the university's highest academic honor, and you earned a law degree from Yale Law School, where you were an editor of the Yale Law Journal. Both Princeton and Yale later honored your professional achievements with honorary degrees, as have several other colleges and universities. It is our privilege to join these colleagues in higher education and myriad other civic, cultural and government organizations that have recognized your example of optimism, lifelong learning and leadership.
Today, on the recommendation of the Board of Trustees and the faculty and by the authority of the Board of Regents of the University of the State of New York, The Sage Colleges confers upon you the degree of Doctor of Public Service, with all the rights and privileges pertaining thereto, in token of which I present you with this diploma, cause the hood of  The Sage Colleges to be placed on your shoulders, and ask that your name be inscribed upon the list of honorary degree recipients.
Media Coverage