ALBANY & TROY, NY – The Sage Colleges is pleased to announce that it was named 39th among U.S. News and World Report's Best Value Schools. The rankings of Best Value Schools are based on the institution's academic quality and the 2015-2016 net cost of attendance for a student who received the average level of need-based financial aid.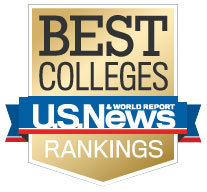 Sage ranked 49th in the Best Colleges for Veterans category. The list recognizes schools that participate in federal initiatives to help veterans and active-duty service members pay for their degrees. Institutions in this category must be certified for the GI Bill; participate in the Yellow Ribbon Program; be in the top half of their U.S. News ranking category; and have 20 or more students who used GI Bill benefits to partially or fully finance their tuition and fees during 2015-2016.
The Sage Colleges was also ranked 85th among U.S. News and World Report's Best Regional Universities North. That is an improvement of 15 spots from Sage's 2016 ranking.  The U.S. News and World Report rankings emphasize academic excellence and schools are ranked on up to 15 measures of academic quality.
"Sage is extremely proud of these designations from U.S. News and World Report, especially as we celebrate our Centennial year," said Susan C. Scrimshaw, President of The Sage Colleges. "The upward trajectory of our rankings is a testament to our hard working faculty, administrators and staff who are committed to making our students individuals of influence and agents of change in their communities through a quality education. The preparedness of our incoming students, our excellent graduation and retention rates, and our stellar academic programs have all contributed to this improvement in our ranking."
View the complete list of U.S. News and World Report rankings.
In addition, in a recent report by the U.S. Department of Education entitled Fulfilling the Promise, Filling the Need Sage was named among 26 schools in the nation that enroll over 40% low income students and have good graduation rates and outcomes for those students which leads to a higher earning potential for those students. The report can be viewed here.
Media Contact: Deanna Cohen, director of external relations, The Sage Colleges
(518) 244-4593 (O), (518) 598-4927 (C), email: [email protected]
ABOUT SAGE
Interdisciplinary academics, combining the professions and the liberal arts, community engagement, international exposure, and artistic and athletic endeavors are among the pillars of the educational experience at The Sage Colleges. Sage enrolls more than 3,000 students in bachelor's, master's and doctoral programs at the undergraduate Russell Sage College for women in Troy, N.Y.; the coeducational undergraduate Sage College of Albany in Albany, N.Y.; and the graduate-level Esteves School of Education, School of Health Sciences and School of Management, with programs on both campuses; adult education through the School of Professional and Continuing Education and via the Internet through Russell Sage Online. The Sage Colleges, founded in 1916, is celebrating its Centennial. For a complete listing of Centennial events visit us at centennial.sage.edu/events.