Leibo Asks "Is a Clash Inevitable?"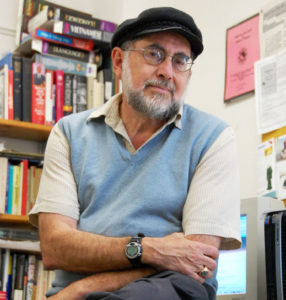 TROY, NY – The Sage Colleges will present the 2017 Sherman David Spector Memorial Lecture, "Is a Clash Inevitable? The United States and China in the 21st Century," on Thursday, Nov. 2, at 7:30 p.m. in Bush Memorial Center on the Russell Sage College campus in Troy.
As President Donald Trump prepares for his first official visit to Asia, which includes meetings with Chinese President Xi Jinping in Beijing,  Steven Leibo, Ph.D., the Sherman David Spector Professor of Modern International History & Politics at The Sage Colleges, will deliver the lecture about the historic relationship between America and China and possibilities for cooperation and competition in the future.
"Easily the most complicated global relationship in the contemporary world is between the United States, long dominant on the world scene, and China, returning to international prominence and influence," said Leibo. "The recent book, Destined for War: Can America and China Escape Thucydides's Trap? by Graham Allison, seems to predict a dramatic clash."
Leibo is an international affairs commentator for WAMC Northeast Public Radio, an associate in research at Harvard University's Fairbank Center for Chinese Studies and a former Fulbright scholar who specializes in the relationship between Asia and the West. He is the author of many books of fiction and nonfiction on China including Beyond the Heavenly Kingdom, a work of historical fiction in part set in Troy in the 1870s that focuses on the Chinese Exclusion Act of 1882, the first time the United States officially closed its immigration doors for racial reasons.
The Nov. 2 lecture will also feature a photographic display of Chinese immigrants building the North American transcontinental railroad.
About The Sage Colleges
Sage enrolls approximately 3,000 students in bachelor's, master's and doctoral programs at the undergraduate Russell Sage College for women in Troy, N.Y.; the coeducational undergraduate Sage College of Albany in Albany, N.Y.; and the graduate-level Esteves School of Education, School of Health Sciences and School of Management, with programs on both campuses and online. For more information about The Sage Colleges, visit sage.edu.