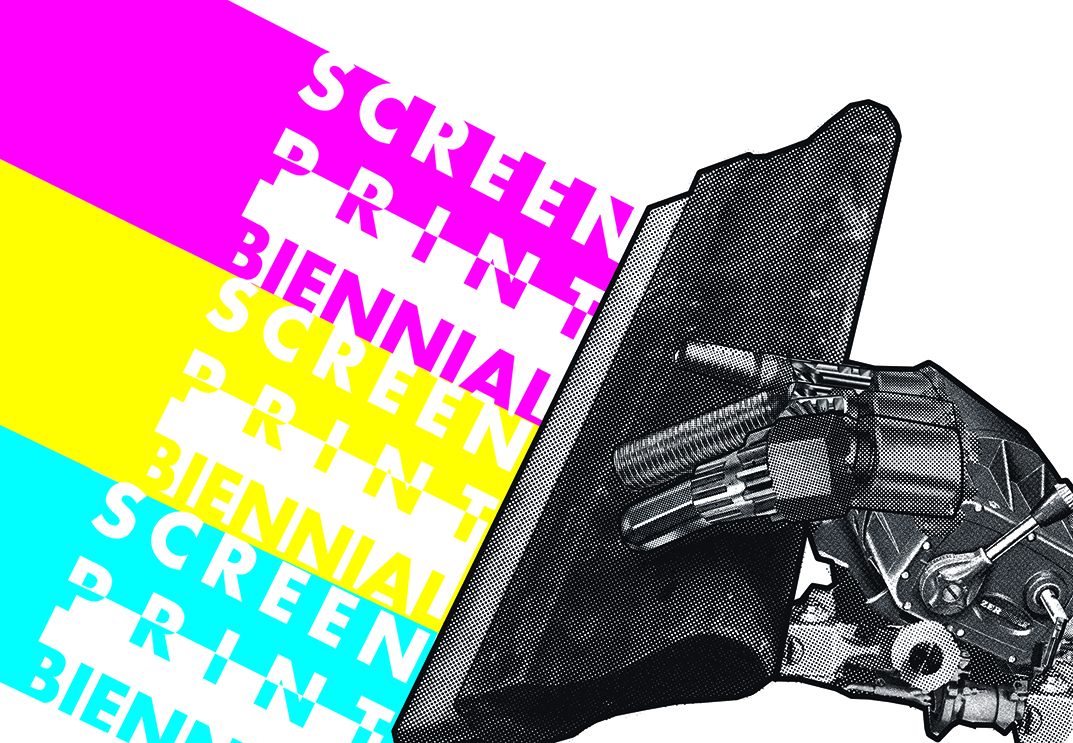 Opalka Gallery at Sage College of Albany is pleased to present the third Screenprint Biennial. The exhibition opens November 1 and runs through December 14.
View list of special events in conjunction with the Screenprint Biennial.
The Screenprint Biennial is organized by printmaker Nathan Meltz with jurors Travis Janssen, Miranda Metcalf and Taryn McMahon. It will showcase screenprint-based art applications from framed, editioned prints to installation, sculpture, video, ephemera and posters by artists who utilize adventurous, relevant and passionate takes on the screenprinted medium. "The work in this year's biennial exhibition continually exceed my expectations in the way so many elements come together to create compelling, important, and timely narratives," said Meltz. "These art pieces also draw upon a depth of expression, and open windows into creative worlds."
Large-scale installations from artists Sheila Goloborotko, Tonja Torgerson and Tatiana Potts, smaller-scale, three-dimensional works by Olivia Fredericks, and experimentation with augmented reality from Mark Hosford, will expand the definition of the word "screenprint." "A combination of politics, punk and perceptual experimentation permeate the art pieces in this year's biennial," said Meltz. "They work as a masterclass in how to put together disparate thoughts, concepts, emotions and stories, all using the powerful artistic glue that is screenprinting."
The exhibition is made possible in part by the International Fine Print Dealers Association and by ongoing support from Chet and Karen Opalka.
The artists of the Screenprint Biennial 2018 are Alejandro Arauz, Tyanna Buie, Myles Calvert, Sara Carter, Stanislaw Cholewa, Amy Cousins, Briar Craig, Dadisi Curtis, Josh Dannin & Todd Irwin, Nadya Eidelstein, Hannah Fray, Olivia Fredricks, Molly Goldwater, Sheila Goloborotko, Emily Harter, Matthew Hopson-Walker, Mark Hosford, Neah Kelly, Amanda Knowles, Michael Krueger, Rachel Livedalen, Josh Macphee, Tatiana Potts, Nick Satinover, Robert Schwieger, Corrie Slawson, Jillian Sokso, Corinne Teed, Tonja Torgerson and Wendi Ruth Valladares.
The exhibition will be accompanied by a full-color catalog with an essay by Nathan Meltz, an introduction by Opalka Director Judie Gilmore and Juror's Statements by Travis Janssen, Miranda Metcalf and Taryn McMahon.

SPECIAL EVENTS
As part of the exhibition, Opalka Gallery presents a related series of special events:
Artist Lecture: Tonja Torgerson
Thursday, November 1, 6:30 p.m.
Torgerson is a Kansas-based artist whose work examines death and the body's impermanence and experiments with methods and siting of print-based art.
Jurors' Tour and Opening Reception:
Friday, November 2, 5-8 p.m.
Tour begins at 5 p.m., followed by reception from 6-8 p.m.
Screenprint Symposium:
Saturday, November 3, 8:30 a.m.-1:30 p.m.
$20 in advance, $25 day of event, $10 for students. Visit sage.edu/screenprint for full schedule and to register.
Open Portfolio:
Saturday, November 3, 12:30-1:30 p.m.
Printmakers are invited to display their work in the Art + Design Building. Visitors are invited to browse. Work will be available for purchase. Printmakers interested in a table, email [email protected].
Film & Discussion: Just Like Being There:
Thursday, November 8, 6:30 p.m.
Documentary about the American gig poster community followed by a Q&A with biennial founder Nathan Meltz and graphic designer Philip Pascuzzo.
Steamroller Print Day:
Saturday, November 10, 10 a.m.- 5 p.m.
Ink and print oversized, hand-carved woodblocks under the drum of a two-ton steamroller. Co-hosted by Art+Design at Sage College of Albany. Generously sponsored by Mohawk Paper.
Ellen Sinopoli Dance Company Performance:
Friday, December 7, 6:30 p.m.