ALBANY, NY – Art students from area high schools and host Sage College of Albany will use a 5-ton steamroller to create art on Saturday, April 8, 2017 from 10 a.m. to 5 p.m. in the Armory at Sage.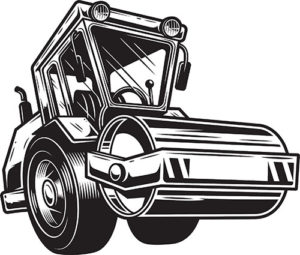 Sage's Department of Art + Design is holding Steamroller Print Day as part of the new Art + Extended Media program, to apply what students learn about printmaking – but on a much larger scale. Sage students in 2D Design and Relief Printmaking classes, as well as seniors in the Fine Arts and Photography programs, are participating in the event.
The department also reached out to area high schools to participate. Art classes from the Academy of Holy Names, Bethlehem, Berne-Knox-Westerlo, Columbia, Mohonasen and Niskayuna high schools were provided 4 x 8 foot sheets of MDF (medium density fiberboard) to design and carve in advance.
Nearly 30 prints will be produced throughout the day and hung on lines to dry. High schools will receive their large-scale print, and Sage prints will be exhibited on the Albany campus. The event purpose is twofold: hands-on experience with large-scale art process for Sage art students, and an opportunity to engage art-interested high school students and art teachers in Art + Design at Sage– in particular, introducing them to the new Art + Extended Media program.
In the fall 2016, the Department of Art + Design created the new BFA in Art + Extended Media to complement the BFA in Graphic + Media Design and BFA in Interior + Spatial Design. The new innovative degree program prepares students to be artists in the 21st century by focusing on proficiency in diverse and new media, interdisciplinary research, critical thinking, community engagement, and professional practice. Students engage with the professional world outside the studio through internships, class-led public projects, and exhibitions. Art + Extended Media students will become active members of the contemporary art world through their individualized studio practice.
Sage College of Albany is an innovative, creative and close-knit coeducational campus of The Sage Colleges offering bachelor's degrees and several accelerate-to-graduate-degree options. With a focus on interdisciplinary programs, practical experience through a theory-to-practice curriculum and competitive internships, and a unique Innovation Thinking (i.Think) series, students are exceptionally well prepared for the careers of today – and of tomorrow.
PHOTO OPP DETAILS:
DATE: Saturday, April 8, 2017
TIME:  10 a.m. – 5 p.m. Prints running throughout the day
PLACE: Armory at Sage, 130 New Scotland Ave. Albany
CONTACT: Shannon Gorman, 244-3142 (o), 321-5777 (c)