ALBANY, NY –The Little Gallery on the Sage College of Albany campus is pleased to host an opening reception for One Ground Beetle: A Year in Haiku, featuring poems by Melody Davis and prints by Harold Lohner on Friday, September 2, 2016 from 6 to 8 p.m.
Melody Davis, Ph.D., associate professor of art history at The Sage Colleges, is the author of two books of poetry and the recently-published Women's Views: The Narrative Stereograph in Nineteenth-Century America.
Harold Lohner, emeritus professor of art, is a printmaker and font designer.
Melody Davis will present a reading at 6 p.m.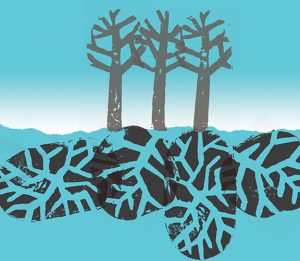 The reception is free and open to the public. The exhibition runs through October 15, 2016. The Little Gallery is located in Rathbone Hall on the Sage College of Albany campus located at 140 New Scotland Avenue.
For a full listing of upcoming events at The Sage Colleges visit sage.edu/arts-lectures/.
Media Contact: Deanna Cohen, director of external relations, The Sage Colleges, (518) 244-4593 (O), (518) 598-4927 (C), email: [email protected]
ABOUT SAGE
Interdisciplinary academics, combining the professions and the liberal arts, community engagement, international exposure, and artistic and athletic endeavors are among the pillars of the educational experience at The Sage Colleges. Sage enrolls more than 3,000 students in bachelor's, master's and doctoral programs at the undergraduate Russell Sage College for women in Troy, N.Y.; the coeducational undergraduate Sage College of Albany in Albany, N.Y.; and the graduate-level Esteves School of Education, School of Health Sciences and School of Management, with programs on both campuses; adult education through the School of Professional and Continuing Education and via the Internet through Russell Sage Online.  The Sage Colleges, founded in 1916, is celebrating its Centennial. For a complete listing of Centennial events visit us at centennial.sage.edu/events/.