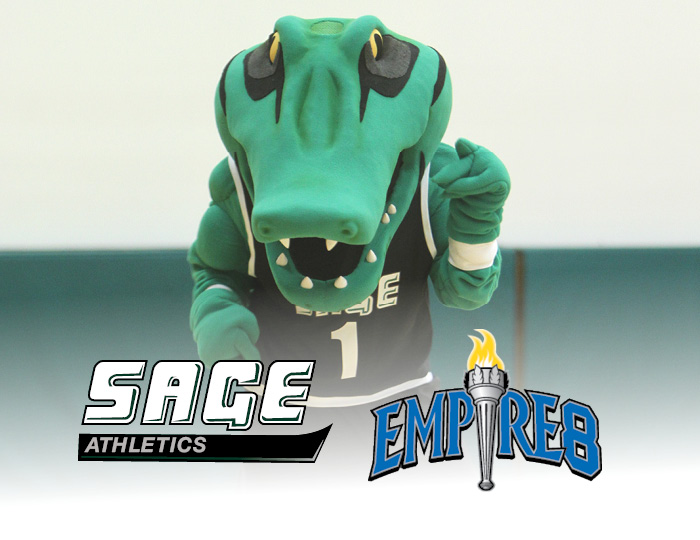 Utica, NY–The Sage Colleges is pleased to announce that, after an extensive selection process, its athletics program has been accepted into the Empire 8 as the conference's newest member. The Sage Colleges' move to the Empire 8 will coincide with the start of the 2017-2018 academic year, as the Gators will become the ninth full-member.
"Sage is an excellent academic institution with strong athletic programs and leadership," said Empire 8 Commissioner Chuck Mitrano. "They are a terrific fit for the Empire 8 and we are excited to welcome them to the Empire 8 family."
"The Presidents of the Colleges within the Empire 8 Athletic Conference voted unanimously to extend this invitation to the Sage Colleges," remarked Dr. Margaret L. Drugovich, President of Hartwick College and Chair of the Empire 8 President's Council. She added, "Our confidence is well earned – their athletic director Danielle Drews and President Susan Scrimshaw impressed us with their commitment to membership in the Empire 8 as well as their commitment to the transformative experience of Division III athletics.  My presidential colleagues and I welcome them, their scholar-athletes, and their Sage colleagues to the Empire 8 Athletic Conference."
"Sage is excited to be joining the elite Empire 8 Athletic Conference," exclaimed President Susan Scrimshaw. "We are so proud of our athletic department, its staff and all of our Sage Gator athletes. Sage's athletic program has now grown to 15 Division III teams and this move is a natural fit that will continue to propel our athletic department forward and enable our teams and student-athletes to continue to thrive."
"We are honored by the invitation from the conference presidents to join the Empire 8, one of the most well-respected conferences in Division III" noted Sage's Director of Athletics and Recreation, Dani Drews. She added, "Sage embraces the new challenges and opportunities this new membership provides and are grateful to Commissioner Chuck Mitrano and the entire Empire 8 conference for their consideration and support."
Drews also continued, "It is a bittersweet moment for us to be leaving the Skyline Conference after this year.  Commissioner Linda Bruno and the Skyline members have done so much for Sage, helping our department grow from five teams to 15 varsity programs in just a few short years.  We are indebted to them for everything they have done for Sage and our Gators."
About the Empire 8
The Empire 8 has been serving its membership in various forms over the past 40 years. The Empire 8 has established itself as an innovative and progressive athletic conference that is considered a national leader in sportsmanship education and policy. Empire 8 is dedicated to enhancing the experiences of its student-athletes and celebrating the academic and athletic achievements of its young men, women and member institutions.
In 1964, Alfred University, Clarkson University, Hobart College, Rensselaer, St. Lawrence University, and Union College joined together to form the Independent College Athletic Conference (ICAC). Its primary purpose was aimed at schedule making for a few major sports. Union soon dropped out to be replaced later by Ithaca College and RIT. The conference remained at seven institutions for 20 years. Hobart and William Smith merged as one member and Hartwick College entered the conference in 1991.
In 1991, the ICAC reorganized and the Empire Athletic Association (EAA) emerged as a quality conference composed of institutions with top academic and athletic reputations.
Since 1993, the EAA served as a single sport conference for Men and Women's Basketball. Soon after the departure of Hobart/William Smith, RPI, and St. Lawrence, Elmira College, Nazareth College, and Utica College joined the EAA to maintain six members and a cohesive basketball alignment. In 1998, Alfred University and St. John Fisher became the latest of the eight official members.
In the Fall of 1999, the EAA officially became the Empire 8 which evolved into a comprehensive conference for 13 sports for men and women. The conference also employed its first full-time Commissioner. In August 2001, the conference hired its second and current Commissioner, Chuck Mitrano. In July of 2002, the conference hired its first part-time SID, Timothy Farrell. On August 7, 2002 the Presidents Council officially became part of the governance structure and a new revised Constitution was adopted. In March 2006, the Empire 8 announced that Stevens Institute of Technology would become a full member of the conference in Fall 2007.
The members of the Empire 8 are committed first and foremost to the pursuit of academic excellence and aspire to be regarded as an outstanding NCAA Division III conference. The membership seeks to distinguish itself among its peer group for its quality institutions, spirited and sportsmanlike competition, outstanding services and highly ethical policies and practices. Its commitment to serve the educational needs of its student-athletes is the hallmark of the Empire 8.
The Empire 8 evolved from the Independent College Athletic Conference and Empire Athletic Association. Ithaca joined the ICAC in 1971 along with current Liberty League members Clarkson, Hobart, Rensselaer Polytechnic Institute, RIT, and St. Lawrence.
The Empire 8 sponsors championships in 23 sports- 12 for women and 11 for men. The Empire 8 champions receive automatic bids to NCAA Division III Championships in 14 different sports
About The Sage Colleges
The 3,000 students at The Sage Colleges pursue bachelor's, master's and doctoral degrees on campuses in Troy and Albany, NY, as well as online.
Programs are available at the coeducational Sage College of Albany in New York's capital city; the historic Russell Sage College for women in downtown Troy; the graduate-level Esteves School of Education, School of Health Sciences, and the School of Management, which operate on both campuses; and online through Russell Sage Online.
Students participate in a learning environment that offers varied interdisciplinary academics, opportunities for community engagement, options to study abroad, and a range of artistic and athletic endeavors.
Schools and Colleges
Russell Sage College
Comprehensive four-year college for women offering bachelor's degrees in the liberal arts and sciences as well as selected professional fields. Russell Sage bachelor's degrees typically lead to further study and more than 50% of graduates each year pursue advanced degrees. This College is integrally connected to the Sage Graduate School through accelerated bachelor's/master's programs.
Sage College of Albany
Coeducational college of applied studies, offering bachelor's degrees. Sage College of Albany prepares students for direct entry into the professional workplace with the future option of graduate study.
Sage Graduate Schools
The Esteves School of Education, School of Health Sciences and School of Management are coeducational environments offering advanced study for professional practice and leadership through master's degrees and post-master's certification in a wide variety of applied disciplines. They serve both recent college graduates, including undergraduate students in accelerated bachelor's/master's programs, and individuals already at work in their professions.
About The Sage Colleges' Athletics
The Sage Colleges currently sponsors 15 varsity sports – 8 for women and 7 for men.
The women's sports are: basketball, cross country, lacrosse, soccer, softball, tennis, volleyball, and outdoor track and field.
The men's sports include: basketball, cross country, golf, soccer, tennis, outdoor track and field and volleyball.
Sage Athletic History
The Sage Colleges Athletic Department has undergone tremendous expansion since 2007 when the Russell Sage Gators began adding Athletic programs to the Sage College of Albany campus.   In the last nine years, the Sage Gators have added 10 varsity programs to reach their current number of 15 (eight for women, seven for men).   During that time, four different programs have earned NCAA berths as Skyline Conference champion automatic qualifiers.   Last year, Sage had their highest finish in the Skyline Commissioner's Cup, third place, after winning a share of four regular-season titles and their first men's soccer tournament crown.
Off the court, Sage student-athletes have posted combined grade point averages over 3.0 in the last nine semesters and earned numerous academic citations including eight CoSIDA Academic All American honors.  Not content with being outstanding student-athletes, the Gators give back to their communities in a number of ways, including annual support for the Ronald McDonald House, Toys for Tots, School Supply Drive and their very own Chompers' Reading Program.
Fast Facts about Sage
Founded: 1916
Location: Troy and Albany, N.Y.
Enrollment: Approximately 3,000
President: Dr. Susan Scrimshaw
Director of Athletics and Recreation: Dani Drews
Nickname: Gators
Colors: Sage Green and White
Athletics Website: www.sagegators.com
Media Contact: Ann King, Director of Athletic Communications
The Sage Colleges
518-244-4767