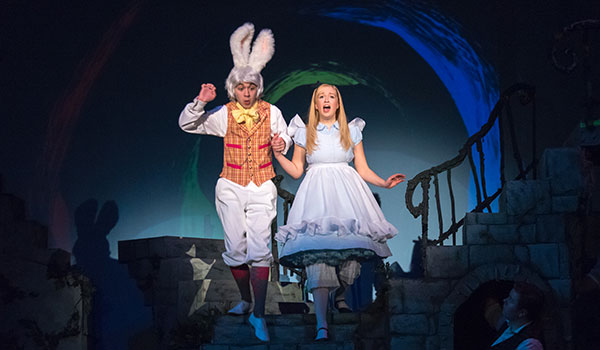 Troy, NY – The Theatre Institute at Sage continues the 2016-2017 season with Alice in Wonderland, based on the Lewis Carroll's 151 year old children's classic Alice's Adventure in Wonderland. Book and lyrics by Jim Eiler with music by Jim Eiler and Jeanne Bargy.
The story of Alice in Wonderland is one of the most frequently quoted and well-known children's stories of all time. It is about an unflappable young heroine who takes a tumble down an enchanted rabbit hole to an off-kilter world of mock turtles, dancing flora, punctual rabbits, and mad tea parties. Playing cards hold court and nothing is as it seems in this land where whimsy and wordplay are the order of the day.
Show Dates and Times
Fri. Dec. 2, 7:30 pm
Sat. Dec. 3, 7:30 pm
Sun. Dec. 4, 3:00 pm
Fri. Dec. 9, 7:30 pm
Sat. Dec. 10, 7:30 pm
Sun. Dec. 11, 2:00 pm (Sign Language Interpreted)
Matinee Performances Weekdays (call to inquire about seating availability)
Wednesday – Friday at 10am, November 30 – December 15
Tuesday performances: Dec. 6 at 10 am, Dec. 13 at 10:30 am
Tickets
Available online: tickets.sage.edu
Adults: $15
Seniors and Students: $12
Address
Schacht Fine Arts Center Theatre, 5 Division Street, Troy, NY 12180
Established in February of 2011, the Theatre Institute at Sage is dedicated to providing quality live theatre and arts-in-education programming to Capital Region youth, educators and residents. The Institute also provides opportunities for Russell Sage students as performers, technicians and teachers. Programs include educational support services for Sage productions (such as in-class preparations, teacher dress rehearsals and study guides), a Saturday theatre arts school, camps during school breaks, and several theatre camps during the summer for children ages 5-18. Programs take place on the Russell Sage College campus in Troy, NY. For more information, call the Theatre Institute at Sage box office at 518-244-2248 or purchase tickets on-line at tickets.sage.edu.