The Sage Colleges is pleased to announce that the William Randolph Hearst Foundation has donated a $100,000 grant for the Nursing and Health Sciences Simulation Lab expansion located on the Russell Sage Campus in Troy.
The monies will be utilized for the addition of a new simulation lab and control room where nursing faculty monitor and record nursing students and critique their performance in a safe environment. This facility currently houses classrooms, skills labs and simulation space for Sage nursing students, and other Health Science majors including Physical Therapy, Occupational Therapy, Nutrition Therapy and STEM Programs.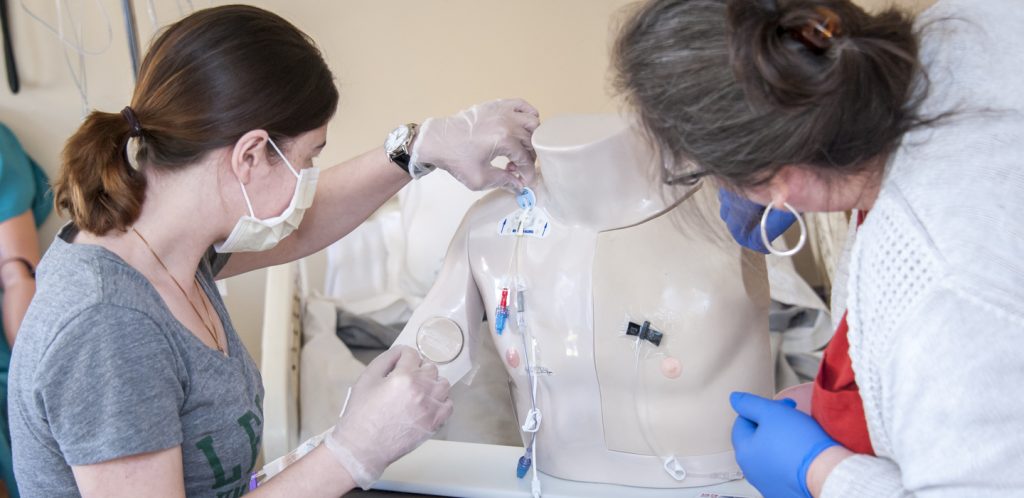 "The William Randolph Hearst Foundation is proud to support The Sage Colleges' Nursing Program. As the only Nursing Program in the Capital Region offering undergraduate, graduate and doctoral nursing degrees, Sage is addressing the critical nursing shortage facing our region, state, and country. This high fidelity simulation center will further enhance the education of Sage's nursing students," said Alison Yu, program officer with the Hearst Foundation.
"This generous donation from the William Randolph Hearst Foundation will allow more students, including those in early level classes, to utilize the lab and will also help them when they begin rotations in a hospital or other clinical settings," added Sage President Susan C. Scrimshaw, Ph.D. "The impact on student learning and experiences will be significant and we thank the Foundation for making this state-of-the-art project possible."
According to Nursing Chair Glenda B. Kelman, Ph.D., ACNP-BC, the expansion, which will begin in the next year, will create "virtual patient rooms" for education, training and validation of clinical skills, decision making and communication using critical thinking to promote quality patient care outcomes. There will also be increased opportunities to enhance interprofessional communication and team building.
The Sage Colleges has a strong tradition of excellence in nursing education. Currently Sage Nursing is celebrating 95 years of nursing and has over 600 students enrolled in undergraduate, graduate and doctoral nursing programs, with 1,500 students enrolled in Health Sciences and STEM programs.
The grant also supports The Sage College's Centennial Campaign, honoring the 100th anniversary of the founding of Russell Sage College in 1916, and provides funding to Sage to help realize its vision for the future.