Commencement 2018 Photos
Any photos from Commencement and related events are available on Sage's Flickr page.
Photographs of individual graduates are available for purchase from Genesee Photo's website. Students should have also received information directly from the vendor via email.
The Sage Colleges will conferee degrees and certificates at our 102nd Commencement on Saturday, May 11, 2019 at 10:00 a.m. All undergraduate and graduate students who completed their requirements in August and December of 2018 and May of 2019 are invited to participate.
Sage Commencement & Rehearsal Information 2018

Graduates Participating in Commencement Must Also Attend The Sage Colleges Mandatory Commencement Rehearsal on Friday, May 10, 2019 at 5:15 p.m.  Graduates (only) should arrive to Rensselaer's Houston Field House (1900 Peoples Avenue in Troy) by 5:10 p.m. where they will receive important information about the Commencement Ceremony and Procession.
Commencement Webcast
Watch the Commencement Ceremony live via streaming. The webcast will be begin at 10 am.
Commencement Day Information
The Sage Colleges Commencement Ceremony will take place at the Houston Field House on the RPI Campus located at 1900 Peoples Avenue, Troy, NY,12180.
The Field House will open at 8:30 a.m., at which time guests will be permitted to choose their seats. Someone must remain with your seats and personal belongings at all times.
Please note: Seats cannot be saved after 9:15 a.m. 
Links to detailed information
Please contact the Student Life Office at 518-244-2207 or [email protected] with any questions.
Notices to Graduates
Graduates will begin to receive notices from the Student Life Office at the end of February with detailed information.
Information for Graduates
ATTENTION GRADUATES: 
For Rehearsal: Walk into the Field House Main Entrance, find your seat and wait for further instructions
Morning of Commencement: Line up will start outside of the Field House. Students will be provided their line up location in advance and will need to report to their designated side of the building to find their line.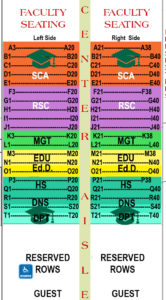 Parking at the Field House
Parking at the Field House is limited and we expect a large attendance. Arrangements have been made for guests to use the parking lot and shuttle service to and from Troy High School &  Middle School.
Please allow extra time for parking on Commencement day
IT IS HIGHLY RECOMMENDED FOR THOSE ARRIVING AFTER 8:45 a.m. TO USE THE TROY HIGH SCHOOL PARKING LOT AND RIDE THE SHUTTLE TO THE RPI FIELD HOUSE.
The shuttle will run continuously from 8:30 a.m. to end of ceremony.
Parking Locations
On the street (please be mindful of the signs)
RPI Field House Parking Lot- 1900 Peoples Avenue, Troy, NY, 12180.
Troy High School/Middle School- off of Burdett Ave/1976 Burdett Ave
Parking immediately around the RPI Field House is very limited. We have made arrangements for parking and shuttle service from Troy High School and Middle School.
Note that the Field House has a limited number of spaces available in a parking lot reserved for those with disability plates or placards. CARS MUST HAVE A PERMIT OR PLACARD TO BE ALLOWED INTO THIS LOT.  If this lot is full, guests will be permitted drive up to the entrance to drop off individuals with disabilities.
Past Webcasts
Video from past Commencement ceremonies is available at our Webcast Archive.