Commencement Photos
Photographs of individual graduates are available for purchase from Genesee Photo's website.
Additional photos from Commencement and related events are available on Sage's Flickr page.
Commencement 2019
The Sage Colleges conferred degrees and certificates at our 102nd Commencement on Saturday, May 11, 2019 at 10:00 a.m. All undergraduate and graduate students who completed their requirements in August and December of 2018 and May of 2019 were invited to participate.
Graduates Participating in Commencement Must Also Attend The Sage Colleges Mandatory Commencement Rehearsal on Friday, May 10, 2019 at 5:15 p.m.  Graduates (only) should arrive to Rensselaer's Houston Field House (1900 Peoples Avenue in Troy) by 5:10 p.m. where they will receive important information about the Commencement Ceremony and Procession.
ALL CANDIDATES MUST HAVE CONFIRMED THEIR PARTICIPATION IN THE COMMENCEMENT CEREMONY BY FRIDAY, APRIL 5 IN ORDER TO BE PLACED IN THE LINE-UP.
Commencement Day Information
The Sage Colleges Commencement Ceremony takes place at the Houston Field House on the RPI Campus located at 1900 Peoples Avenue, Troy, NY 12180.
The Field House opens for commencement at 8:30 a.m., at which time guests will be permitted to choose their seats. Someone must remain with your seats and personal belongings at all times.
Please note: Seats cannot be saved after 9:15 a.m. and no more than 6 total seats can be saved for one party.
Links to detailed information
Please contact the Student Life Office at 518-244-2207 or [email protected] with any questions.
Notices to Graduates
The Student Life office has sent out emails beginning in early March to provide graduates with specific instructions. We primarily use the graduates' Sage email accounts, but when provided, we sent messages to students' personal email accounts as well.  In addition, general information that was distributed via email will also be posted on this page.  Contact the Office of Student Life at 518-244-2207 or [email protected] with any questions.
Students were sent personalized email messages on May 8th with their assigned seat for the Commencement Rehearsal and Ceremony.  Click on the Houston Field House floor plan image to see where seats are located.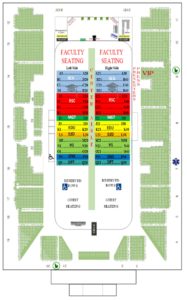 Archived Webcasts
Video from past Commencement ceremonies is available at our Webcast Archive.