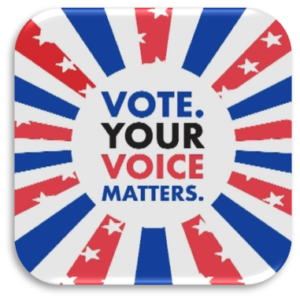 The Sage Colleges actively encourages student voter registration and civic engagement. Registering and voting are the actions of an involved and informed citizenry.
For information on voter registration deadlines go to:  Vote.org/
In order to register to vote, an individual must be a U.S. citizen and at least 18 years old at the time of the next election.
Many college students may not be aware that they may register to vote in one of two places: in their college communities, where they will use a voting machine; or in their hometown, typically via absentee ballot. Any member of the Sage community who wishes to register and vote in New York State may obtain a form for this purpose online.
For information on NY voter registration deadlines visit: New York State Board of Elections website.
Students completing the form and wish to vote in their college community are reminded to list their residence hall as their residence address. Do not list a post office box as a campus residence address.
Students who reside off campus must provide street addresses as their residential address.
This may mean that their polling place will be different from the on-campus site.
Registered voters will be informed via postcard (US mail) of the location of their polling place before election day, so do not forget to check your mailbox!
Check voter registration status: www.usa.gov/confirm-voter-registration
[Voter and election information is provided to students per mandate of the re-authorization of the Higher Education Act.]
Events
Join us for Constitution Day with Stephanie Batcheller, J.D
Bush Memorial Center, Troy campus
Wednesday, September 18, 1:00 pm–2:00 pm
Stephanie Batcheller, J.D. is an attorney at the New York State Defenders Association.