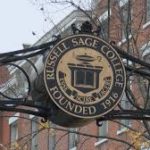 Welcome NEW Students! The mission of the Russell Sage College New Student Orientation program is to engage first year & transfer students in meaningful experiences that allow you to successfully transition and become active members of the College community. We are anxiously awaiting your arrival at Sage!
Russell Sage College will offer New Student Orientation in TWO PARTS this summer.  Our online summer orientation course will allow students and families to work at their own pace in July and August to gather important information.  In addition, we will host two live virtual events: Thursday, July 16 for First Year Students and Wednesday, July 22 for Transfers.  We are planning for Fall Welcome Orientation to take place in person for all students Saturday, August 22 and Sunday, August 23. (Note that this is a change from the originally scheduled date to a recent change in the fall 2020 academic calendar.)  Check out the orientation website for more details.

To help you stay on track this summer, we have created a comprehensive New Student Checklist that you can download and print.

Contact the Office of Student Life at [email protected] or by phone to 518-292-1753 (Albany campus) or 518-244-2207(Troy campus) with any questions. We look forward to getting to know you!