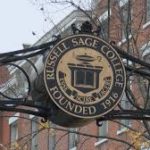 Welcome NEW Students! The mission of the Russell Sage College New Student Orientation program is to engage first year & transfer students in meaningful experiences that allow them to successfully transition and become active members of the College community. During orientation you will meet your new classmates and talk with the student Orientation Leaders.
Please HOLD all of the July 2020 & August 2020 dates listed below (by student type).
New students attend TWO events by assignment

summer orientation day (July)
fall welcome program (August)

New students will receive an email invitation to register for specific events
1. SUMMER 2020
(1 day)
New Students
*By invitation; RSVP required.
Campus Location

July 14, 2020
8:30 AM – 5:00 PM
First Year Students
pending
July 16, 2020
8:30 AM – 5:00 PM

First Year Students
pending
July 17, 2020
8:30 AM – 5:00 PM

First Year Students
pending
July 22, 2020
8:30 AM – 5:00 PM

Transfer Students
pending
July 24, 2020
8:30 AM – 5:00 PM

Transfer Students
pending
New Resident Students move in to campus on Sunday, August 23.
2. FALL 2020
(3 days)
New Students
Campus Location
by Major Program
August 24 – 26
First Year & Transfer
Albany
August 24 – 26
First Year & Transfer
Troy
---
Decisions, Decisions, Decisions…
Your time here at Sage is precious; use it wisely. Be proactive with regard to your needs and dreams. Consider what you want to be a part of while you are here. Will you be active in athletics? How about community service? Do you want to be in an honors program? Are you looking for research opportunities? Does participation in student government interest you? It is up to you to ask questions, seek out information, and take full advantage of the programs, opportunities, presentations and more that will be offered during Orientation and beyond.
New Student Checklist and Your Next Steps
The RSC New Student Next Steps Checklist provides students with the information and links they need to complete important tasks prior to the start of the semester.  We will post the updated checklist for the new students admitted for fall 2020 in May.  In addition, students will receive monthly emails from the Deans of Students to remind you of the tasks you need to complete each month starting in May.
Transportation
Parking Permits
Parking Permits are available for all students wishing to park in the campus parking lots.  Permits for the 2020-2021 academic year will be available after August 15.  Students must register online in advance to obtain a permit at: https://www.sage.edu/about/public-safety/parking-at-sage/ 
Photo ID
Students can submit your own photo online for your Student ID. Your ID will be printed and given to you at check-in at New Student Orientation on August 23/24, or students can pick them up directly from College Services during the first week of classes.
Questions?
Any questions or concerns may be directed to the Office of Student Life at [email protected] or by phone to 518-292-1753 (Albany campus) or 518-244-2207(Troy campus). We look forward to getting to know you!