Bridge of Empowerment
This year's Bridge has been postponed until February 2020! Please check back soon for more information about the rescheduled event!
The Bridge of Empowerment is an interactive production created by the The Office of Residence Life, Diversity and Inclusion, and other dedicated staff and students. The Bridge aims to provide participants with the opportunity to explore the dynamics of power and privilege through experiencing positive representations of marginalized groups.. Participants are guided through a series of scenes that aim to educate and challenge them to think critically about issues of equity and empowerment. At the end of the tour, participants are provided with the opportunity to continue their exploration of the topics with campus and community organizations.
This year's Bridge of Empowerment will be held in February in the Armory on the Sage College of Albany Campus. Tours will take place every 15 minutes from 5:00 PM – 8:00 PM- RSVPs are encouraged for groups of more than five participants.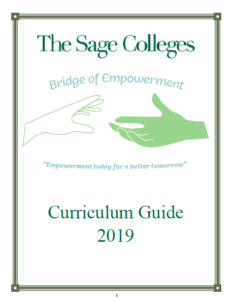 Click the image above to access the 2019 Curriculum Guide for more information on how you can incorporate this program into your classroom!
History of Bridge of Empowerment

Bridge of Empowerment is a re-imagining of a popular event held on campuses across the country called the Tunnel of Oppression. The Tunnel of Oppression is a social justice initiative developed at Western Illinois University that occurs on campuses nationwide. The initial efforts to develop the tunnel stemmed from a relatively homogeneous campus searching for a way to represent the realities of oppression into a full sensory experience. The creators of the tunnel wanted to give participants the opportunity to see, touch, hear and feel the realities of oppression as a stepping stone towards creating diversity awareness.
Sage's version of this experience seeks to examine the issues commonly explored in Tunnels through the lens of positive psychology by focusing on positive representations of marginalized groups flourishing. Where Tunnels focus on the reality of oppression in the lives of marginalized groups, the Bridge acknowledges the positive lived experiences of those persons and the importance of representing (and celebrating) them. The 2019 Bridge of Empowerment consists of several scenes addressing the following topics:
Healthy Relationships
LGBTQI Pride
Mental Wellness
Sexual Empowerment / Consensual Sex
Feminism / Women's Empowerment
Interculture and Interfaith Relations
Ability and Access
Transgender Identity
Climate Activism
Body Positivity
Natural Hair
Bridge of Empowerment is an event that invites participation from ALL people. If you need information regarding accessibility or have questions regarding access, please email The Office of Residence Life at [email protected] or call 518-244-2008. If you are in need of a translator, please also contact our office prior to your anticipated date of participation.