Living at The Albany Campus Residence Hall
Residence halls are more than just places to live! Sage believes that residence halls should be  active living/learning centers that compliment the academic programs of the College.
First year students at Sage College of Albany are required to reside on the Albany campus in the Albany Campus Residence Hall (ACRH). Their room assignments are made by the Residence Life staff.
For some students, residence hall living is what college is all about! Sage College of Albany's on-campus, coed residence hall provides a clean, safe, comfortable living/learning environment for students in good academic standing.
Living at University Heights College Suites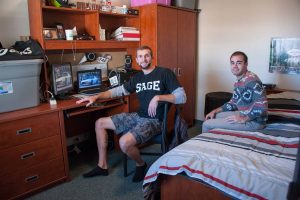 After their first year, students may prefer to live in rental properties in the surrounding neighborhoods or at University Heights College Suites, a student housing complex only a short walk from campus. College Suites offers Sage students apartment-style living with new, fully furnished 4-bedroom units. If you are interested in living at College Suites, please contact the Office of Residence Life for information; our office works directly with the management of College Suites for you (and you do not have to pay a deposit!). Students who choose to live in College Suites are always welcome to attend any programs and events on the Sage campus and in the Albany Campus Residence Hall. Although the apartments at College Suites come with full kitchens, residents are also welcome to choose meal plans on campus.
There is a limit to the available spaces at College Suites. All housing reservations are based upon a first come, first served basis. Complete and return your application as soon as possible!
If you have a hold on your college account, you will not be eligible to apply for fall housing. Please double check to make sure you are in good standing with the Student Services office.
Coeducational Living at University Heights
Sage students living in University Heights College Suites have the opportunity to elect to live in coeducational apartments beginning in Fall 2019. Students wishing to live in coeducational suites must indicate as much during the room reservation process by signing a coeducational housing preference form.
Coeducational suites must have an even distribution of gender identities, here defined as two pairs of students who identify in the same way. Each gender pair will share the same side of the apartment as well as the bathroom adjacent to their single rooms.
Coeducational housing is opt-in only. If no preference form is signed, it will be assumed that the student wishes to live in a single-gender suite, and will be housed as such.