Russell Sage residence halls provide a wide variety of options from historic brownstones to traditional-style residence halls. Most rooms are doubles, although singles and triples are available on a limited basis.
Did you know?
Internet access, email accounts, and basic cable service are provided in all residence hall rooms. (Students bring their own computers, televisions, phones, and applicable accessories.)
Each room is furnished with beds, dressers, closets, desks and chairs. Sinks can be found in some rooms. There are common bathrooms on each floor in most residence halls. All residence halls have lounges and laundry facilities. Vending machines and kitchens are available in many buildings.
Resident Assistants (RAs) are the student staff available to answer your questions, direct you to appropriate offices on campus, and plan floor activities. More importantly, your RA is available if you need someone for support and advice.
First Year Students
Kellas Hall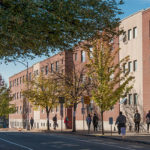 The current Kellas Hall was built in 1957 by the college. Named for the first president of Russell Sage College, Eliza Kellas, it is the home for first year students on campus. The original Kellas Hall was located where the present Kay's Garden is. The first floor houses the Wellness Center; residents live on the first, second, and third floors.
Upperclass Students
French House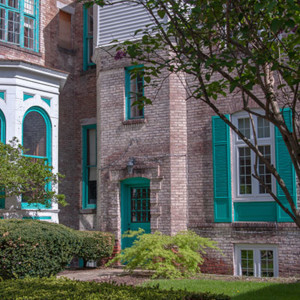 Believed to be built between 1865 and 1869 in the middle Victorian style by Mr. and Mrs. C.W. Tillinghast. French House was purchased by Russell Sage College in 1936 from the estate of C.W. Tillinghast-Barker, a Sage Trustee, for $10. It was dedicated as "La Maison Francaise" in 1937 by His Excellency, the Ambassador of France, Comte Rene Daynel de Saint-Quentin, and was conceptualized as an immersive French experience for students who studied French, French literature, art, music, customs and manners. The Annex was added in 1939 and included 6 class rooms, 3 resident rooms, a tower room and a French library (French Dining Room). The courtyard was added at the same time.  For a period of time, the House served not only as a French Center for the college, but for the Troy chapter of the Alliance Francaise, a group dedicated to celebrating French culture.
Students must apply to live in the house
Students must participate in language and cultural programs
German House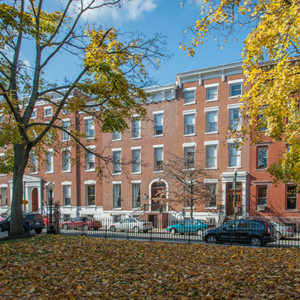 Property originally owned by Jacob Vanderheyden, founder of the city of Troy. It was rented in 1788 by Henry McClellan, and in 1795 by Samuel Gale Jr. and his wife Mary, who obtained title to the property in 1799. The property changed hands within the Gale family until 1905 when it was sold to the Caldwell's. In 1934, the Caldwell's daughter Margery sold the property to Russell Sage College, where students living in the house were required to speak German while inside. No longer a language house, students are not required to speak German.
Manning Hall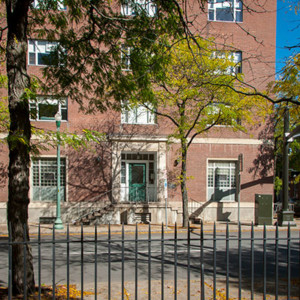 Manning was built by the College in 1965. The four-floor air conditioned residence was designed to accommodate 100 students.  A glass roof provides light for an inner courtyard. The building was named for John A. Manning, founder of John A. Manning Company of Green Island and a founder of the Behr-Manning Corporation of Watervliet.  His company had been financially generous to the college and several officers of the corporation had served on the College's Board of Trustees.
Manning is predominantly single rooms with shared semi-private baths.
McMurray-Spicer-Gale House (MSG)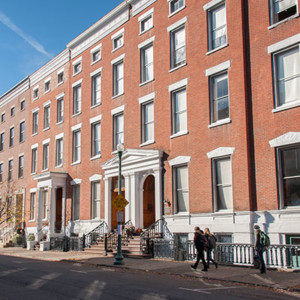 McMurray House was built in 1835 and originally owned by John Woodworth and his wife. It was sold in 1891 to Mr. and Mrs. John Don. The property was acquired by the college from the John and Harriet Don for $1,000 in 1920. Spicer was originally owned by J. Lansing Van-Schoonhoven.
Thompson Gale and Caroline De Forest moved into Gale House in 1844. E. Thompson was the grandson son of Dr. and Mrs. Samuel Gale Sr. Upon the death of their grandson, Edward C. Gale, the house was gifted to Russell Sage in 1941 and briefly housed the English department before becoming a residence hall. In 1992, a portion of the "Age of Innocence" was shot on the first floor of the movie. Décor installed for the filming remains in that space.
The three houses are connected with one main entrance.
Sage Hall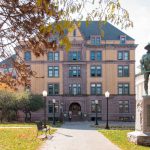 Sage Hall was built in 1895 by the Honorable Mr. Russell Sage for the Troy Female Seminary.  Both his first wife (who died in 1867) and his second wife, OUR Mrs. Sage, were graduates of the Seminary.  At the time of the dedication of the building, the seminary's name was changed to the Emma Willard School.  Mr. Sage was a trustee of EWS from 1896 until his death in 1906. It is one of the three original buildings of Russell Sage College.
Spanish House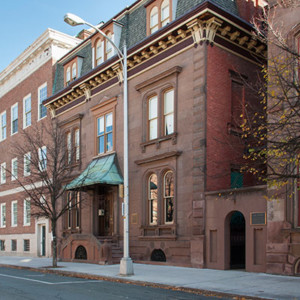 Spanish House was originally known as the Knickerbocker House. It was acquired by the Russell Sage College in 1947. For many years, it was required that all RSC students living in Spanish House speak Spanish while inside the house.
Residents must apply to live in the house
Students must participate in language and cultural programs
Wool House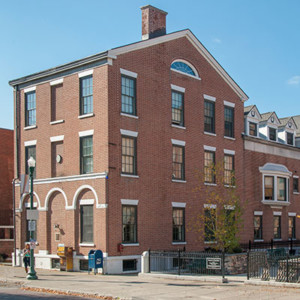 Wool House was built by the Moulton family around 1784. Previous owners of the building include Jacob Van der Heyden, founder of the City of Troy, and Nathanial Wilson, brother of Samuel "Uncle Sam" Wilson. The property came into the hands of John E. Wool in 1835.  He built the brick building which presently stands.  Wool began his military career as a captain during the War of 1812; he served as a general, in the Civil War. Wool House was purchased by the Emma Willard School for the use of Russell Sage College in 1920; deeded to the College in 1928.
Houses upperclass students in the Honors Program
Students must apply to live in the house