Shuttle Schedule 
2020-2021 Sage Shuttle Schedule (pdf)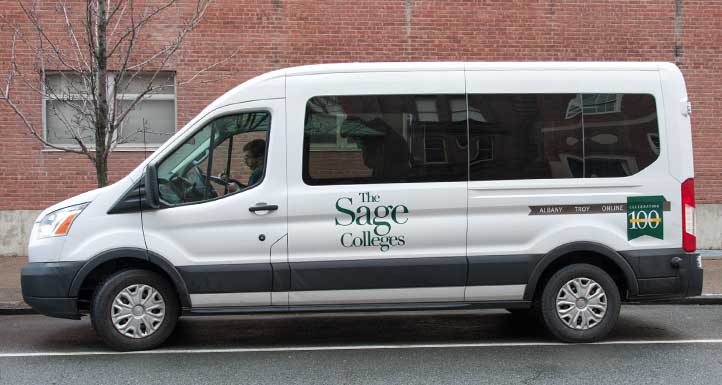 The Sage Shuttle takes students (and employees if there are seats available) between the Troy and Albany campuses to take courses and participate in activities. Riders may be asked to show their Sage ID in order to secure a seat on the shuttle.
The shuttle operates during the fall and spring semesters only when classes or final exams are in session.
The shuttle service runs between campuses each weekday, M-F, from roughly 7:15 AM to 9:30 PM. (Weekend runs are between 10:30 AM and 5:30 PM with added stops to local shopping malls on Saturday and Sunday).
Adjustments to the shuttle schedule will be communicated via Sage email.
The shuttle stop in Troy is located on First Street in front of Wool House and the stop in Albany is in front of the Administration Building, New Scotland Avenue. (Campus maps)
It takes 25-30 minutes to travel between campuses, so please plan accordingly.
Note: shuttle seating is not guaranteed and students may be required to ride an earlier than preferred shuttle to secure a seat and arrive to class on time.
The Shuttle Schedule is posted at the shuttle stops and online. Questions or concerns about the shuttle can be directed to the Undergraduate Dean's office in Albany at 518-292-1704 ([email protected]) or in Troy at 518-244-2466 ([email protected])
---
Public Transportation – CDTA
Sage has partnered with the Capital District Transit Authority (CDTA) to provide free CDTA bus transportation throughout the Capital District. The service area for CDTA includes Albany, Rensselaer, Saratoga, and Schenectady counties.
For full-time registered/current enrolled students, full-time faculty, and full-time employees only.
Valid Sage photo identification card is required. Just swipe your Sage ID through the farebox.
Visit the CDTA website for a complete listing of schedules and routes.
We encourage all our students and employees to take a green step and ride the bus!
---
2020-2021 Sage Shuttle Schedule (pdf)