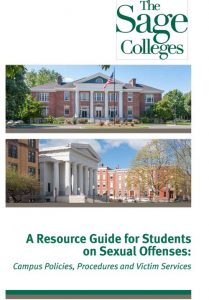 The Sage Colleges takes very seriously its obligations and its commitment to provide a safe and secure environment for our students and other members of the college community. To that end, Sage is actively engaged in educating students about interpersonal and sexual violence, preventing its occurrence whenever possible, and remedying its effects.
The Sage Colleges' Resource Guide for Students on Sexual Offenses outlines campus policies and procedures and offers a guide to resources and victim services.
For more information about Sage's on-going effort to prevent sexual and interpersonal violence, contact [email protected].