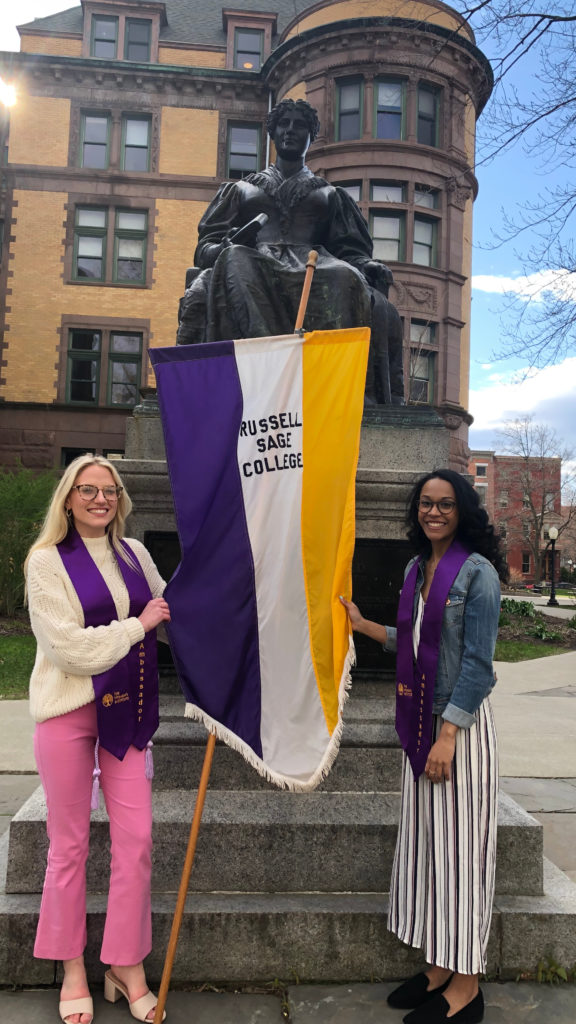 This spring, The Women's Institute at Russell Sage College honored the Class of 2022's Isabelle Cruz and Victoria McLean with purple satin stoles to wear at graduation (Purple is one of the colors, along with white and gold, that the National Woman's Party used during the women's suffrage movement in the United States.)  
Cruz and McLean are the first Women's Institute student-ambassadors to graduate since the institute was established in 2020.
They both applied to become a student-ambassador after taking an Honors class about women's suffrage with the institute's faculty director Michelle Napierski-Prancl, Ph.D., professor of sociology.
"The Women's Institute is a really important part of our school, considering the foundation of our school, made for women by women," said Nursing major Isabelle Cruz.
"We were able to truly be leaders," she continued of the ambassadors' work planning events, promoting the institute among students and initiating traditions for future ambassadors. "The second highlight is that I created lifelong friendships."
"My involvement in the Women's Institute taught me about working on a team, being flexible, and how to handle unexpected situations," she said. "These factors are incredibly crucial in nursing, so I'm glad I got to strengthen my skills."
Cruz will take the NCLEX licensing exam for nurses in July, then apply to the newborn intensive care unit at New York-Presbyterian Hospital.
"I deeply cared about what the Women's Institute stood for," said Victoria McLean. "I thought it was very important to uphold Russell Sage College's legacy as a women's college while also accepting change."
She said The Women's Institute led to some of her closest friendships on campus and gave her opportunities to learn from professionals in a variety of fields as well as hands-on leadership and event-planning experience.
McLean is a Nutrition Science major and Women's Studies minor who will pursue a master's degree in public health after she graduates from Sage.
"Victoria and Isabelle have served as excellent representatives of The Women's Institute. It has been a pleasure working with them and watching them grow into their leadership roles," said Professor Napierski-Prancl. "I'm proud of the work they have done, especially with regard to creating opportunities for students to engage in open dialogue about issues surrounding equity and inclusion, and I look forward to seeing how their experiences as ambassadors impacts the work they do in the future."