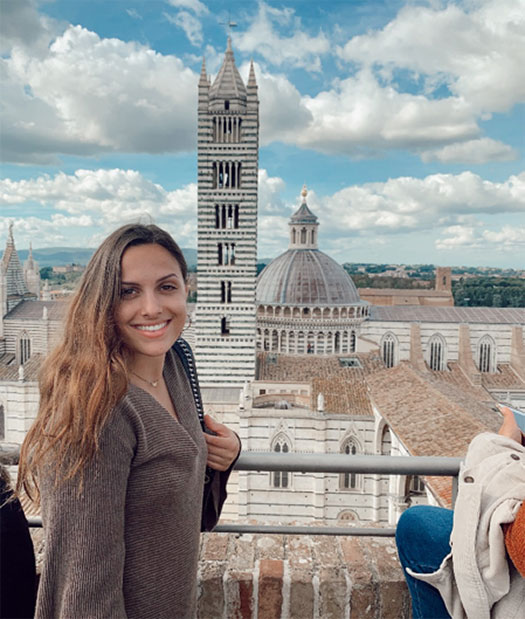 "Studying abroad is the experience of a lifetime! It was life changing!
— Sophia Pierce, '21, Applied Biology Pre-Med Major (Florence, Italy)
Russell Sage College offers opportunities for students to explore the world through Study Abroad and Study Away programs. Study abroad experiences broaden students' perspectives and expand their multicultural thinking.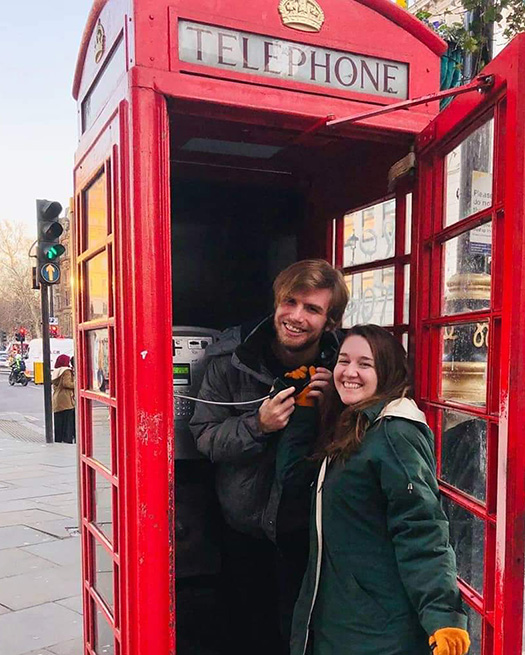 "The arts immersion trip to London was an amazing, once-in-a-lifetime experience for Sage students to not only explore England, but to expand their knowledge and appreciation of the arts." — Megan Paluzzi '22
"Studying abroad has completely transformed my life. Not only have I learned more about the world around me, but I've also learned a lot about myself. I've become more independent in the few months I've been away from home, and this trip has instilled a love of travel in me that no doubt will last a lifetime. I feel truly blessed for this experience.Thank you, Sage!" – Annalise Krajeski (RSC '14)
Thinking of studying abroad?
Qualifications
Students who intend to study abroad or away for a semester must meet the academic criteria listed below to be considered for participation.
Must be a sophomore by academic standing (completed credits on record at Russell Sage College)
Maintain a 3.000 GPA or higher (some programs require a higher GPA, check with each program)
Must be a full-time student the semester prior to studying abroad and during the term a student is abroad/away
Receive approval by the Undergraduate Dean to study abroad/away
Study Abroad To Do List
 One Year in Advance
Download and complete the Sage Study Abroad program application (due February 15)
Meet with the Undergraduate Dean to determine abroad program of interest
Meet with Faculty Advisor (major) to discuss study abroad courses and graduation timeline
Meet with Financial Aid staff to identify implications on financial aid award
One Semester in Advance (once accepted in a program)
Meet with Financial Aid to complete all necessary financial aid paperwork
Schedule ongoing monthly meetings with the Undergraduate Dean to complete all necessary processes for the college and program
Apply for all travel papers (Visas, passports, etc.)
Increase language usage if you are going to a non-English speaking country
Sponsored Programs
Russell Sage College is affiliated with a number of other institutions and organizations to offer a wide variety of study-abroad opportunities. Whatever the major, a deeper understanding of another culture and more proficiency in another language can help better achieve one's goals. Below are some of the programs with which we are affiliated.
New American Colleges and Universities: Sage Consortium Partner
American Institute for Foreign Study
Russell Sage College is affiliated with the American Institute of Foreign Study, which has study and programs in 21 countries and an internship program in the United Kingdom. Some of these programs also offer summer study or service learning opportunities
Financing and Aid
Preparing for study abroad includes meeting with a representative of Russell Sage College's Financial Aid Office to determine eligibility. Specific details regarding how financial aid will impact study abroad travel is made on an individual basis. In addition, there are scholarships to assist in covering the costs to study abroad. Note: These scholarships are not available for short-term, faculty-led programs.
Study Away Within the U.S.
Sage students may also choose to study for a semester at another college within the United States. To see a list of approved American universities and colleges, visit the NAC&U website.
International Students Study at Sage
Russell Sage College welcomes international students from around the globe and around the corner. Our small vibrant campuses offer international students a comfortable environment to succeed academically and personally. If you are an international student interested in Russell Sage College, we would love to hear from you and answer whatever questions you may have about the college, Troy and Albany, New York or the United States and how we can help you feel at home when you are so far from yours. Contact the Office of Admission for more information.