Student Life plays an integral role in Sage's mission of building a society of diverse, thoughtful and competent citizen-leaders who will continue to engage in the pursuit of lifelong learning.
The Student Life division provides programs, services, opportunities, and environments for students to become involved in educationally purposeful activities outside of the classroom. The program is intended to build responsible communities of learners and support the educational and personal development of each student, help students accomplish their educational goals, and prepare students to lead in finding solutions to major societal challenges.
Student Life is one of the richest components of a college education. It encompasses aspects of your college life: housing and dining, exercising and competing, participating in clubs and organizations, leadership and teamwork, activities and events, and taking part in campus traditions.
Student Handbook
The Sage Colleges Student Handbook contains detailed information about on-campus organizations and events, policies and procedures, and key services available to students.
Year in Review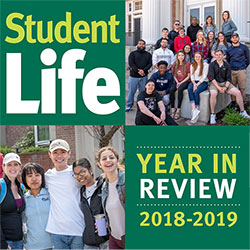 Student Life's Year in Review is an annual report meant to share with you the accomplishments of The Sage Colleges' Student Life Division. Using both direct and indirect assessment measures, we hope to demonstrate how students at Sage have benefited from a rich extracurricular experience flush with learning, leadership, and fun! This report allows us to reflect upon what we have done well and to welcome the challenges and opportunities to do better.
As Student Life continues to evolve and our services become increasingly linked to learning both in and out of the classroom, we will continue to work to ensure the growth and satisfaction of our students.
Frequently Asked Questions
The Student Life division includes many different offices and areas that support students.  For more information about each office and the services they provide, select an area on the menu bar to the left.  In addition, you can find answers to the most frequently asked questions for many of the Student Life areas via the links below.