About John Tine
Bio / History
Dr. John Tine is a lecturer in the Department of Biology and Health Sciences. He studied the genetic evolution of major histocompatibility complex genes in wild mice during his doctoral work and has extensive research experience as a post-doctoral fellow and research scientist at Virogenetics Corporation where he utilized poxvirus vector systems to develop vaccine candidates for the human malaria parasite Plasmodium falciparum and immunotherapies for human melanoma and colorectal cancers. He has also directed the Molecular Biology Laboratory at the Center for Functional Genomics at UAlbany and played a major role in the development and implementation of an undergraduate major in Bioinstrumentation at the University's School of Public Health.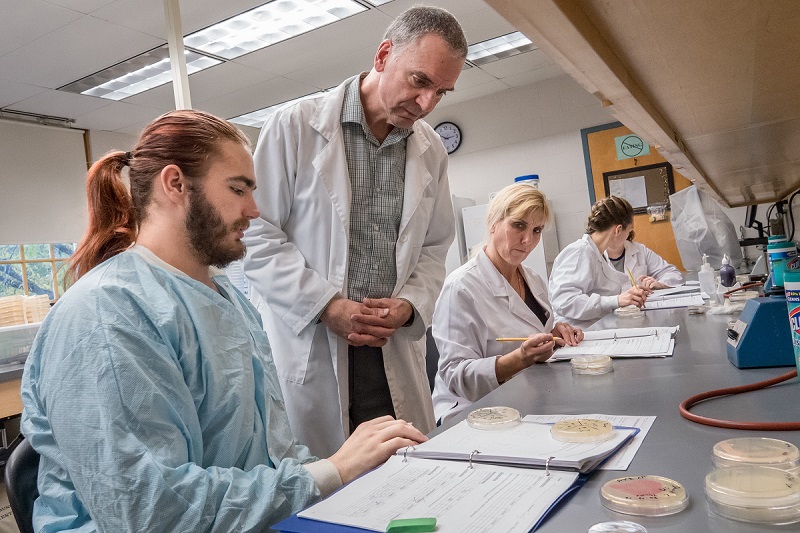 Recent Courses Taught
Anatomy and Physiology 1 and 2, Microbiology, Research Methods
Research Interests
The structure of multidrug-resistance plasmids in bacteria and the molecular biology of RNA viruses in plants
Selected Publications
Felker, P., Bunch, R., Tine, J.A., Russo, G.R., Gould, J., Arnold, M., Wang, F., Rong, Y., and Wright, M. 2018. Stable Transformation of Opuntia ficus indica Callus Cultures as Evidenced by Fluorescence of the Tandem Dimer Tomato Gene. Journal of the Professional Association for Cactus Development 20, 34-51.
Preston, K.E., and Tine, J.A. 2017. Acquisition of a Second Multi-Drug Resistance-Encoding Element by IncM1 Plasmid pACM130 Abolished Conjugative Transfer. Plasmid 92, 26-29.
Educational Background
Post-doctoral fellow and research scientist
Virogenetics Corporation
Ph.D., Albany Medical College
Microbiology and immunology