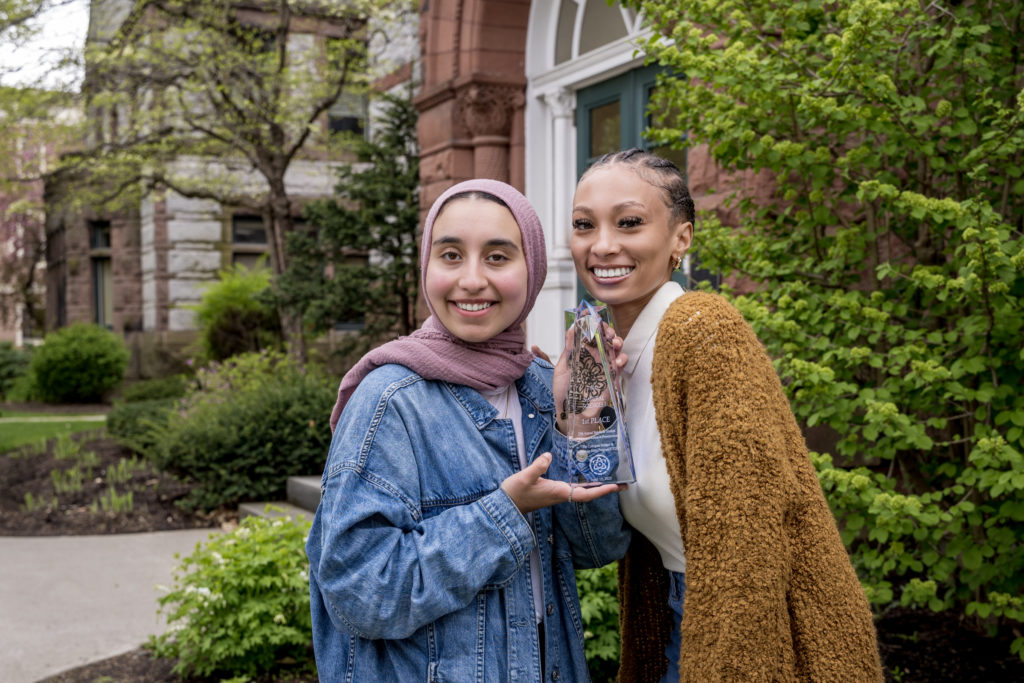 A student research team from Russell Sage College won an award for their research presentation at the 29th annual CSTEP Statewide Student Conference. The conference was held April 14-16 in Bolton Landing, New York.
Biology majors and Pre-Med students Mena Abdelmeged '24 and Danielle Williams '24 won first place in the Natural Science division for their presentation, "The effect of skin pigmentation on pulse oximeter readings based on findings from the COVID-19 pandemic."
The team determined that pulse oximeters, which are medical devices used to measure oxygen levels, may deliver inaccurate results when used on individuals with dark-pigmented skin. These inaccurate results can lead to inappropriate medical treatment.
"These findings indicate caution when measuring blood oxygen levels with pulse oximeters in dark-skinned patients," Abdelmeged and Williams wrote in their abstract. "Manufacturers of oximeters should explore ways to improve accuracy of the devices."
"It was exciting," said Williams of the award. "We worked so hard. Every STEM student at Sage should take advantage of the research opportunities available here."
"Professor Rea was a big part of our success," added Abdelmeged, referring to their research mentor, Professor of Biology and Pre-Med Advisor Mary Rea, Ph.D.
CSTEP, an acronym for the Collegiate Science and Technology Entry Program, is a grant-funded program sponsored by the New York State Department of Education to support underrepresented and economically disadvantaged students pursuing science, technology, engineering and mathematics majors and licensed professional careers.
Every year, undergraduate students from across New York state attend and present research at the annual CSTEP conference. In 2023, the conference attracted nearly 400 students from 52 colleges and universities.
Russell Sage College Nursing majors Ana Lilia Hernandez and Cherifa Chekaraou also presented a poster at the conference, detailing their efforts to collect oral histories from Russell Sage Colllege's Nursing graduates.