Earn a Nursing Bachelor's Degree
Nurses provide crucial physical, mental and emotional care and are an important link between patients, their loved ones and health care institutions.
About Sage's Bachelor of Science in Nursing
You may pursue your Nursing bachelor's degree full time or part time. The first two years include general education courses and prerequisites; the last two years include nursing-intensive classes (54 credits) and clinical rotations (760 clinical hours).
You'll be introduced to faculty-directed clinicals in state-of-the-art simulation labs. After you gain experience there, you'll transition to a variety of clinical settings, including acute and community-based care of adult (including geriatric), pediatric, maternal/child (including labor and delivery), psychiatric and community populations.
In your last semester, you'll select an expanded clinical rotation (240 hours) with a patient population of interest.
After you earn your Bachelor of Science in Nursing, you'll be eligible to take the initial NCLEX-RN licensure examination. Upon passing, you'll be able to pursue job opportunities across the country.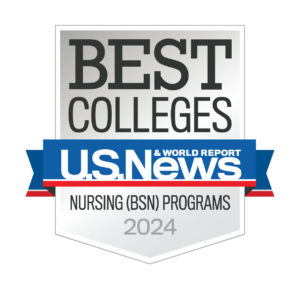 Special Opportunities for Sage's Nursing Majors
Sage Nursing students complete clinical assignments at Albany Med Health System campuses, and are then encouraged to explore job opportunities within the system. Read more about Sage's academic partnership with Albany Med.
More About Sage's Nursing Program
Russell Sage College has offered a Bachelor of Science in Nursing for 100 years and is highly respected by the health care community.
Our programs have graduated nearly 6,000 nurses at the Bachelor and Master of Science in Nursing levels, most of whom have assumed leadership positions in practice, education and administration. Nearly every chief nursing officer in New York's Capital Region is a Russell Sage College graduate.
Faculty are certified nurse practitioners, certified nurse educators, midwives, doctorally-prepared expert clinicians, administrators and researchers with years of experience.
"You're not just getting your nursing bachelor's degree. You're getting a liberal arts education that supports the work you're going to do …"
"I'm able to come back and speak to nursing students about what I do as a forensic nurse"
Tess Carstensen, nurse practitioner and Russell Sage College alumna

Your Future with a Nursing Bachelor's Degree
Careers
Recent Sage graduates are registered nurses on the medical/surgical intensive care, medical cardiology, neonatal intensive care, pediatric intensive care and other units at Albany Medical Center; on a cardiovascular progressive care unit in Tavares, Florida; and in other lifesaving positions throughout New York State and across the country.
According to the Bureau of Labor Statistics, the median annual wage for registered nurses is $77,600, with employment opportunities predicted to increase 6% through 2031.
Graduate Studies
Many students with a Bachelor of Science in Nursing  pursue a Master of Science in Nursing at Russell Sage College. The master of science degree program offers a variety of nurse practitioner programs, including adult-gerontology primary care, family, psych and adult-gerontology acute care.
Navy ROTC (NROTC) for Nursing Students at Russell Sage College
Any current high school student who is considering Russell Sage College and plans to pursue a Bachelor of Science in Nursing is able to apply for a four-year Navy ROTC scholarship.
Nursing Bachelor's Degree Requirements
120 credits total, consisting of 54 credits in nursing, plus an additional 27 nursing prerequisite course credits, and 60 credits in the Arts & Sciences, including 36 general education credits.
Application Deadlines:
First-year Students:
Rolling Admission
Transfer & Graduate Students
Spring Semester: October 1
Fall Semester: March 1
Transfer to Nursing Program
If you're a transfer student, you'll be accepted into the program prior to your junior year. You can transfer up to 60 credits from an associate degree program, or up to 75 from a baccalaureate program.
The sequence of nursing courses requires four semesters of study. We'll work with you to evaluate your prior coursework and establish a schedule for the remaining courses in the curriculum.
Next steps?
It's time to take the next step. Choose yours below.
Have Questions About a Nursing Bachelor's Degree?