For Several Sage Students, the Forum Offered Additional Opportunities to Conduct Original Research and Apply Expertise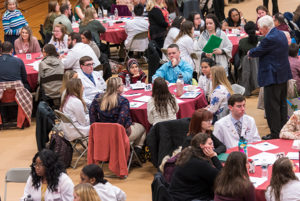 On November 4, approximately 200 students from Sage and other area colleges gathered with local people living with scleroderma – a chronic condition that causes tightening of the skin and other connective tissues – to talk about how health care professionals can collaborate across specialties to better serve their patients. It is the third year that Sage and Albany College of Pharmacy and Health Sciences collaborated with the Steffens Scleroderma Foundation on an interprofessional education forum.
The annual event is an opportunity for all graduate-level Dietetic Interns, Nursing, Occupational and Physical Therapy and Counseling students at Sage and Pharmacy students at ACPHS to learn about each other's roles, practice interviewing patients and receive feedback from practitioners and people living with chronic conditions, said Sage's Dietetic Internship Director Michelle Morgan, MS, RDN, CDN, one of the forum's organizers.
For several Sage students, the conference provided additional opportunities to conduct original research and to apply their expertise.
Occupational Therapy graduate students Kaitlyn Cook, Heather Hay and Nadine LaFreniere collected data for their graduate thesis at the conference. They are studying student and patient perceptions of collaborative education, which has the potential to inform future interprofessional events. They expect to present their final paper at Sage's Health Research Symposium in May 2020, and said that having this type of research experience on their resumes will help them stand out for future opportunities.
Dietetic Internship graduate students Katie Walczuk and Michelle Walker catered the conference, with food donated by the Honest Weight Food Co-op. The experience was meaningful professional preparation, requiring them to identify and test appropriate recipes in Nutrition Science's test kitchens, extend the recipes to feed up to 275 people, order ingredients and set a production schedule, as well as prepare nutrition information for the forum guests.
"It is important for us as nutrition professionals to know how to create menus geared toward specific populations," said Walker, explaining that people living with scleroderma may experience difficulty swallowing or food sensitivities. Their menu — including a smooth and chia pudding, a sweet potato crostini and an avocado caprese skewer — featured a variety of textures and consistencies, savory and sweet flavors, and was gluten- and dairy-free. "This unique experience is teaching us how to successfully cater a large, offsite event and how to manage the whole operation. We will know the ins and outs of planning and executing such events."
"I find this opportunity exciting and worthwhile," said Walczuk. "Giving back to others and using what I have learned is important and is the basis for why I want to be a registered dietitian. Michelle and I have worked very hard to be able to help others and give the forum guests a great experience with food."