The Sage Mission
Sage is a community of scholars committed to empowering students…
TO BE to provide the individual student with the opportunity and means to develop and advance personally and professionally, and thus to be successful in achieving life goals;
TO KNOW to contribute to the larger society a group of diverse, thoughtful and competent citizen-leaders who continue to be engaged in the pursuit of lifelong learning; and
TO DO to translate learning into action and application, recognizing the obligation of educated persons to lead and to serve their communities.
History of Russell Sage College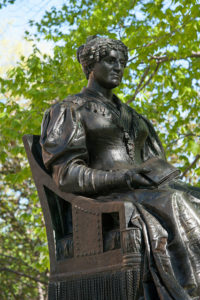 Russell Sage College was founded in Troy, New York, in 1916 by Margaret Olivia Slocum Sage and named in honor of her late husband, who had left her his considerable fortune. With Eliza Kellas, head of the Emma Willard School, Mrs. Sage was active in the women's suffrage movement; in founding the new College, they proposed to offer women the means of independence through the combination of broad education in the liberal arts with preparation for specific professional careers.
Initially, the college operated under the charter of the Emma Willard School, granting its first baccalaureate degree in 1918 and graduating its first class in 1920. In 1927, the New York State Board of Regents granted a separate charter for Russell Sage College and reaffirmed the status of Emma Willard as a secondary school.
During World War II an "emergency men's division" was created, and in 1942 the first graduate degree was conferred. In 1949, an Albany Division was opened, offering two-year, four-year and graduate degrees under the charter of Russell Sage College, extending the College's mission to include the education of men on the second campus. The Sage Junior College of Albany received its own degree-granting powers in 1957.
In 1995, Sage Graduate School became authorized to grant degrees independently, Sage Evening College became recognized as a separate administrative unit, and the institution was re-chartered by the Board of Regents of the state of New York as "The Sage Colleges", often referred to as "Sage" for the sake of convenience. The name "Russell Sage College" was still used, but only referred to the women's college and its campus in Troy.
In 2001, the Sage Junior College of Albany and Sage Evening College were replaced by a single entity named Sage College of Albany.
In 2009 Sage Graduate Schools restructured its programs around three key areas of strength and expertise to create the Esteves School of Education, School of Health Sciences, and School of Management. The schools capitalize on Sage's leading professional degree and certificate programs at the post-baccalaureate, master's, post-master's, and doctorate levels. The schools also integrate with  undergraduate programs offered at Sage.
With a charter change effective July 1, 2020 and beginning with the fall 2020 semester, Russell Sage College, Sage College of Albany, and Sage Graduate Schools are united under a single name: Russell Sage College, one college with two co-educational campuses in Albany and Troy, New York