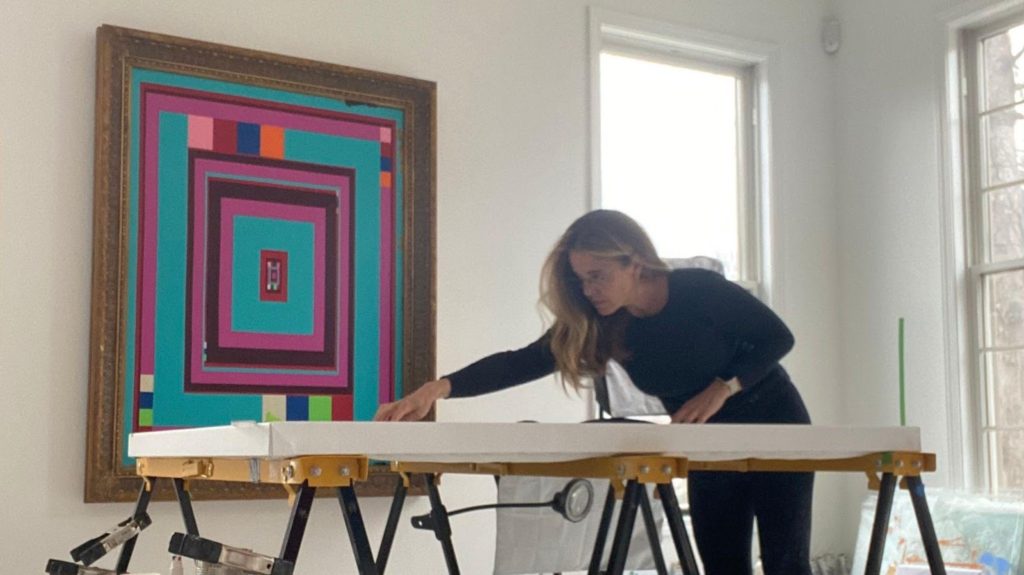 Russell Sage College Psychology graduate Michelle Bowen is the artist behind the Huelitic Code paintings, which have generated significant attention since her solo show at the Arts Center of the Capital Region in 2019.
Her paintings of words, phrases and passages use color in lieu of letters and encourage viewers to untangle from fixed ideas.
This spring Bowen invited Russell Sage College students into her art studio via Zoom and shared her creative process and the origins of the Huelitic Code.
Adjunct professor Angie Smith organized the creativity workshop for artists and writers from Sage and U.K.-based Haringey Sixth Form College and Durham University, who are collaborating on The Rev, one of Sage's creative journals.
"Topics that were provoked by the artwork included religious intolerance, racism, gender inequality and the perils of binary words/thinking," Bowen said. "We also discussed the inherent biases of using an arbitrary system of symbols to communicate. We talked about what a human construct means and the implications of these neatly ordered labels and categories on humanity."
"You know, light topics," she joked.
Read on to learn more about the Huelitic Code and how Russell Sage College nurtured Bowen's identity as an "intuitive scientist" with a passion for intellectual exploration and questioning assumptions.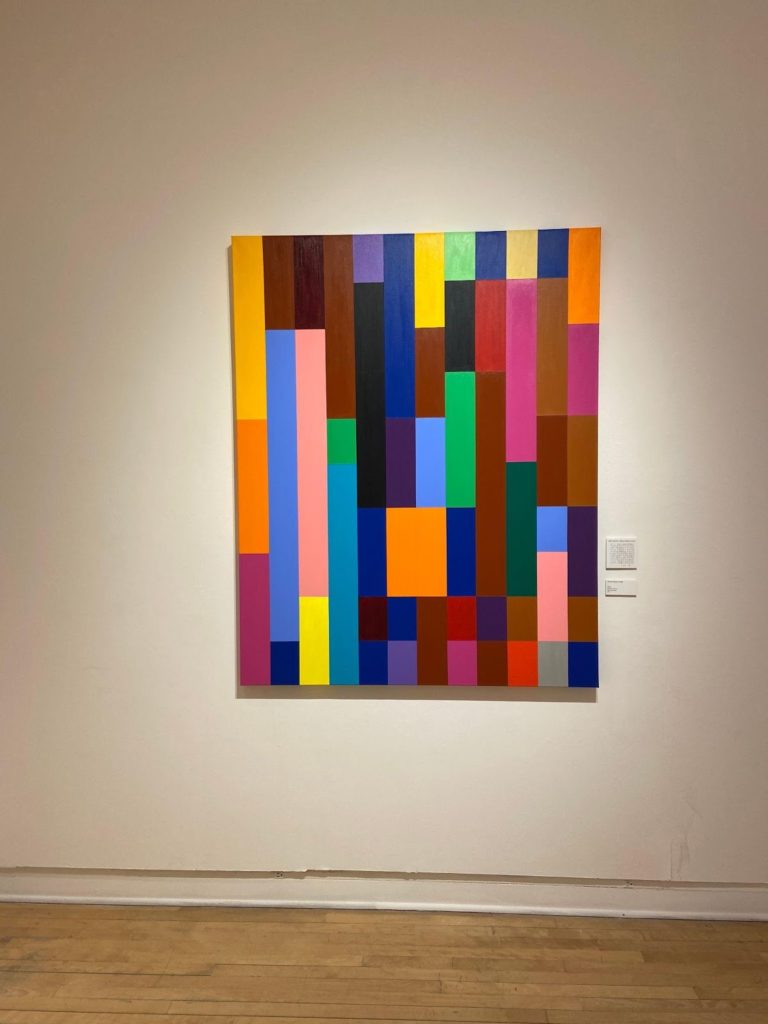 In 2004, Bowen was an educational film producer in New York City, with an art studio in Brooklyn where she created installations and figurative paintings.
News coverage of terrorist attacks had left her stunned at how words like "God" are used to justify violence, she said, and led to an intense and powerful vision of using color to represent letters and disrupt language.
"I believed in its message and I also knew that its interactive nature would appeal to and engage a wide audience, including young children and 'non-artsy' people, which is not always the case with abstract art," she continued.
Still, with a new baby and a full-time job, it was 13 years before Bowen felt she had the time, space and resources to pursue the Huelitic Code in earnest.
In the meantime, she taught herself the hard-edge technique that she used to create the paintings.
"During those years, the project never one time left my consciousness," said Bowen.
Caption: "A visitor decodes paintings in Bowen's 'Binary Oppositions' series at Arts Center show."
By 2017, she had completed a few pieces and returned to Troy, New York, her hometown.
She responded to a call for artists from the Arts Center of the Capital Region — and after a visit to Bowen's studio, the curator offered her a solo exhibition for two years out.
"In that time, I completed 46 additional pieces, the website, and marketing materials," said Bowen. "It was a whirlwind."
It was also a great success. "Huelitic Code: Language Through a Prism" attracted thousands of visitors, media attention and several commissions for Bowen.
More recently, Bowen's work has been part of the Cooperstown Art Association's National Juried Art Exhibition and shows at the Albany Center Gallery and 344 2nd Street gallery in Troy. She was also selected for the Arts Center's 2020 Critical Forum, a professional development program for emerging and mid-career artists, supported by the New York State Council for the Arts.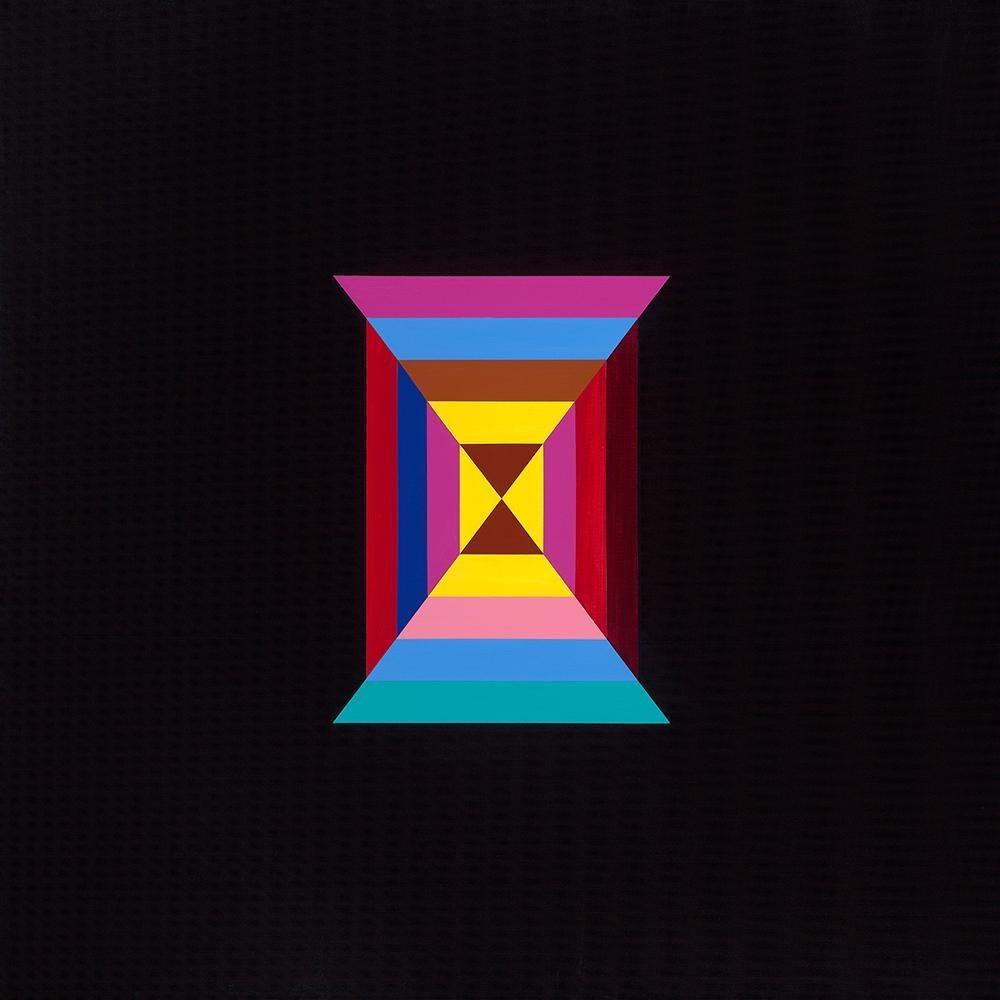 "Many times over the years I have thought of Dr. Hill and his influence on me and, surprisingly, my artwork," Bowen said.
She said that former Psychology Professor Samuel Hill selected her for a senior Honors project, which increased her confidence in her ideas and abilities.
He encouraged her to consider "experimental" graduate programs as opposed to the School Psychology doctoral program that awarded her a scholarship. ("He was right!" said Bowen, who later switched to a master's program in Mass Communications.)
Finally, said Bowen, Professor Hill introduced her to the process of investigating human behavior and creating hypotheses, which she continues to use when embarking on new projects today.
"Doing this helps me organize my thoughts. For the Huelitic Code, it was this statement — and it's been taped to my studio wall ever since:
If language is abstract, then language can never be used to communicate an absolute truth.
And this conclusion statement is right below it on the wall:
There is no reason to continue the notion that words will push humanity forward.
"I do believe my path to art was through my love of experimental research and my more personal process of self-inquiry," continued Bowen, again emphasizing Professor Hill's influence in these areas. "The cross-fertilization of these practices has always been at the center of my creative endeavors, and I will continue to investigate topics of humanity as an 'intuitive scientist' through the purity and power of art."