Russell Sage College Students and Susan Odell Taylor Upper School Students Learn Together Through Creative and Performing Arts Partnerships
The Theatre Institute at Sage will present Lionel Bart's adaptation of "Oliver!," based on the classic story by Charles Dickens, at the Schacht Fine Arts Center on the Russell Sage College campus, 65 1st Street, Troy, New York. "Oliver!" opens on Dec. 4 and runs through Dec. 15. It is appropriate for all ages. Tickets are $15 for adults and $12 for children, senior citizens and students and may be purchased at tickets.sage.edu.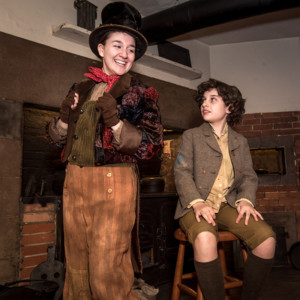 Julia Magin, a sixth-grade student at the Susan Odell Taylor Upper School, located on the Russell Sage College Campus in Troy, will perform the role of Oliver. Additionally, 16 local schoolchildren are in lead roles and the ensemble. They will work with theatre industry professionals including KD McTeigue, a Sage graduate who has toured with the Bloomsburg Theatre Ensemble; Micaiah Siemski, a Sage graduate who has appeared in productions at Capital Repertory Theatre; Michael Whitney, a Manhattan-based choreographer and artistic director; and Michael Musial, Edith McCrae Professor of Fine Arts and professor of music at The Sage Colleges and director of the Theatre Institute's production of "Oliver!"
"Introducing schoolchildren to the performing arts is an important part of our mission at the Theatre Institute, and with 'Oliver!,' we get to welcome kids as cast members as well as audience members," said David Baecker, associate professor of theatre and managing director at the Theatre Institute at Sage. "We've enjoyed several collaborations with the Taylor School, so we're especially thrilled to cast one of its talented students in the lead role, and to welcome her classmates to a matinee performance."
ABOUT SAGE'S CREATIVE AND PERFORMING ARTS PARTNERSHIPS WITH SUSAN ODELL TAYLOR UPPER SCHOOL
Sage's Creative and Performing Arts department has worked closely with fifth through eighth grade students at the Susan Odell Taylor Upper School since the upper school opened on the Russell Sage College campus in 2015.
For example, this fall, several Taylor school students are volunteering in the Sage class "Creative Movement for Children," taught by Ellen Sinopoli, artistic director of Ellen Sinopoli Dance Company and artist in residence at Sage. This course teaches performing arts majors how to incorporate dance elements into activities for elementary and middle school students, and Taylor students will participate in Sage students' final projects. In April, Russell Sage students enrolled in "Introduction to Visual and Performing Arts," integrated art, dance, music and theatre into lessons on ancient civilizations for Taylor students, and in 2018, Russell Sage students in Baecker's "Tennessee Williams' Women" class mentored Taylor School students as they read "The Glass Menagerie" and developed final creative projects.
ABOUT THE THEATRE INSTITUTE AT SAGE
The Theatre Institute at Sage provides quality live theatre and arts-in-education programming to Capital Region youth, educators and residents. The Theatre Institute also provides educational opportunities for Russell Sage College students as performers, technicians and teachers. During the 2018-19 season, the Theatre Institute welcomed 8,550 school children to weekday matinees; entertained an additional 2,360 audience members at public performances; and offered camps, residencies and meet-and-greet opportunities to 340 students.
Upcoming productions in the 2019-20 season at the Theatre Institute at Sage include "The Diary of Anne Frank" (Feb. 5–16, 2020); "Calvin Berger" (Feb. 21-23, 2020); "The Wolves" (April 2–5, 2020); and a Theatre Institute original, "Benjamin Franklinstein Lives!" (May 28–June 12, 2020), based on the books by Matthew McElligott and Larry Tuxbury and from the team that created "Backbeard the Musical!" For more information, visit theatre.sage.edu.