Sage is Only College to Have a Formal Agreement with Hudson Mohawk AHEC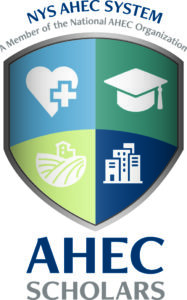 A partnership between Sage and the Hudson Mohawk Area Health Education Center helps students studying health sciences, public health or health care administration to build skills and a professional network. The partnership also helps health centers that care for medically underserved populations to meet their workforce needs.
Hudson Mohawk AHEC is one of nine Area Health Education Centers in the state and 300 in the country with a mission to improve access to health care by supporting education and development for students and professionals. Health Sciences Dean Kathleen Kelly, Ph.D., a member of the Hudson Mohawk AHEC board of directors, recognized AHEC's work overlapped with Sage's, and spearheaded the partnership. Sage is currently the only college to have a formal agreement with the Hudson Mohawk chapter.
The centerpiece of the partnership is AHEC Scholars, a two-year program that places students in a field experience at a community health center and provides supplemental education and mentoring in important areas, including interprofessional collaboration, social determinants of health, cultural competency and more.
AHEC Scholar and Public Health major Alice Antwi '20 said one of her goals is to address disparities in health care and education. "This program helped me learn new terms to have a better understanding for my major, and has also helped me understand the challenges in our health care system," she said.
Antwi and Health Service Administration master's degree candidate Holly Lockrow, are in their second year as AHEC Scholars. During field placements at Whitney Young Health, they learned from a physician assistant who specializes in treating HIV and Hepatitis B and professionals who run WYH's mobile health and Women, Infants and Children programs. "This experience has changed my perception of how health care should be delivered. It has opened my eyes to the 'behind-the-scenes' in a health care organization. Having this knowledge will definitely have a positive impact on me moving forward in my career in health service administration," said Lockrow.
Sage's partnership with AHEC also led to an opportunity for six Nursing majors in the Class of 2019 to earn a stipend during their clinical practicum at Whitney Young, and for those who accepted a full-time position at WYH to receive a sign-on bonus. Whitney Young Health designed the opportunity with the Alliance for Better Health and Hudson Mohawk AHEC to encourage future nurses to consider careers at Whitney Young or similar agencies.
Read "First Class of Nursing Students Complete Project ENSURE PCMH" at wmyhealth.org.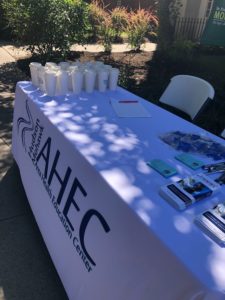 Hudson Mohawk AHEC has an office on Russell Sage College's campus in Troy and is working with Sage faculty to recruit the next cohort of AHEC Scholars. "We find such value in the partnership we have with Sage," said Katie Stair, executive director. "We are working toward the same end goal – supporting students who are our future health care workers. We've created unique opportunities to reach that goal, and I see more and more opportunities ahead."
.