Moving Into Motherhood Project Is Supported by Rubin Community Fellows Program
As an assistant professor of physical therapy with advanced training in pregnancy and postpartum health, a Registered Yoga Teacher and a graduate of Duke University's Integrative Medicine Leadership Program, Russell Sage College's Katrin Ramsey, DSc, knows even more than most about the benefits of healthy movement for expectant mothers. Last year, when she realized that a local non-profit's pregnancy and parenting support program was missing an exercise component, she reached out with a proposal to help implement one.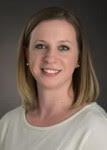 Around the same time, Wendy Gaughan, a lecturer in occupational therapy at Sage and a certified yoga teacher, was in the planning stage for research into the effect of prenatal yoga on self-efficacy during parenthood.
"Wendy and I are very interested in interdisciplinary collaboration and are kindred spirits seeking to empower moms," said Ramsey. "Our ultimate goal is to improve the prenatal and postnatal health and physical, spiritual and mental well-being of pregnant women in Rensselaer County."
Ramsey said their project is especially timely, given how COVID-19 has changed health care delivery.
She and Gaughan will publish the results of their program on participants' well-being and are hopeful that the outcomes will allow them to involve Sage students in their eventual research expansion goals, to serve moms in isolated and rural areas in fall 2021.
"We are really fortunate to have the opportunity of the grant and the backing of Sage to make a difference in the world," Ramsey continued. "This project is an opportunity to help our local and often underserved community of pregnant women improve their own health as well as the health of a future generation."
About the Louis & Hortense Rubin Community Fellows Program
The Louis and Hortense Rubin Community Fellows Program supports collaborations between not-for-profit or government agencies in Rensselaer County and faculty experts from Emma Willard School, Hudson Valley Community College, Rensselaer Polytechnic Institute or Russell Sage College. Rubin Grant-funded projects strengthen participating agencies' ability to serve the people of Rensselaer County. More information, including an application and detailed timeline for future funding cycles, is available at http://www.sage.edu/rubin.