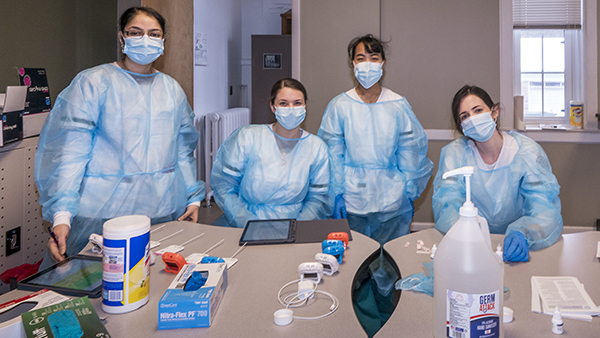 Thanks to a detailed COVID-19 mitigation plan, Russell Sage College experienced a relatively low infection rate during the fall 2020 semester and is taking additional steps to limit COVID spread this spring.
Surveillance testing is a key part of Sage's updated COVID safety plan. Surveillance testing helps the college identify people who carry the virus but don't show symptoms. Being able to quickly isolate and contact trace these individuals helps reduce spread on campus and in the wider community.
Sage established surveillance testing sites on its Troy and Albany campuses and is testing all athletes weekly (or more frequently) as well as randomly testing a portion of employees and non-athlete students every week of spring semester. Student-athlete testing follows NCAA and Empire 8 protocols.
The testing operation has been running smoothly, said Director of Student Wellness Tawana Davis, thanks in large part to support from Nursing students and the Athletics department.
The Nursing students and Athletics staff fill a variety of roles, from checking individuals in, to witnessing their self-administered nasal swabs, performing the chemical analysis to detect the presence of the coronavirus, and entering results into New York state's Electronic Clinical Laboratory Reporting System.
Every volunteer is trained at the beginning of every shift, Davis said, even if they've filled the same role before.
Athletics Director Sandy Augstein Collins said her staff is assisting with the testing in conjunction with a recommendation from the NCAA as part of its Return To Play Guidelines. "The student-athletes are very appreciative of the ability to test and the opportunity to practice and compete and are looking forward to the upcoming competitions," she said.
For Nursing students, the campus service also counts toward required clinical hours.
"I will take the importance of teamwork with me," said Cerchin Sung '21."Educating the public about guidelines provided by the CDC or other reliable sources when I begin work as a nurse will help prevent COVID spread."
Sabrina Sookdeo '21 agreed, saying that working with the testing operation is "a good experience to take forward as a nurse."
Tawana Davis said that the team effort is traditional at Sage.
"At some places, it's like, 'Well, that's Wellness Center stuff,'" she said. "At Sage, it's always, 'How can we pitch in?' This time, it was Nursing and Athletics who stepped up quickly. The Wellness Center really does appreciate all of the departments that are working really hard to make our COVID response successful."