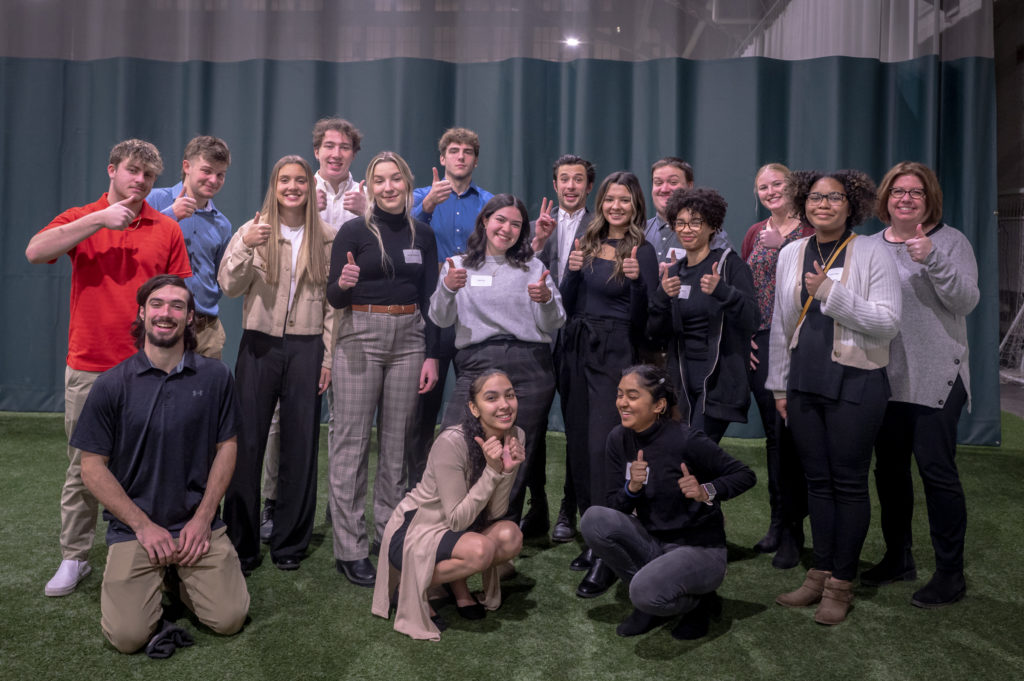 The Egg. Nipper. Stewart's shops.
Whether you are a lifelong resident of Albany or Troy, New York, or a college student who has found a second home here, these familiar landmarks often invoke a smile.
A group of Russell Sage College students hopes refugees who have resettled in New York's Capital District will also come to see these landmarks as symbols of a welcoming community.
They've developed I Belong in Albany, a children's coloring book featuring iconic Albany places and things. The Sage students are preparing to deliver 2,000 professionally printed copies of I Belong in Albany — with crayons — to local organizations that support refugees.
Their hope is that children who receive the coloring books will enjoy a creative activity while learning about their new home, leading to a sense of belonging.
The Sage students are enrolled in a section of Innovating to Impact led by Student Success Librarian Amy Pass. Innovating to Impact is a signature class in Sage's general education program that examines complex issues through an interdisciplinary lens and a collaborative service learning project.
They also met with refugees and representatives from Literacy Volunteers of Rensselar County and refugee support organizations for feedback and guidance, and signed up for service hours at the organizations.
I Belong in Albany features 26 illustrations by Art + Extended Media major Jada Ruiz '24. The illustrations are arranged alphabetically with simple text, letter guides and primary-ruled space where children can practice their handwriting.
Students wrote a successful funding proposal and received a grant from The Women's Institute at Russell Sage College to cover printing costs. They also created a website that will allow anyone to download the coloring pages, and an implementation guide to assist communities that would like to recreate this project.
"The goal of the coloring book really aligns with my goal as a future teacher," said Physical Education major Holly Feit '23.
Holly helped facilitate class discussions on the book's contents and solicited input from the wider community to help ensure cultural sensitivity. She also volunteered at a weekly playgroup at the Refugee Welcome Center in Albany.
"The great thing is I've actually seen kids interact with part of our coloring book," she said, adding that she gained experience working with preschoolers, which complements her Physical Education fieldwork with older children.
Nutrition student Christine Powell '23 said that she enjoyed learning how culture is preserved and transmitted through food in a previous class, Food, Culture & Nutrition. Innovating to Impact encouraged her to continue to expand her cultural awareness, and she volunteered for significantly more service hours than the class required.
"It is so difficult for refugees to uproot their entire lives to start anew," she said. "I want to help."
Instructor Amy Pass is thrilled at the combination of interdisciplinary collaboration, relevant professional experience and meaningful community engagement her students experienced. She expressed appreciation to the students and the campus and community partners that helped bring the project to fruition: Sage's Office of Service Learning and Community Engagement, Intercultural Cafe and Women's Institute; local organizations Literacy Volunteers, the Refugee Welcome Center and RISSE; and the national Every Campus a Refuge initiative.
"All of these partners are the ones who made it possible, and that is something I am so grateful for," she said. "It's been a fantastic experience."