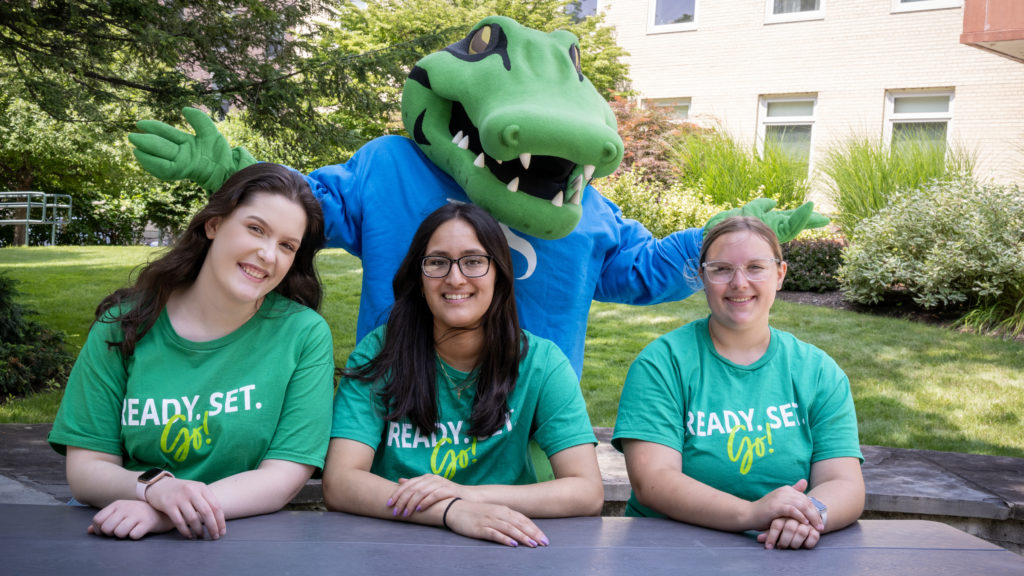 Navigating college resources shouldn't be the hardest part of college, yet colleges and universities have historically made it difficult, expecting students to weed through a tangle of unfamiliar terms like "bursar" and "registrar" and figure out on their own whom to email or call for help. With a longstanding love of siloed processes and distinct roles, this has been higher education's "us" problem for as long as ivy has crept up historic stone walls.
Russell Sage College wanted to stop the "Sage shuffle," as students were passed from office to office to get the resources they were seeking. To make what should be the easiest part of college simpler, the college combined the student support and education it delivers so successfully into one cohesive undergraduate experience called The Gator Gateway.
While The Gator Gateway includes curricular and experiential learning elements, its design recognizes that academic success hinges on student support. Its delivery recognizes that making that support as personal as possible is crucial.
After all, today's students still seek connection in this increasingly digital, remote world.
Sage's One-Stop House of Answers
The heart of the effort to make support more personal and accessible are the college's Solutions desks where students can request assistance with anything from financial aid to a malfunctioning printer.
Located in the Troy and Albany campus libraries, via online chat, and popping up at campus events, Solutions desks are one-stop shops where students can have all their questions answered — without being shuffled from office to office.
"Students are hesitant to ask their questions, so we do everything we can to make it easy," said Assistant Provost Kirk Robinson, who leads Student Success initiatives.
Student Success Advocates — also called Gator Guides — staff the Solutions desks, and have been cross-trained to answer the most common questions.
"Previously, when a student had a problem with their FAFSA or their bill, I would know where to bring them, but I wouldn't know how to advocate," Gator Guide Rebecca Palmer said. "Having more tools with which to help students has been incredible."
Prospective students and their families don't have to guess which department to contact with their questions, either — there is now a single phone number (518-244-2020) and email address ([email protected]) that families can use for any inquiry that is staffed in part by the same cross-trained Gator Guides.
"If you get me on the phone, if I don't know the answer, you're going to hear back from me, and I'm going to tell you when," said Palmer, adding that it is usually within the hour.
Sage's Ready, Set, Go! orientation program invites students to one-on-one "pre-meetings" with Gator Guides before orientation, to help students set goals and identify what support services they might benefit from once the semester begins.
Then, at "Ready" days — small group orientations held over the summer — they can focus on making personal connections with peers.
"We emphasize being able to meet someone in one of their classes and a NaviGator, who are sophomore, juniors, and seniors. That peer-to-peer thing is really powerful and cool," Palmer said.
"Advice from someone who is only one or two years ahead of you carries more weight, sometimes," she continued. "They've made the call to financial aid. They've navigated the systems and software we use. They can tell you the best place to park. You don't have to be that much farther ahead to be the knowledgeable person."
A week before first-year students arrived on campus for fall 2023, Palmer reached out one more time to everyone she had a pre-meeting with or had met at orientation.
"I said, 'It's the final countdown. What have you been sitting on, what do you need? I don't want you to show up on campus feeling lost.'"
There are several other aspects of The Gator Gateway that personally connect students with support resources, including the RSC Thread.
The RSC Thread is a series of three signature classes in the general education curriculum that combine professional preparation and engaged learning with physical, emotional, social, intellectual, environmental, spiritual, vocational, and financial wellness (commonly referred to as the Eight Dimensions of Wellness.)
One of the elements of the RSC Thread is a one-credit, eight-week workshop for first year students, team taught by Gator Guides like Palmer, faculty members and administrators like Robinson, and representatives from other Gator Gateway elements like Thrive@Russell Sage, a campus-wide initiative centered on the Eight Dimensions of Wellness.
When it comes to communicating the support that is available, timing is as important as the message, said Robinson, explaining why a workshop on time management and study skills at orientation — when no one has assignments yet — might not be as useful as college administrators sometimes want to think it is.
The RSC 101 Workshop addresses this. Class leaders have leeway to adapt their meetings to what their students ask for — for example, a class session might be dedicated to the Focus2 career assessment tool, resume review sessions, or using LinkedIn and Handshake (the No. 1 resource for college students to find jobs and internships).
Nursing major Chantal Russo noticed Russell Sage's personal and distinctive approach to student support right away. She started college in the City University of New York system, and transferred to Sage in spring 2023, the same semester that Sage launched the Solutions desks. At her former campus, she'd have to wait in line for up to an hour to speak to someone when she had a question.
"At Russell Sage, you walk in, have a seat on a sofa and start talking about your situation," she said. "It's really different."
Palmer, the Gator Guide, attended a 30,000-student university and said it's cool to compare that experience to what she provides at Sage: "Trying to call student accounts, I don't know what I would have gotten. Would I have gone through five automated menus and had a 30-second conversation with someone who was too busy for me?"
"I've had experiences where I've helped a student with something that felt like a huge problem to them,' she continued. "But I've helped them break it down into something that's doable."
"That's the advantage of being here at Russell Sage," she added.
"We have a coach who says, 'You come to Sage for the people,'" said Assistant Provost Robinson. "The Gator Gateway is putting our people as close to the students as often as we can, so they can help."
The Case for The Gator Gateway
51% of college-educated Gen Z workers needed emotional or mental health assistance in the past year.
43% screened positive for anxiety and 31% screened positive for depression.
92% of Gen Z members polled say being authentic or true to self is extremely important.
39% say they want to make a difference in their work, higher than those wanting to make a lot of money (32%)