About Major James Johnston
"Through different jobs, I became extremely flexible, open minded and open to anything," says retired U.S. Air Force Major and nurse James Johnston.
Major Johnston sums up his career — which spans three branches of the U.S. Armed Forces — with the motto Semper Gumby.
It's a good-natured reference to the Marine Corps motto, Semper Fidelis or Always Faithful, and the classic flexible character. It's also a reflection of a mindset that helped him excel over 28 years of active and reserve military service, as well as several more years as a civilian nurse.
When he talks about his career, he says, he tries to give his listener a sense of the extremes.
"I did everything from labor and delivery nursing in a remote area with few doctors, to flight nursing from a tactical base out of North Carolina to Mogadishu and Saudi Arabia," he says. "In flight nursing, you can't get farther away from a hospital setting."
His ready-for-anything attitude also paid off in more casual situations — if you can call an unexpected meeting with royalty "casual."
In that instance, Captain Johnston explains that he had been in Jordan, to train its air force and local nurses in mass casualty management and medical evacuation procedures.
Less than a year later, he met then-King Hussein of Jordan, "totally by chance," at a hot spring in Jackson Hole, Wyoming. His experience in Jordan, he says, allowed him to easily interact with the king's escorts, and led to the introduction to the king.
Johnston received his initial medical training as a corpsman in the U.S. Navy. When his tour with the Navy ended, he earned an associate degree on Long Island, then, while serving in the Army Reserves, a bachelor's degree in Nursing at Russell Sage College.
Upon receiving his bachelor's, his goal was to return to active duty; six months after receiving his Sage degree, he embarked on a career as an officer with the U.S. Air Force.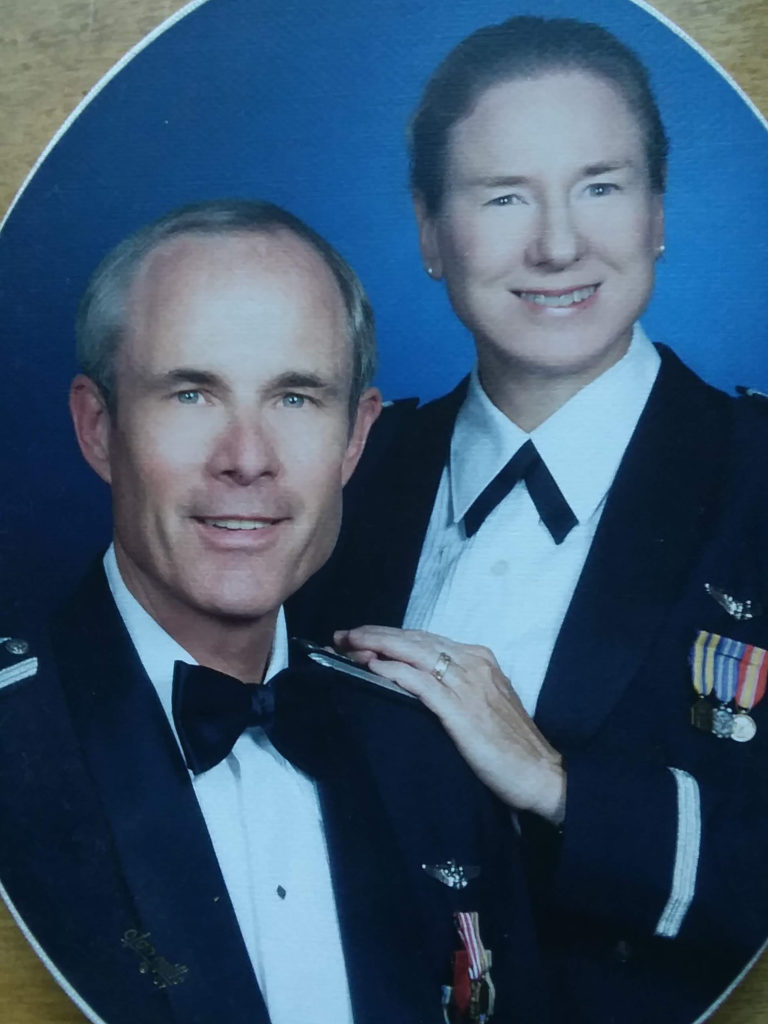 Major Johnston retired from the Air Force in 2000, but continued to move — and work in health care — around the world, with his active duty wife.
He was a medical research coordinator in Turkey and Egypt; volunteered with injured soldiers at Landstuhl Regional Medical Center in Germany; was a VA nurse in Albuquerque and an emergency services nurse in Montana and Colorado, where he now lives.
While Major Johnston's military medals are numerous — and include a Meritorious Service Medal with one device; Air Force Commendation Medal with three devices; Naval Reserve Meritorious Service Medal; National Defence Service Medal with one device; Navy Good conduct Medal; Southwest Asia Service Medal; Armed Forces Reserve Medal; Kuwait Liberation Medal; Armed Forces Expeditionary Medal; United Nations Medal; and a Joint Meritorious Unit Award — they are not what stand out when he reflects on his career.
"The most important, meaningful and rewarding experiences have been through the people I have encountered, be it patients cared for, interaction with local residents in remote settings or the superb, talented military personnel I worked with," he says. "Those of us who go into the medical field have a special calling, and it's all about people."