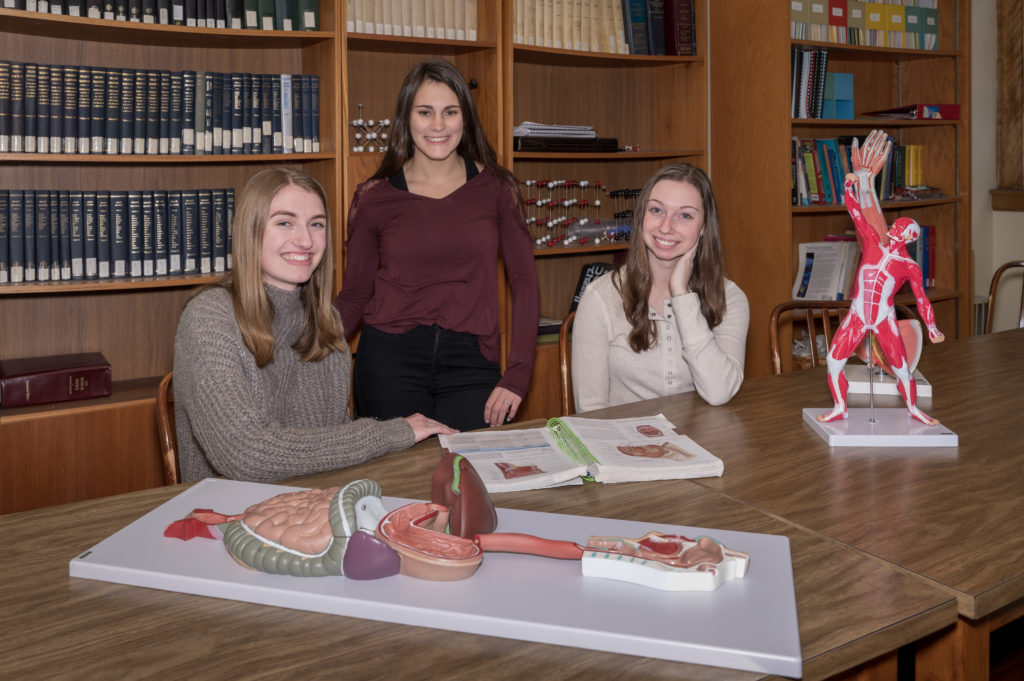 Teaching assistantships are common at large universities but less so at smaller colleges, said Professor Mary Rea, Ph.D., who supervises Sage's teaching assistants and graduate teaching fellows. "The opportunity to build the leadership skills that come with these roles is one of the things that distinguishes Sage," she said, emphasizing that Sage professors remain accessible and responsive to all their students.
Teaching assistants and graduate teaching fellows work alongside faculty members to set up labs, offer assistance during lab sessions, lead some post-lab discussions and help with grading.
Allison said that working as a TA for undergraduate Anatomy & Physiology labs before she began the graduate program helped her excel in Gross Anatomy, one of her first DPT courses. She became a Gross Anatomy TA and is now a teaching fellow and instructor for her own lab section.
"While I intend on spending the majority of my time treating patients, I definitely see myself working as an adjunct professor one day. These opportunities are great stepping stones to achieving that goal," she said.
Piper said that serving as a tutor and teaching assistant for Anatomy & Physiology labs and now as a graduate teaching fellow for physics classes is something impressive to add to her resume and meaningful to the students she assists.
Some students are more comfortable asking for help from a peer than from a professor, she said.
She will use her ability to adapt information to individual learning styles when she becomes a practicing physical therapist and has to convey diagnosis and treatment information to her patients.
Brooke said that the TAs in her first-year classes inspired her interest in becoming a TA in her sophomore year.
"I had to learn to be a leader to students who are around my own age," Brooke said, acknowledging that is a skill she will need as she advances in her career, eventually supervising others and managing PT practices.
When they begin doctoral work, teaching assistants may apply to become graduate teaching fellows. Allison and Piper are now graduate teaching fellows; Brooke will join them next year.
Teaching assistant and fellow positions are competitive and include a stipend; as with all instructional positions, teaching assistants and fellows receive course evaluations from students and a faculty mentor.
"I am proud of our TAs and graduate fellows," said Professor Rea, "and proud of the program we've designed to offer a leadership experience that prepares teaching assistants and fellows to excel in their Physical Therapy program and to build skills for professional practice."