What is Russell Sage College doing to be greener?
Introducing Single-Stream Recycling across both campuses
Adding "hydration stations" for refilling water bottles

located in the Shea Learning Center in Troy
various locations in Albany — thanks to a gift from SCA Student Government!

Incorporating environmentally friendly measures in building renovations. For example, Shea Learning Center features:

High-efficiency lighting design
Occupancy-based lighting and HVAC
Variable-speed refrigerant system
High-efficiency condensing boiler
Hand dryers in bathrooms instead of paper towels

A Committee on Academic Information Technology (CAIT) is discussing ways to reduce printing for academic purposes
Sage institutes energy savings plans during each college break, closing certain buildings entirely and employing reduced hours to minimize heating
Lights and windows have been swapped out for energy efficient models
The temperature has been reduced in buildings during the winter
Boilers were replaced with more efficient models
LED/solar lights are used outdoors
Computer labs now feature virtual hard drives
New gardens on both campuses not only beautify outdoor spaces, they feature plants native to the region and sustainable design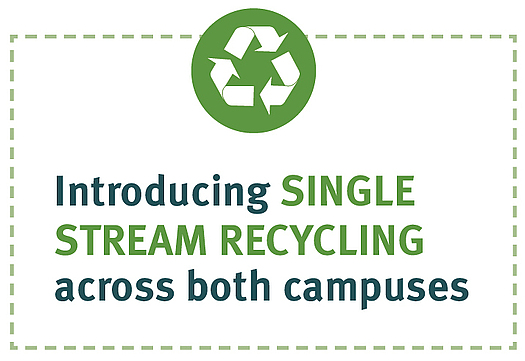 Easy and convenient.
No sorting needed.
Throw all recyclables in one container.
Bins provided.
Benefits of Single-Stream Recycling
The Single Stream approach allows all recyclables to be collected in the same container, making recycling convenient and easy for our students and employees.
Collecting more recyclable material has been shown to increase recycling rates by an average of 30%.
Reduces collection costs.
Reduces vehicle emissions while increasing landfill diversion rates.