Frequently Asked Questions
Who is my Faculty Advisor?
→ For academic advising, registration, and graduation planning assistance, students work with their assigned Faculty Advisor from their major department, also known as, Faculty Advisor (major). The Faculty Advisor (major) is your primary advisor.
→ Your Faculty Advisor's name and contact information is listed in your Self Service – Student Planning account.
→ In Student Planning go to My Progress. In the My Progress At a Glance section click on the blue Show Program Notes link.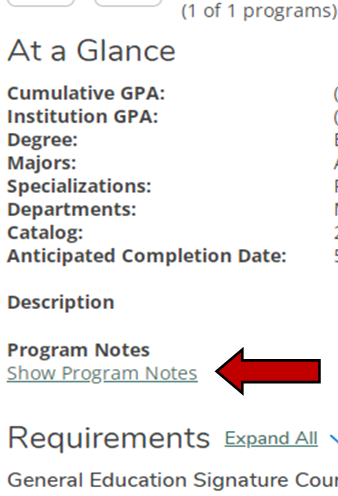 How to request a Major Change or Add a Minor?
→ The Office of Academic Advising ([email protected]) assists students with changing their major.
→ Change of Major/add a Minor information: catalog.sage.edu/change-of-major-minor-or-advisor.
→ Students wishing to change their major or add a minor may do so by sending an email to, [email protected], with their name, student ID#, and the new major (or minor) they wish to declare. Note: some major change requests require meeting with the Advising Office. All academic program changes require the approval of the Advising Office. Note: some major programs have specific admission GPA requirements.
→ Requests to drop a minor may be sent to [email protected]
How to Withdraw from a Class?
→ Submit withdrawal request in writing (email) by the Last day to Withdraw from Class. The withdrawal date is listed on the Academic Calendar. Important: first discuss if course withdrawal is needed or recommended with the Course Instructor. If you learn you need to withdraw from the course, discuss with your Faculty Advisor-major how course withdrawal affects degree progress and graduation. And, discuss with the Financial Aid Office how course withdrawal will affect your current and future financial aid and scholarship status.
Course Withdrawal Request (W grade) – options
1. Complete the Add/Drop Registration Change form (pdf) by deadline listed on the Academic Calendar. RSC Add/Drop Form
2. Or, request course withdrawal by email. Send request to the Registrar's Office from your Sage email account by deadline listed on the Academic Calendar.
— Required in the email, must include in the cc: line, your Faculty Advisor-major, Course Instructor, and Financial Aid Office ([email protected]).
How is my Grade Point Average (GPA) calculated?
→ See Catalog for example: catalog.sage.edu/calculating-grade-point-average-gpa
→ Formula: Total Quality Points ÷ Total GPA credits = GPA. GPA is based on credits completed and grades earned at Russell Sage College. RSC grade point averages are calculated to the third decimal place.
I am on a Wait-list. How do I get in the class?
→ The waitlist process is handled by the Registrar's Office. You will receive an email from [email protected] when a seat becomes available with instructions to register for the class in Student Planning. Note: once the email is sent, you have 48-72 hours to register for the class. If you miss the deadline you will have to put yourself back on the class waitlist. Course instructors cannot give you a seat or register you for the class.
I am a current student. Can I take a summer transfer course?
→ Prior approval is required for current students to transfer new credits to their Sage record. See Catalog for policy on transfer of credit after matriculation.
2) Student requests an official transcript be sent directly to Sage when class/term ends. Note: a course grade of C- or higher (1.700) is required for credits to transfer. The transfer college Registrar's Office mails to Sage an official transcript in a sealed envelope (US mail) to: Russell Sage College, Office of Admission, 140 New Scotland Avenue, Albany, NY 12208. OR — Electronic transcripts may be emailed from the transfer college directly to Sage: [email protected]
When do newly enrolled students register?
→ See New UG Student Advising Notes [Link]