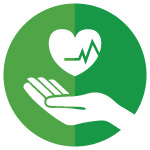 Health services include sick visits, physicals, gynecological visits, and more. The staff considers a student's diet, exercise, lifestyle, environment, and mental health before suggesting a path to wellness. The nurse practitioners work in collaboration with a physician. Referrals are given as needed.
Appointments are preferred for health services and non-crisis counseling services. Walk-ins are accepted depending on availability.
Health Services Fees
There is no charge for the office visit at the Wellness Center. Additionally, the Wellness Center does not bill your healthcare insurance unless you have the CDPHP Sage student plan.
However, there are minimal charges for some services.
Medical Services
Physical Exam – $30.00
Gyn Exam/PAP – student responsible for lab fees
Plan B – $20.00
Nebulizer Treatment – $5.00
Quick Strep Test – $5.00
Pregnancy Test – $5.00
Immunizations
Tetanus Booster – $36.00
PPD – $10.00–If you are a health science student in need of a PPD this summer while the Wellness Center is closed, please call the Rensselaer County Department of Health at 518  270 2655.
Medications/Prescriptions
Payment is due at time of service. Make checks payable to The Sage Colleges.
Gynecology
Services include annual gynecological exams, pap smears, contraceptive counseling and prescriptions, emergency contraception, treatment and counseling for sexually transmitted diseases, and pregnancy testing and counseling.
Health Insurance
All full-time students at The Sage Colleges must maintain health insurance coverage for all semesters in which they are enrolled. Health insurance purchasing and waiver information is available online.
You may also be eligible for health insurance through Fidelis Care NY. Please visit Fidelis Care NY to learn more.
Verification of Medical Illness Policy
The Wellness Center does not provide documentation of student medical illness/injury. A copy of this policy does not excuse a student from class.
Students who miss class due to illness/injury are encouraged to notify their faculty directly, preferably before missing a class. Most faculty members accept your word that you have a legitimate reason for missing class, an exam, or an assignment deadline. All decisions about the impact of your absence on your grade, as well as any arrangements for making up work, rest with your professor.
Illness varies greatly among individuals. We expect students to take a reasonable and responsible approach to their academic responsibilities while keeping in mind the public health and safety of themselves and others.
Copies of this policy may be given to the student upon request.
Confidentiality
All consultations and referrals are kept confidential and private in accordance with state and federal guidelines. Information obtained in counseling and health services will not be shared with anyone without the student's written consent, except when a student is in danger of harming him or herself or others.