Local Business Community Has Provided Nearly $1.4 Million in Direct Aid to Sage Students Since Corporate Connections Scholarship Program Established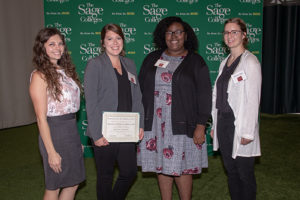 On September 11, The Sage Colleges held its annual Corporate Connections reception, which recognizes the Capital Region businesses that support the Corporate Connections scholarship program.
For the 2019-20 academic year, 40 local businesses provided scholarships to 86 students from the Capital Region who are in their final year of study at Sage. Local businesses have provided nearly $1.4 million in direct aid to more than 1,000 Sage students since the Corporate Connections program was established more than 20 years ago. In that time, M&T Bank has awarded 160 scholarships, Maggs & Associates has awarded 110 scholarships, and Stewart's Shops and the Dake Family has awarded 65 scholarships.