Dear New RSC Students,
My name is Tasharif (Tash) Carr and I am the President of the Executive Board at Russell Sage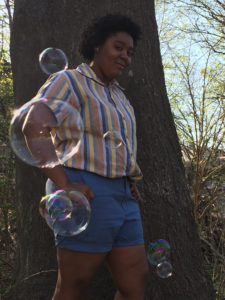 College. I would like to give a warm "electronical" welcome to the class of 2022 and incoming transfer students. Being a student at Russell Sage is one of the moments you will remember the most when you find yourself outside of college. Russell Sage teaches student to be people of influence. Here, at Russell Sage you will not just learn the necessary skills you need for your future profession, but you will find something more—your voice. The Sage community is small and close-knit. The professors and faculty members really care about your education and administrators strive to give you the best education; you are not just another seat to fill. We work hard as a campus to make everyone feel welcomed whether you are a resident or a commuter because all students matter. We are here to make sure the your college years are the best years of your life.
Here at Russell Sage, there is always an event going on and the majority of them include free food. Join in on the tradition sand activities and you will never have a dull moment. For the class of 2022, you class mascot is the Purple Cows. You transfer students can identify as a Purple Cow or with the class you will be graduating with. I happen to be the sister class to the Purple Cows. My class, The Golden Horseshoes will be your "Bigs." The other Sage Sister mascots are the Red Devils and the Blue Angels. Traditions are big on campus and bring many people together. Some people have even made lifetime friends after participating in the traditions—that could be you. Again, all of the departments on campus are here to make your experience your best. Student Orientation Leaders, Student Mentors, and Freshman Class Coordinators will be there with you as we ride out our college years along with you.
The time spent in college are the moments you will remember the most. Keep an open mind and don't be afraid to step out of your box. While you are here at Russell Sage you may find yourself doing things you never thought in a million years you would be doing. So make Russell Sage your home; join a club and get involved on campus. Before you know it, college will be done in the blink of an eye. Just remember college is what you make it, so make it a good one. If you have any questions, comments, or concerns, feel free to contact the Office of Student Life at 518-244-2207. You can also contact me at [email protected]. Have a wonderful summer! Don't be afraid to say "hi" if you see me around campus.
Best Wishes,
Tasharif Carr
Russell Sage College Executive Board President '18-'19
Class of 2020 PACE with Criminal Justice and Pre- Law Minor
President of Black and Latino Student Association (BLSA)
Orientation Leader '18-'19
Assistant Manager of the Student Center '18-'19