Incoming Russell Sage Students,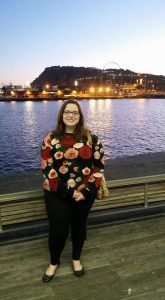 My name is Rebecca Cappelli and I am the President of Student Government at Russell Sage College. I want to welcome you all to the class of 2020! Coming to RSC is a great choice. You will have many unique experiences that you would not receive at any other college. We may be a small establishment but our professors are incredible and our administrators strive to help us achieve success. Your years here at Russell Sage will be filled with crazy traditions, exciting events, and a network of support. You will not only have a home for the next four years, but you will have a family for the rest of your life.
As the class of 2020, you are the Golden Horseshoes! You will be joining your bigs, the Purple Cows, and your Sage Sisters, the Red Devils and the Blue Angels. Your Freshman Class Coordinators (FCCs), Student Mentors, Orientation Leaders, and Resident Assistants have worked tirelessly to ensure your feel welcomed. I know it might be confusing or feel awkward to sing your class song right now. I can assure you that once you are on campus and see the enthusiasm of the other classes, you will realize that you can't get our songs out of your head.
College is another chapter in your book of life; a chapter that goes by very quickly! So remember to enjoy yourselves, try not to stress. While the main goal of attending college is to challenge yourself academically, I encourage you all to get involved in activities and traditions on campus. If you need help there are always people happy and willing to assist you! You are not alone in your journey. If you have any questions, comments, or concerns, feel free to contact the Office of Student Life at 518-244-2207. You can also contact me at [email protected]. Have a great summer! I am looking forward to seeing you all in August!
Rebecca A. Cappelli
Purple Cows Class of 2018
E-board President 2016-17
Resident Assistant, Kellas Hall
Student Center Programmer