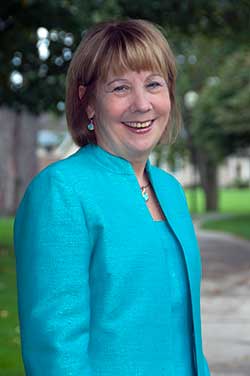 There are so many ways in which the School of Health Sciences at Russell Sage College is responding to the needs of today's health-care professionals through health-care education. Here are just a few examples of how we are meeting the needs of our students and our community:
We are actively preparing nurses at the advanced practice and doctoral levels. This is a crucial step in providing future nursing leaders in administrative and clinical roles. According to the Institute of Medicine, a nursing doctorate is "required for nurses to serve as primary-care providers, nurse researchers and nurse faculty — positions currently in great demand across the profession and within the health care system."
Sage is establishing important new connections. We have partnered with regional health insurance provider CDPHP to offer the annual Nutrition Lecture Series.
Experts in their specific nutrition disciplines have visited Sage and publicly addressed the timely and important issues of childhood obesity, eating to optimize performance for athletes and active people, and how to make life-long healthy eating decisions.
The occupational and physical therapy programs are partnering with local colleges to offer interprofessional collaboration and research opportunities.
We have initiated regular interprofessional case conferences focused on bringing together students from each of the health science programs to discuss patient cases across the lifespan. These case conferences provide students with a chance to meet, study and learn with and from each other, across their professional areas. This kind of interaction prepares our students for the real world of interprofessional health-care teams.
In the midst of this growth, we continue with the strengths we are known for: community engagement and professional excellence. Many programs in the School of Health Sciences do extensive community outreach, ranging from games for good health for urban children to health fairs for senior citizens, as well as collaborating with Capital Region, state and international partners working with diverse and vulnerable populations. Faculty members in each of the health science disciplines continue to engage in research; present their findings at local, regional, national and international conferences; publish in professional journals; and apply for and receive grants.
I am proud to champion the students and faculty in the School of Health Sciences. We hope that you will join us in working toward creating a healthier future for all.
Kathleen Kelly, PhD, MPH, MS, FNP
Dean