Doctor of Occupational Therapy Curriculum Design
The occupational therapy curriculum emphasizes the person, environment and occupation relationship and incorporates an experiential approach that focuses on students engaging as active learners. Foundation and upper level clinical courses promote an understanding of the dynamic relationship between health, well-being and occupational engagement for a person's ability to participate in valued life activities and roles. Students are immersed in learning opportunities to both promote clinical reasoning skills and develop a systemic view of health and service delivery systems. The curriculum model is organized around three elements: Foundations and Professional Identity, Evaluation and Intervention in Practice Settings, and Professional Responsibility and Research. It is further supported by three major themes that are infused throughout coursework: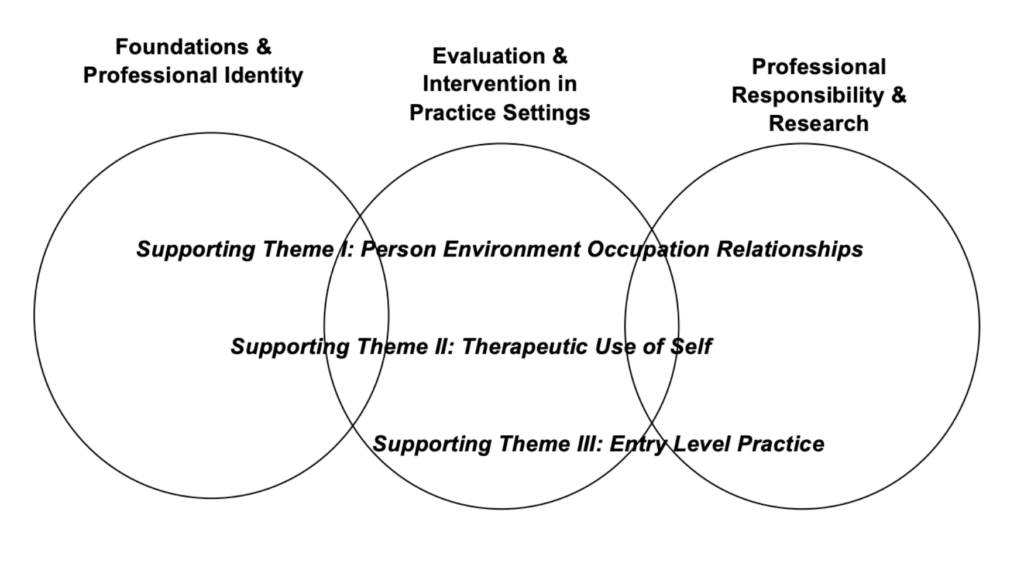 Foundations & Professional Identity
Foundational courses provide students with a basis for understanding the distinct occupational perspective and how the profession contributes to health promotion and participation in society. The Occupational Therapy Practice Framework is introduced along with the major practice models and theoretical frameworks that define the language and philosophy of occupational therapy. Students explore the intersection of the areas of occupation, client factors, performance skills and patterns as well as context and environmental factors. An exploration of occupations as performed individually, as a group or as a population allow the student to understand the activity demands of the occupation.
Evaluation & Intervention in Practice Settings
Evaluation and intervention courses focus on a variety of service delivery models and provide a framework for developing client-centered intervention of individuals, groups and populations. The application of practice models within this content guides the development of critical thinking. Students engage in case driven labs and fieldwork experiences to apply knowledge gained in the classroom to clinical settings, in order to hone clinical reasoning skills, and achieve entry level competence.
Professional Responsibility & Research
Students learn about the roles and associated responsibilities of the OT through coursework that addresses occupational therapy service delivery, advocacy, ethics and health policy administration. A multi-course research sequence prepares students for scholarly inquiry guiding them to become evidence-based practitioners. Working collaboratively with faculty, clinic and community-based sites, student teams develop and implement research studies whose outcomes augment current literature and meet the information needs of research partners. The culminating requirement is presentation of the capstone experience at the annual Graduate Research Symposium. Through these experiences, students develop the broad perspective required for promoting and providing best practice.
Person-Environment-Occupation Relationship
Students explore how factors related to the person, environment and occupation impact health, well-being and participation in society. Throughout the curriculum students engage in scholarly inquiry, case-based learning and field experiences with persons, groups and organizations. Together these learning activities assist students to analyze the elements that promote occupational performance.
Students develop skills in forming therapeutic relationships through experiences that foster self-awareness, personal maturity and effective communication. Emphasis on client-centered practice supports the student's ability to engage in a collaborative intervention process.
Entry-level practice as an occupational therapist is facilitated through the development of critical thinking skills, therapeutic use of self and professionalism. The application of ethics, evidence-based practice and clinical reasoning are woven throughout coursework and fieldwork experiences. Students develop the knowledge, skills and behaviors required for best practice.
Doctor of Occupational Therapy Program Outcome Statements
At the end of the Occupational Therapy program students will:
Foundations & Professional Identity
Demonstrate knowledge of the history of the profession, the scope and role of occupational therapy within the service delivery systems, and its contributions to health promotion, wellness and participation in society.
Establish and sustain client centered therapeutic relationships and support intergenerational and cultural sensitivity in client interaction.
Function in the generalist role and assume a commitment to lifelong learning.
Develop professional behaviors, attitudes and actions reflective of ethical standards and values.
Demonstrate a strong command of the Occupational Therapy Practice Framework language when communicating effectively in writing or speaking to a variety of audiences.
Advocate for the profession and the people we serve through active participation and membership in community and professional organizations.
Evaluation & Intervention in Practice Settings
Value culture and other person-environment factors in developing meaningful interventions across clinical and community settings.
Apply knowledge of the relationship of theory to a variety of practice settings using theoretical models and frames of reference to guide clinical reasoning.
Distinguish and use appropriate screening and assessment methods to determine client goals and document the need to refer to other disciplines as indicated.
Develop and implement occupation-based intervention plans that support the client's ability to return to desired habits, routines, roles, and rituals within their environment.
Document services to ensure accountability and to meet standards for reimbursement.
Work cooperatively with members of interprofessional teams and other stakeholders within the health delivery system.
Demonstrate ability to analyze and adapt environments to promote occupational health and wellness.
Professional Responsibility & Research
Develop an understanding of healthcare policy's impact on occupational therapy scope of practice, in relation to trends as well as state, federal and professional standards.
Develop understanding of reimbursement regulations and the role legislative advocacy to or for the profession.
Reflect and develop leadership style in relation to management of occupational therapy services including an understanding of healthcare teams, supervision and evaluation of occupational therapy services.
Establish a professional development plan that articulates professional leadership and scholarship goals, including exploration of diverse roles such as lifelong learner, collaborator, entrepreneur, innovator and advocate.
Reflectively integrate research evidence into occupation-based practice with clients and communities, through critical analysis of current literature, execution of a novel research study and engagement in scholarly activities that contribute to best practice.
The following curricular objectives link to the program's curriculum design and identify educational expectations and competencies.
Foundations & Professional Identity
Demonstrates consistent personal and professional ethical behavior
Demonstrates positive interpersonal and interprofessional skills
Communicates the values and beliefs of OT to clients, staff and family
Demonstrates beginning use of professional OT language
Seeks and responds constructively to feedback
Takes responsibility for own learning
Evaluation & Intervention in Practice Settings
Adheres to safety regulations in regard to safety of self and others
Demonstrates ability to establish rapport with clients and team members
Demonstrates respect for diversity factors and lifestyle choices of others
Analyzes impact of person-environment factors on OT evaluation and intervention
Selects appropriate screening and assessment tools based on client need, context and environment
Refers to specialists for consultation and intervention
Uses standardized and non-standardized screening and assessment tools appropriately
Uses theories, practice models, and frames of reference to guide and inform evaluation and intervention
Makes informed practice decisions based on critical analyses of the evidence
Develops and implements occupational based interventions based on appropriate theoretical approach and client needs
Demonstrates skills in supervising and collaborating with OTAs
Documents services and maintains records to ensure accountability and meet reimbursement and facility standards
Demonstrates knowledge and compliance with reimbursement mechanisms
Monitors and reassess the effect of OT intervention and need for continued or modified services
Develops discharge plans and terminates OT services as appropriate
Report evaluation results and modify practice as needed to improve outcomes
Provides client and family education to support occupational participation
Professional Responsibility & Research
Manages time, schedules and prioritizes workload appropriately
Develops strategies for effective use of OT and non-OT staff
Understands trends in models of service delivery and their effect on OT practice
Considers the impact of contextual factors on management and delivery of OT services
Demonstrates ability to design processes to manage quality and develop program changes
Understands factors that promote policy development and provision of OT services
Demonstrates knowledge of state, federal and professional standards that shape practice
Demonstrates knowledge of advocacy to benefit consumers and the profession
Identifies opportunities to address societal needs by participating in the development & marketing of OT services
Understands and critiques research studies
Uses research/professional literature to make evidence-based decisions
Designs and implements novice research studies relevant to occupational therapy
Identifies strategies for ongoing professional development
Participates in professional activities to advance the profession
Doctor of Occupational Therapy