Black Molasses: A look into our bitter and sweet experiences
March 21-25, 2022
---
The DEI Heritage Committee and the Visual + Performing Arts Department present the exhibition "Black Molasses: a look into our bitter and sweet experiences", curated by AEM student Ja'deana Cognetta Whitfield. The exhibition features artwork by current students and alumni of the Visual Performing Arts Programs.

An Afrofuturistic Experience
February 28, 2022
---
The Afrofuturistic Experience was a performing art show curated by Jordan Taylor Hill & Friends. The show was full of traditional drumming and dance from the African Diaspora as well as spoken word and song.  Attendees were presented with a 90-minute show set to include a series of traditional drumming and dance from West Africa, spoken word, and storytelling. Audience members also learned about the origins of the music, concepts, and its relation to modern music and dance will be illustrated with original pieces. The show will conclude with an invitation for members of the audience to join on a stage and dance with the group.
My Beautiful Black Hair
February 7, 2022
---
In her presentation, St. Clair discussed what she has learned through her almost four-year-long journey photographing and interviewing 101 Black women with natural hair for her forthcoming photojournalism book, My Beautiful Black Hair: 101 Natural Hair Stories from the Sisterhood.  My Beautiful Black Hair is a large-scale visual anthropology exploring the deep, complex relationships across generations between Black women and their hair that Kirkus Reviews calls "compelling and inspirational … a powerful celebration of self-acceptance and sisterhood." From the impact of historical anti-Blackness in the Dominican Republic to discussions about the politicization of the afro and its relationship to the Black Lives Matter movement, her presentation will challenge students and audience members to think about the ways in which they can use hair as an entry point into other related topics, including (but not limited to) self-love, anti-Blackness, healing from racial trauma, feminism, and community relationships. Lastly, St. Clair offers students a blueprint for using storytelling —whether by speaking up themselves or passing the mic to others — as a form of social activism.  The presentation included a series of her photos and two short videos.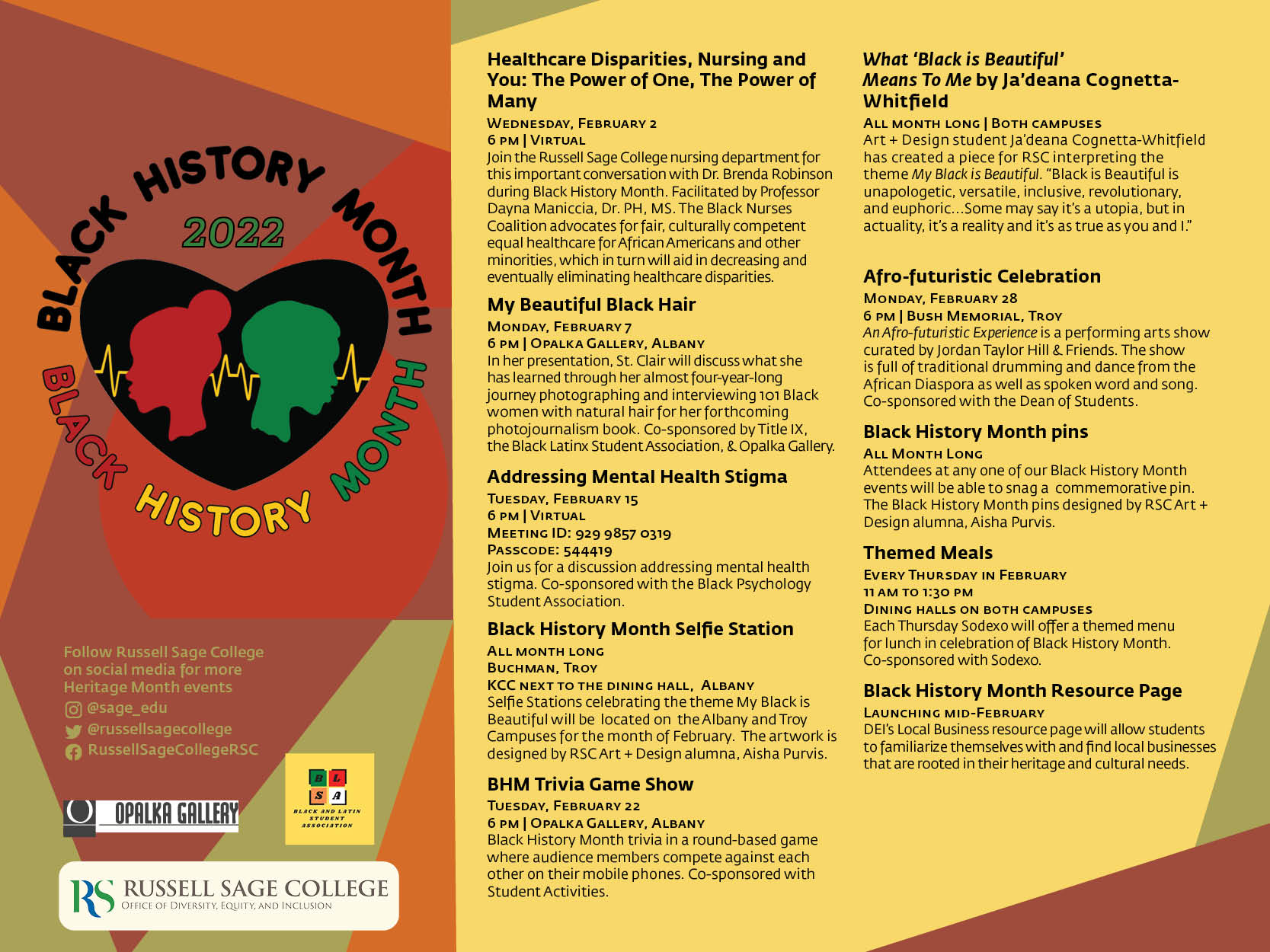 Black History Month – 2022
February, 2022
---
Healthcare Disparities, Nursing and You: The Power of One, The Power of Many
My Beautiful Black Hair
Addressing Mental HealthStigma
Black History Month trivia Game Show
Afro-futuristic Celebration
All Month Long
Black History Month Selfie Station
What "Black is Beautiful" means to me by Ja'deana Cognetta-Whitfield
Black History Month Pins
Themed Dining Hall Menus
Launched Black History Month Resource Page
Lunar New Year
January 31 & February 1 2022
Join the Heritage committee and students of the Intercultural Cafe in celebrating Lunar New Year, the year of the Tiger, and our initiative to Stop Asian Hate! Traditional red envelopes will be available to be purchased for $1 to send a nice message or small gift to a friend, family member, professor, etc. This is a wonderful way to ring in the new year and share thanks and prosperity. All proceeds will be donated to an organization to Stop Asian Hate.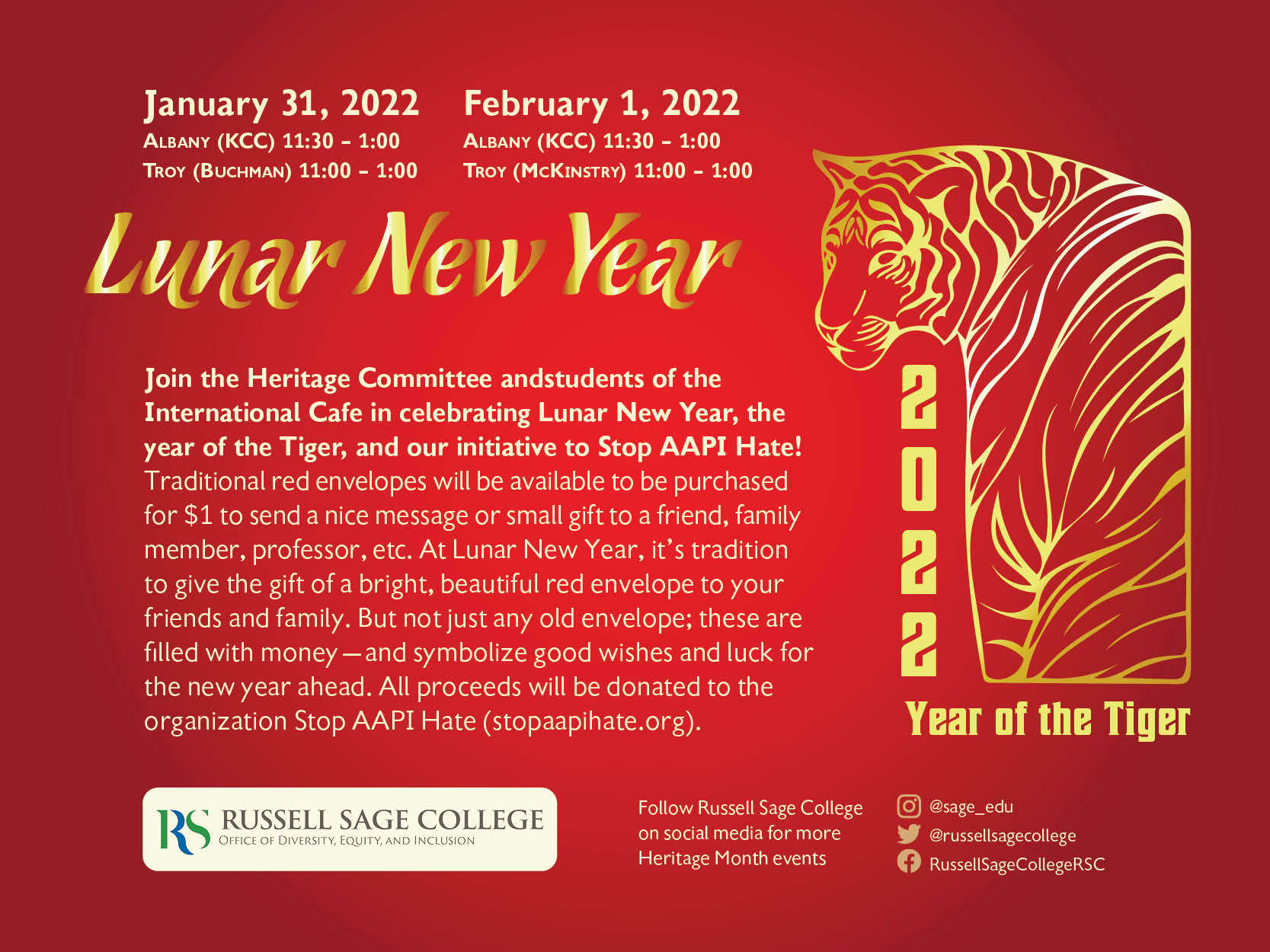 World AIDS Day: Rock the Ribbon
November 30, 2021
---
Forty years since the beginning of this epidemic in the U.S., and almost two years into the COVID-19 pandemic, this World AIDS Day 2021 recognizes the challenges of both, intertwined in inequities in health and access to lifesaving health services. This year's domestic and global themes focus on inclusion, equity, and better health for all people affected by HIV and AIDS. (Center for Disease Control and Prevention) 
On November 30, 2021, Russell Sage College commemorated International World Aids Day (the designated day is December 1) as we Rocked the Ribbon.  Our event was dedicated to raising awareness of the AIDS pandemic caused by the spread of HIV infection and mourning those who have died of the disease. Students and attendees learned about the history of World Aids Day, living with HIV/AIDS, and the importance of testing and PrEP from Albany Medical experts! Students were able to get resources, information, commemorative masks and red ribbon cookies.
Transgender Day of Rememberance
November 18, 2021
---
A vigil to honor all transgenders whose lives were lost to anti-transgender violence in 2021.  The ceremony included sharing and learning about the violence affecting the transgender community.  The vigil also included reading a list of the names of lives lost (in the US) this year as well as lighting a candle in their memory.  Music and poetry by RSC students was also a part of the ceremony.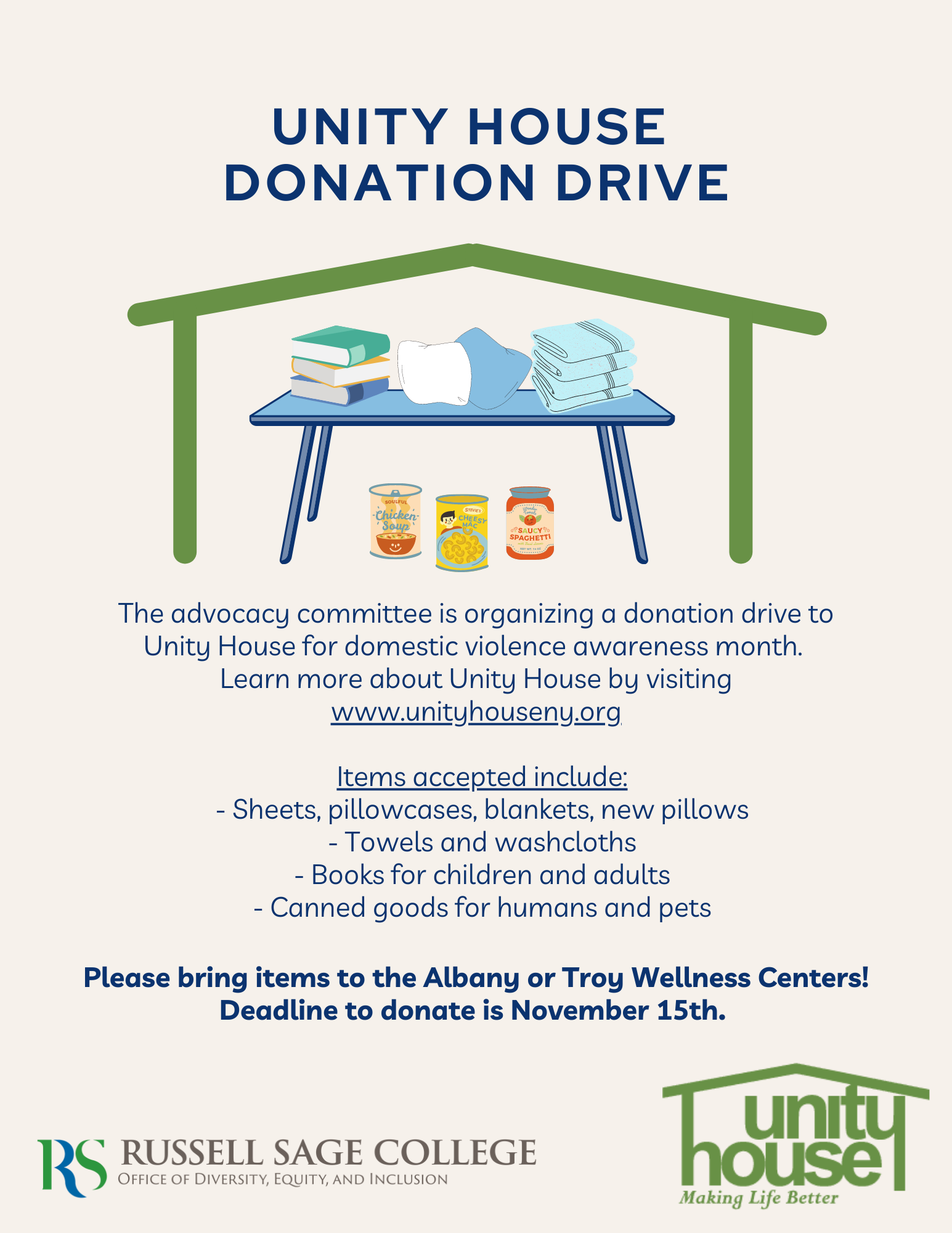 Unity House Donation Drive
November 2021
---
In recognition of Domestic Violence Awareness Month, Russell Sage College held a Unity House Donation Drive to help survivors.  You can learn about Unity House at the following link www.unityhouseny.org  
Warrior's Path: "Protecting and Defending our People"
November 17, 2021
---
A panel, moderated by Dr. G. Morse, will present the groundbreaking report entitled Protecting and Defending our People: Nakni tushka anowa (The Warrior's Path) Final Report. Dr. A. Blume will present the background and importance of the report, Dr. M. Garcia will present the unique outcomes, and Ms. Z. Demir, as an advanced Ph.D. candidate, will present her views of the meaning of the report from the other side of the world. This report reclaims the term Warrior and clarifies the role of the Warrior in the helping professions. We take a new look with ancient eyes at possible ways to overcome colonization in psychology and higher education.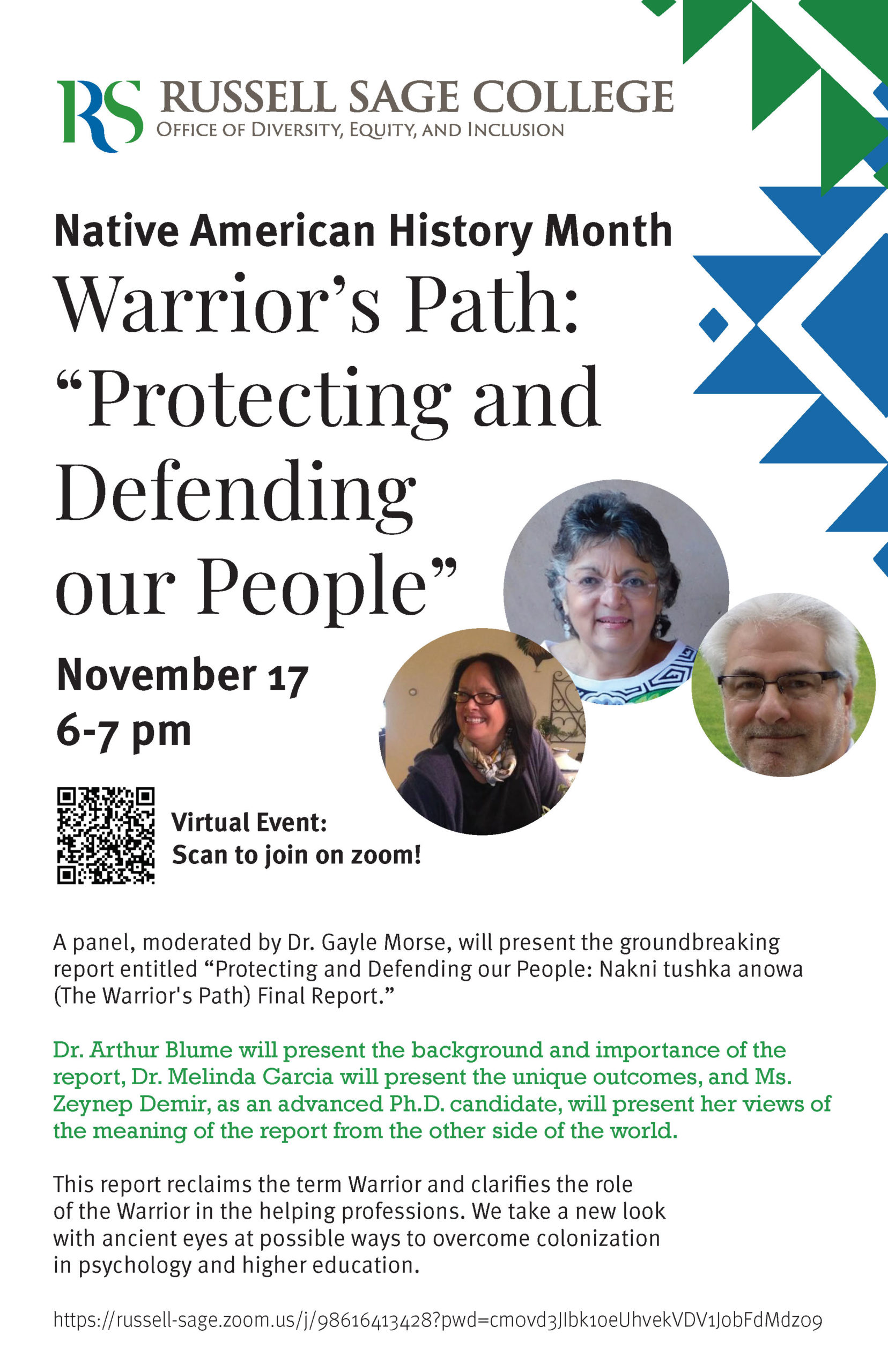 Native American Heritage Month
November 2021
---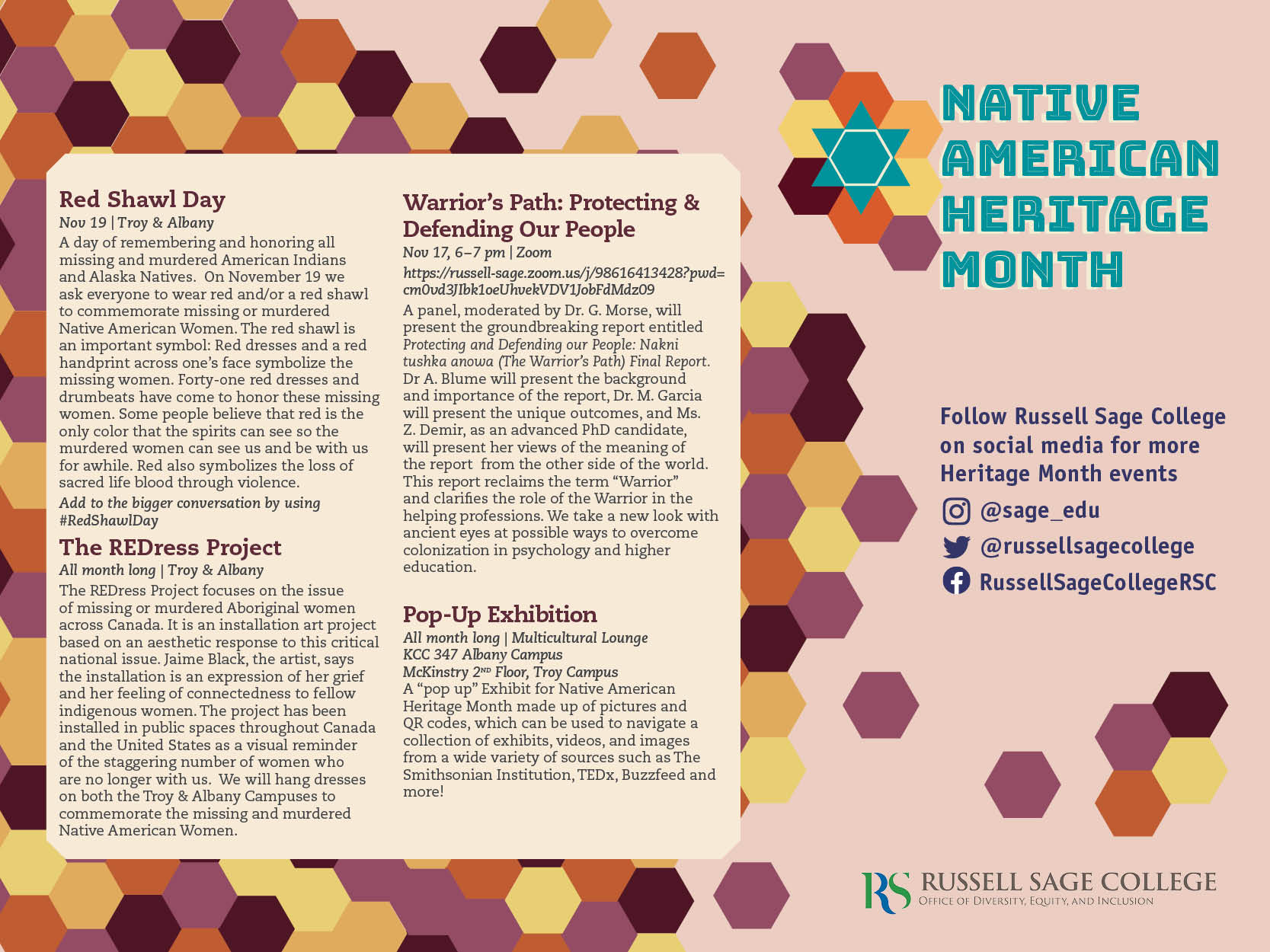 Red Shawl Day
The REDress Project
Warrior's Path: Protecting & Defending Our People
Pop-up Exhibition
Critical Conversations – Critical Conversations is a continuous (sustained) dialogue that examines the current state of affairs and policies in our nation that directly impact our community.
The DEI Critical Conversations Subcommittee has partnered with thrive @ RSC to present a timely discussion on the implications of concussions and racial disparities in diagnostic criteria, settlements in the NFL, and the impact of those settlements on the athletic community.
The first part of this conversation happening on Monday, November 8, will focus on defining concussions, guidelines for diagnosis and treatment, and physical and psychological implications. Concussions are brain injuries that can occur as a result of a variety of circumstances but are typically the result from a blow to the head or body.
The second part of this conversation being planned for Spring 2022 will explore disparities in the medical system and more specifically how it affects professional athletes of color. The NFL has set terms for compensating retired players who show cognitive impairment after playing football, particularly for those who got concussions in game play. In the past year, two NFL veterans have taken legal action against the NFL, saying that the claims process discriminates against Black players by making it more difficult for them to be compensated. We will talk about some of the legal action that has been taken against the NFL as a result of these disparities and the impacts those lawsuits have had on the greater athletic community.
To learn more about concussion settlements in the NFL, listen here:
https://www.espn.com/radio/play/_/id/30904400
Get Conscious about Concussions!
November 8, 2021
---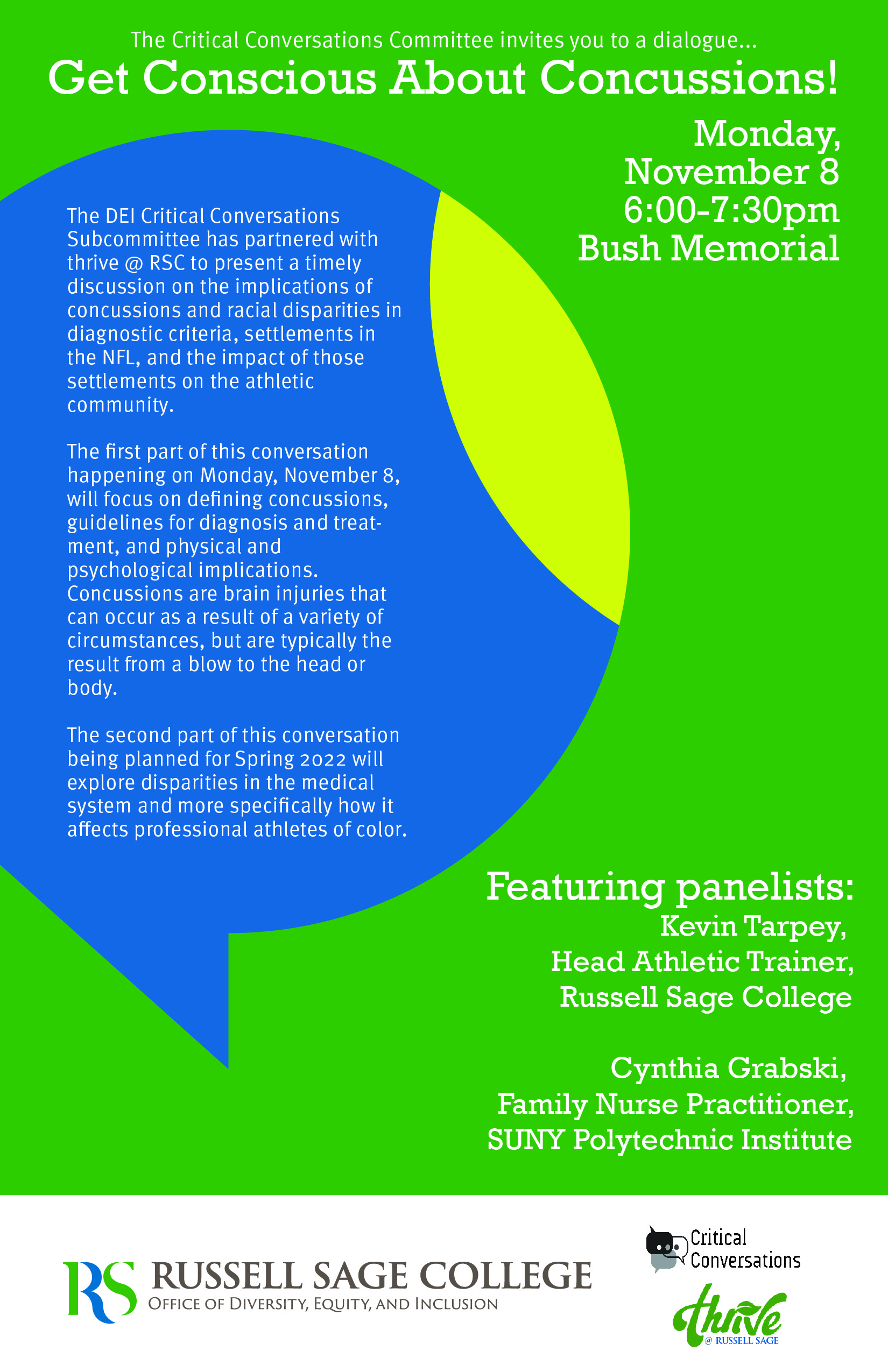 Immigration: The Journey to Justice
October 18, 2021
---
On October 18, 2021 we turned our attention to the immigration crisis at and within our borders. At our borders Politico reports "There's the crisis of unaccompanied minors arriving in the U.S., of too few beds to house them and of family separations happening in Mexico. There's the crisis of an asylum system that's broken, and that has become, with most other legal routes into the country severely restricted, America's de facto immigration system."
Within our borders undocumented youth continue to face challenges regarding their future. The American Immigration Council reports that the lives of hundreds of thousands of people are affected by back-and-forth court decisions. Over 645,000 people were enrolled in DACA as of June 2020. Another 685,000 were eligible, including many who have aged into eligibility. Young undocumented immigrants are hindered in their ability to pursue higher education and/or other opportunities. This has resulted in serious social and economic disparities.
It is important to note that current DACA recipients come from around the world, but more than nine-in-ten were born in Latin America. Mexico is by far the top country of origin for active DACA recipients (548,000), followed by El Salvador (25,900), Guatemala (17,700) and Honduras (16,100). A significant number of DACA recipients also hail from Peru (7,420), South Korea (7,310), Brazil (5,780), Ecuador (5,460), Colombia (5,020) and Argentina (3,970). By region, almost all current DACA recipients were born in Mexico or Central or South America (648,430, or 94%). Another 18,940 (3%) were born in Asia, followed by the Caribbean (8,350), Europe (5,190) and Africa (4,240). Key facts about unauthorized immigrants enrolled in DACA reported by the Pew Research Center.
The panelists of leaders in the community will present varied perspectives on immigration policies and their impact on undocumented students and the larger society. This is a unique opportunity to gain knowledge of the personal and emotional challenges students face. It is also an opportunity to place the real stories and faces of undocumented immigrants within our borders.
Jose Antonio Vargas founder of Define America and author of the upcoming book White Is Not A Country eloquently states "All of us are trying to understand where we fit in this urgent, unprecedented time in American history," …… "I think all Americans, documented or not, are struggling to figure out where we fit in conversations around race and identity. (Which plays into the discussion of immigration and immigration status) "My hope is that by writing this book, I will be having this conversation with the reader. What's our role? Because everyone has a role. There's no opting out."
So as part of the Russell Sage College Community in Albany and Troy what is our role? Where do we fit in? How do we become informed agents of change?
LQBTQIA+ History Month
October 2021
---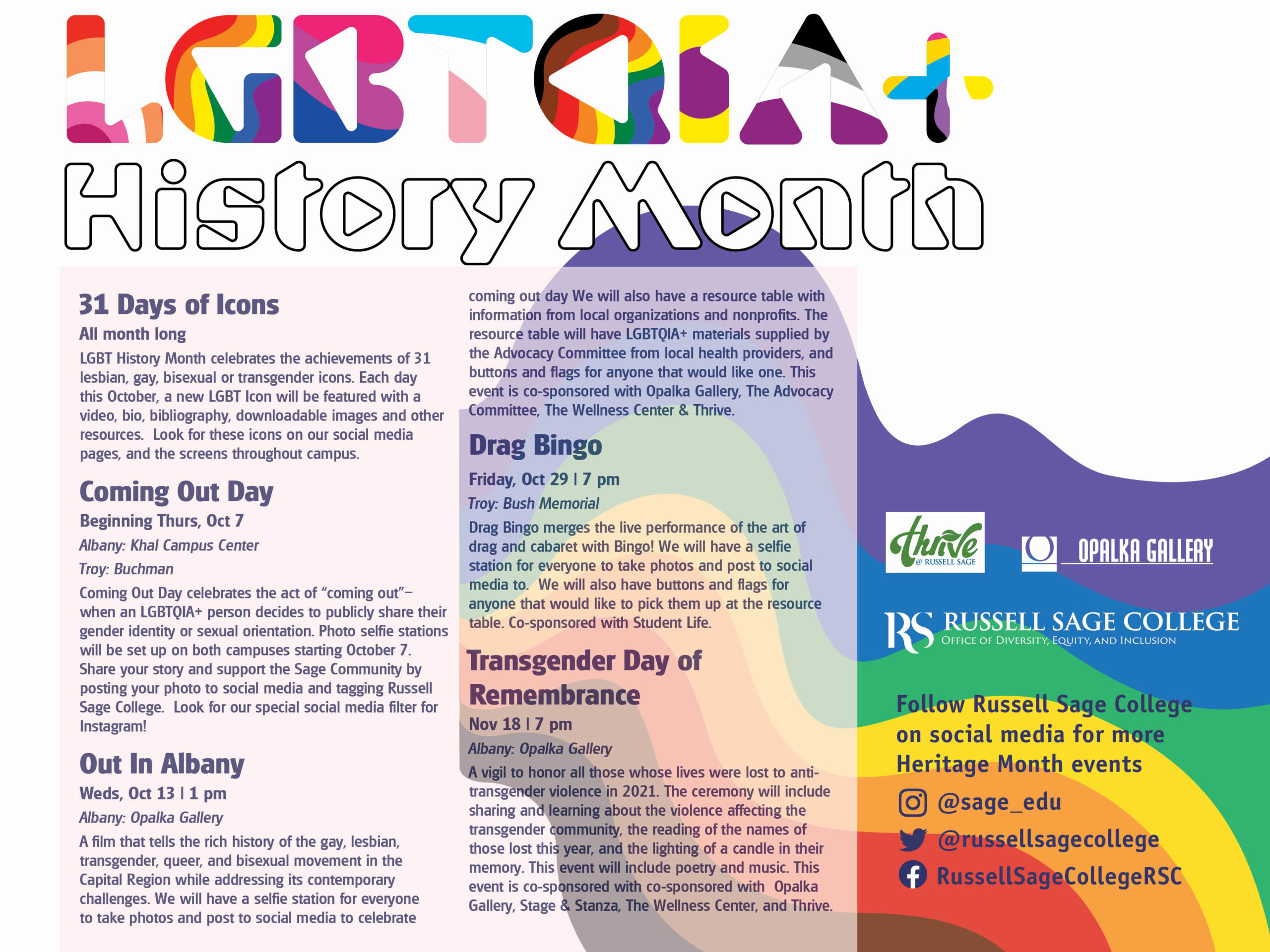 31 Days Icon Social Media Campaign LGBT History Month celebrates the achievements of thirty-one lesbian, gay, bisexual, or transgender Icons. Each day in October, a new LGBT Icon is featured with a video, bio, bibliography, downloadable images, and other resources.
Coming Out Albany  WMHT partnered with Kickstarter to help raise the funds to produce a film that tells the rich history of the gay, lesbian, transgender, queer, and bisexual movement in the Capital Region while addressing its contemporary challenges.
Coming Out Day  Photo Selfie Station for Coming Out Day but can stay up for the whole month. Coming Out Day is October 11, but we will be closed as it is a holiday. Students, staff, faculty  will be encouraged to post their stories of coming out or allies can share their support to their social media pages and tag Russell Sage College.
Drag Bingo See Photos above
Snapchat and Instagram Filter These will be designed for students, staff, or faculty  to post to their social media pages  to share their pride or ally ship in celebration of Coming Out Day, and tag Russell Sage.
Hispanic Heritage Month
September 15 – October 15 2021
---
Hispanic Heritage Month is an annual celebration of the history and culture of the U.S. Latinx and Hispanic communities.
The term Hispanic or Latino (or the more recent term Latinx) refers to a person's culture or origin—regardless of race. On the 2020 Census form, people were counted as Hispanic, Latino, or Spanish if they could identify as having Mexican, Mexican American, Chicano, Puerto Rican, Cuban, or "another Hispanic, Latino, or Spanish origin."  https://www.history.com/topics/hispanic-history/hispanic-heritage-month
The event, which spans from September 15 to October 15, commemorates how these communities have influenced and contributed to the United States society at large.
The timing is key. Hispanic Heritage Month always starts on September 15, a historically significant day that marks the anniversary of the independence of five Latin American countries: Costa Rica, El Salvador, Guatemala, Honduras, and Nicaragua. The designated period is also a nod to those from Mexico and Chile, which celebrate their independence on Sept. 16 and Sept. 18, respectively. (https://www.census.gov/newsroom/facts-for-features/2020/hispanic-heritage-month.html)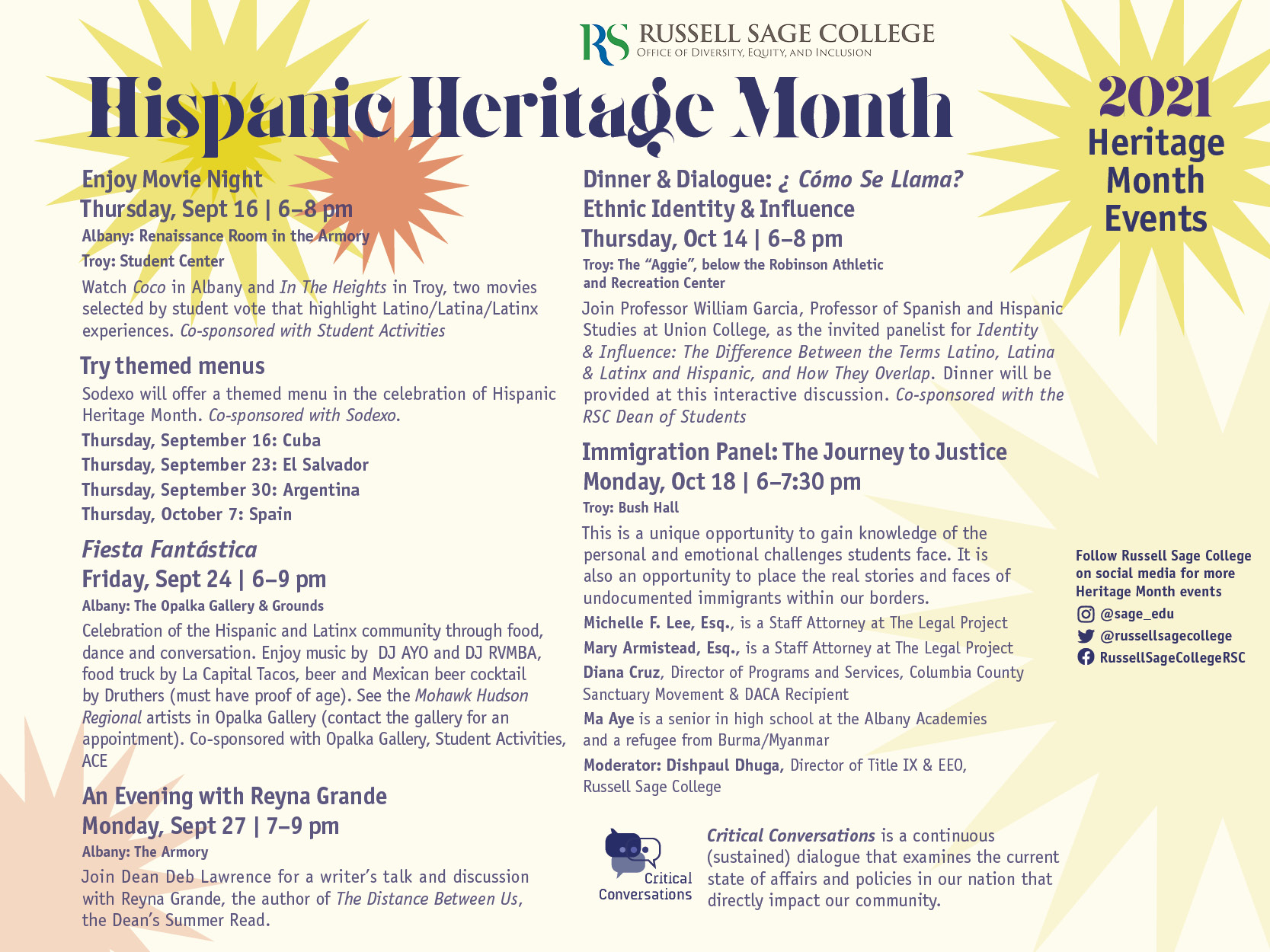 Asian American Pacific Islander Heritage Month
April 2021
---
May is Asian American Pacific Islander Heritage Month (AAPI), celebrating the achievements and contributions of Asian Americans and Pacific Islanders in the United States.
The month of May was chosen to commemorate the arrival of the first Japanese immigrants to the United States on May 7, 1843, and to mark the anniversary of the completion of the transcontinental railroad on May 10, 1869. The majority of the workers who laid the tracks were Chinese immigrants. To discover additional information regarding the history of AAPI Heritage month you can find a number of resources within the body of this email.
With the ending of the school year fast approaching, The Diversity Equity & Inclusion Task Force decided to begin the acknowledgment and celebration in April.
Our Voices is a multimedia project highlighting Russell Sage College (RSC) Students and Alumnae/i conveying their personal achievements and goals or social justice issues they would like to draw attention too. Students can also share in what way their RSC education or community facilitated in navigating these experiences. The series will be broadcasted on our social media platforms
Hawaiian Leis to Say Goodbye Leis are used as a greeting and a farewell on many Pacific Islands and as a part of Asian American Pacific Islander we will be making Leis as we say goodbye to each other and farewell to the graduates. "The making of leis is an enduring cultural practice shared by diverse Pacific cultures and different lei forms and designs distinguish Pacific Island identities and social groups. A lei (garland) may also be called a kahoa, salusalu or ei."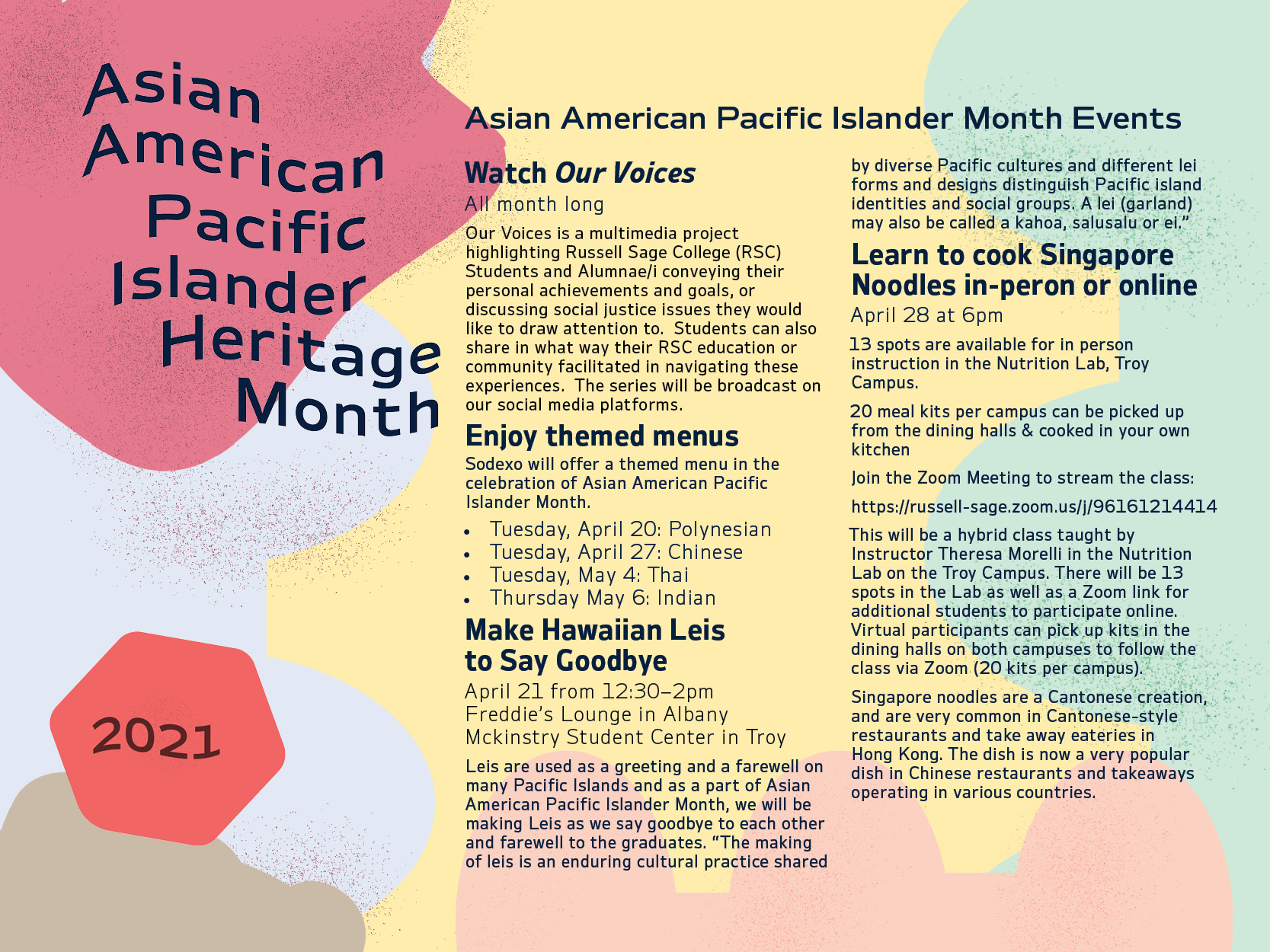 Singapore Noodle Cooking Class (hybrid) This will be a hybrid class taught by Instructor Theresa Morelli in the Nutrition Lab on the Troy Campus. There will be thirteen spots in the Lab as well as a Zoom link for additional students to participate online. Virtual participants can pick up kits in the dining halls on both campuses to follow the class via Zoom (20 kits per campus).

Singapore noodles are a Cantonese creation and are quite common in Cantonese-style restaurants and take away eateries in Hong Kong. The dish is now an extremely popular dish in Chinese restaurants and takeaways operated in various countries. Students will learn the history of Singapore noodles while learning healthy and creative ways to prepare it.

Food & Dining Sodexo will offer a themed menu in the celebration of Asian American Pacific Islander Month.
Making History/Herstory
February 2021
---
A multimedia project that will be shared daily across a variety of RSC social media platforms. The project allows RSC Students and Alumni to share their experiences as they navigate the current political/racial/pandemic landscape of our nation. The stories will highlight struggles, triumphs and lessons learned. Here are a few experiences students shared during the project:
Tyler Cardona
John Johnson
Ruquiah Laville
Adelyn Santos
Black History Month – 2021
February 2021
---
Making History/Herstory – is a multimedia project that will be shared daily across a variety of RSC social media platforms. The project allows RSC Students and Alumni to share their experiences as they navigate the current political/racial/pandemic landscape of our nation. The stories will highlight struggles, triumphs and lessons learned. February 1-28, 2021
'Just Mercy' Watch Party, February 18, 2021, 6:00 pm we will stream the movie for the entire college community
'Just Mercy' Discussion, February 22, 2021, 6:00-7:00 pm,  Special guest speaker Mr. Shawn Young will join us to discuss the story of "Just Mercy" and the racial inequities that still plague our judicial system.
Black History Month Trivia – February 25, 2021, 7:00 pm, Join Student Life for Black History Trivia. Students will compete on Kahoot! for prizes.
Open Mic Night! – February 26, 2021, 6:00 PM, Please join the DEI Heritage Committee and BLSA as RSC students artistically and creatively share and express their experiences surrounding the Black/African American experience and Black excellence.
Profiles in Black History – Throughout February The Women's Institute will profile lesser-known, but still incredibly influential, Black Women Activists.
Food & Dining – Each Tuesday Sodexo will offer a themed menu in celebration of Black History Month.