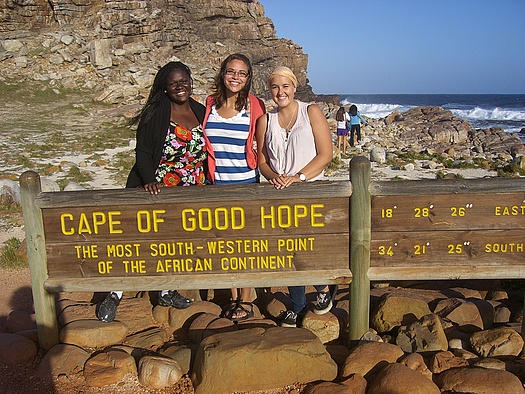 Sage offers many opportunities for students to explore the world through Study Abroad and Study Away programs. Such experiences are essential to gaining the skills and knowledge necessary to succeed in today's global society. Additionally, international experience will broaden students' perspectives and expand their multi-cultural thinking.
"Studying abroad has completely transformed my life. Not only have I learned more about the world around me, but I've also learned a lot about myself. I've become more independent in the few months I've been away from home and this trip has instilled a love of travel in me that no doubt will last a lifetime. I feel truly blessed for this experience. Thank you Sage!" – Annalise Krajeski (RSC '14)
So, you're thinking of studying abroad?
Students who intend to study abroad or away for a semester or year-long program must meet the academic criteria listed below to be considered for participation (from Academic Policy Manual II.D.5):
Qualifications:
Must be a sophomore by academic standing
Maintain a 3.000 GPA or higher (some programs require a higher GPA, check with each program)
Must be a full time student the semester prior to studying abroad and during the term a student is abroad/away
Receive approval by the director of Study Abroad to study abroad/away
Please also note that:
A Study Abroad Application is required for all students wishing to study abroad or away, regardless of the length of the program of study.
Students must meet with the Study Abroad director before submitting an application.
Approval is necessary from The Sage Colleges to participate in any affiliated or non-affiliated study abroad program.
A specific program application is usually required for all students. These are sent directly to the program the student wishes to attend.
An acceptance from the program and the acceptance from Sage are both required before any financial assistance can be awarded.
Students should file for the required Student Visa as soon as know where they intend to study. An acceptance letter from the program is required for the Visa application, but do not wait to make an appointment for the Visa. (Sometimes this takes a long time.) More information on filing for a Student Visa is included with materials from the specific programs.
Want to learn another language before traveling abroad? Sage offers several language programs, including Spanish, French, Chinese, Russian and Italian. Visit Culture and Language Acquisition at Sage (CLAS) for more info.
Sponsored Programs
Sage is affiliated with a number of other institutions and organizations to offer a wide variety of study abroad opportunities. Whatever the major, a deeper understanding of another culture and more proficiency in another language can help better achieve one's goals. Below are some of the programs with which we are affiliated.
China
Sage is partnered with the Shanghai University of International Business and Economics, a Chinese institute of higher education. The strategic connection has resulted in exchanges of faculty and students to and from China.
Denmark

Sage is affiliated with the Danish Institute of Study in Copenhagen, Denmark. DIS has an extensive list of available programs for semester or summer study. This program also meets the Discovery Degree summer abroad requirement.
France
Sage is partnered with Ecole Parsons a Paris/Paris College of Art, which offers an extraordinary opportunity for students who wish to experience European art, design, and the culture of Paris. This program offers studies in Communication Design, Design Management, Fashion Design, Fine Arts, Illustration, Photography, and Critical Studies. Instruction is in English.
Israel
One of the top 100 environmental think tanks in the world, the Arava Institute in Israel is a leading environmental and academic institution in the Middle East, dedicated to preparing future leaders from Israel, Palestine, Jordan, and around the world to cooperatively solve the regional and global challenges of our time.
Sage is proud to offer this incredible opportunity to support one Russell Sage student per academic year to travel and spend a semester studying at the Arava Institute. This grant may be used to cover costs associated with the trip including but not limited to program costs, room, board, health insurance, educational field trips, airfare, transfers, visas, food, transportation, etc. Any costs that exceed the available funds are the responsibility of the student.
Spain
The Sage-sponsored program at the Center for Cross-Cultural Study (CC-CS) in Seville or Alicante, Spain, offers courses in language, literature, history, and the fine arts from the intermediate to the advanced level. Internships may also be arranged, but a semester's advance notice and near fluency in Spanish are required for some placements. Programs in English are available.
United Kingdom
Sage has an agreement with the University of the Arts London. This program focuses on all realms of the art world in six distinctive campuses. Located throughout London, this programs offers a real focus on the Arts.
American Institute for Foreign Study
Sage is affiliated with the American Institute of Foreign Study, which has study and programs in 21 countries and an internship program in the United Kingdom. Some of these programs also offer summer study or service learning opportunities
University at Albany
Sage is involved in a consortium with the State University of New York at Albany, giving our students access to their Study Abroad programs. They offer summer and short-term programs in a variety of countries, and semester-long programs in even more countries.
Webster University
Sage has an affiliation with Webster University. Webster offers study programs in six countries. A wide range of programs are available to students.
New American Colleges & Universities

Sage is involved in a national consortium of similar colleges called the New American Colleges and Universities (NAC&U). Students have the opportunity to participate in selected Study Abroad programs, which have included Greece, China, Senegal, England, Austria, and Norway.
Financing and Aid
The Sage Colleges is committed to providing access to students to study abroad. Part of that commitment is making study abroad programs as affordable as possible, therefore, students who attend a Sage or Sage Affiliate program will be billed directly from The Sage Colleges. This allows students to use their financial aid package to assist in covering the costs of a semester or year long program abroad.
Sage institutional aid may be limited or may not apply to your Study Abroad program. Typically aid does not cover extra costs associated with your travel. Carefully consider all costs to decide whether you can afford the program.
The type of program you select is important for your finances and eligibility for financial aid.
If you participate in a Sage-sponsored program, you will remain registered at Sage and your financial aid package can be applied.
If you sign up directly with a university abroad or non-affiliated program outside of New York State, your state and federal aid may not be usable.
Getting your financial aid when you need it is not always easy, even in the best of circumstances. The official "disbursement dates" for financial aid are usually tied to Sage's academic calendar and may not correspond with Study Abroad programs that begin earlier or later than a typical semester. This is particularly true for summer travel, where the course may be fully completed before the July disbursement date.
The Office of Financial Aid can assist you in obtaining short-term loans to bridge that time gap. If you are going on a Study Abroad program with an early starting date, contact the Office of Financial Aid  to see if arrangements can be made to release some funds earlier.
Study Away Within The U.S.
Sage students can also choose to study for a semester in a select group of other American Universities and Colleges. To see a list of these American Universities and Colleges, visit the NAC&U website.
International Students Study at Sage
Sage welcomes international students from around the globe and around the corner. Our small vibrant campuses offer international students a comfortable environment to succeed academically and personally. If you are an international student interested in The Sage Colleges, we would love to hear from you and answer whatever questions you may have about the Colleges, Troy and Albany, New York, or the United States and how we can help you feel at home when you are so far from yours.