The Sage Colleges offer both Bachelor of Science and Master of Science degrees in Nursing. Information for both programs is included on this page.
B.S. at Russell Sage College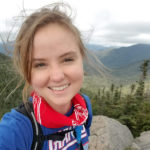 "I am grateful to the Sage faculty for modeling what compassionate nursing care looks like in their own practice. I am also grateful for how Sage has connected me with facilities in our local community that are working to bring health care to underserved segments of the population." — Nursing major Emily Mackey '20; Read about how Emily's Sage education helped her stand out for an extremely competitive Nurse Corps scholarship.
As 21st century health care evolves and changes, the role of the registered nurse has taken on new importance. Nurses are the face of health care for millions of patients each year. They not only treat the sick, but serve as crucial links to health care institutions for family and loved ones, and they engage in the important work of keeping people healthy through preventive medicine.
Sage's program meets the state requirements of all 50 states. At Sage you'll turn your interest in health care, your compassion, and your desire to help others into an exciting and potentially life-saving career.
The Baccalaureate Program admits students who are preparing for the initial licensure examination (NCLEX-RN). The Baccalaureate Program is available through Russell Sage College on a full-time or part-time basis. Transfer students are accepted into the basic program prior to the junior year. There is a minimum of five semesters of nursing courses in this program (may include some summer session courses).
A total of 120 credits is required for the B.S. degree at The Sage Colleges. Forty-five credits need to be taken at The Sage Colleges. Sixty credits in the Arts and Sciences are required including the general education requirements of Russell Sage Colleges (36 credits). The nursing major includes 54 nursing credits and 27 credits of required support courses for the B.S. degree.
A student may transfer in up to 60 credits from an Associate's Degree program, or up to 75 credits from a Baccalaureate Program.
The sequence of nursing courses requires five to six semesters of study. Transfer students receive an analysis of their prior course work and establish a planned sequence for the remaining courses in the curriculum. Courses may be offered in varied schedules including day, evening, institute format, as well as some summer session courses. 
How to Apply
Students with a High School diploma or an Associate's or Bachelor's degree in another major who wish to earn a Bachelor's degree in Nursing, and are not a registered nurse, should apply to Russell Sage College.
Students with an Associate's Degree in Nursing or an Associate's Degree in Nursing with a Bachelor's in another major, who wish to earn a Bachelor's degree in Nursing, and are a registered nurse, should apply to Sage College of Albany.
Students may transfer in up to 66 credits from an associate degree RN program, or up to 90 credits with courses from a baccalaureate degree program. A minimum of 30 credits must be taken at The Sage Colleges.
Application Deadlines

Spring Semester: October 1
Fall Semester: March 1
M.S. at The School of Health Sciences — Nurse Practitioner
The Department of Nursing at the School of Health Sciences at The Sage Colleges has earned a reputation for excellence among its graduates, and one of the strengths of the program is faculty advisement and guidance.
Advanced practice nurses have opportunities to serve as innovative leaders and skilled practitioners, and contribute to the improvement of nursing and health care practice. The demand for nurse practitioners, clinical nurse leaders/specialists, nurse educators, and nurse administrators/executives continues to grow in the rapidly changing and expanding systems of healthcare environment.
Graduate study provides the opportunity to examine existing theory and practice by the combined use of academic, clinical, and research activities, to contribute to the developing body of theory relevant to the knowledge and skills necessary to practice at a high level of expertise, and the opportunity of specialization in advanced practice.
Students enter graduate study with considerable diversity in background; their growth is facilitated by program planning to meet individual needs. Students assume responsibility for self-growth through individual planning, continued learning, self-direction, and self-evaluation.
The department of nursing strives to promote baccalaureate, graduate, and doctoral nursing education in an environment which emphasizes the development of individuals as professional nurses with a vision of their own power, and a clear sense of self and their professional role. The department endeavors to prepare graduates who are critical thinkers, who utilize, transmit, and develop new knowledge through systematic models of scholarly inquiry, and who demonstrate a commitment to lifelong learning. Preparation for excellence in nursing practice is achieved through the integration of arts and sciences, humanistic concern for the health and well-being of others, and an awareness and appreciation of cultural diversity in a pluralistic society. The Sage Colleges strives to prepare graduates who are assertive and practice client advocates, enabling clients to maximize their own potential. The global and technological context in which the nursing profession continues to evolve is emphasized, with the expectation that our graduates will assume leadership roles as professionals, and citizens in organizations to influence health care delivery, nursing education, and the welfare of society.
Nursing at Sage…
provides advanced study in a specialized area of clinical nursing.
prepares graduates for the role of nurse practitioner, nurse educator, nurse executive-administrator or clinical specialist.
educates nurses for leadership roles in the advancement of nursing theory and science.
Programs
Students presently pursue full or part-time studies with a focus on adult-gerontology or community health populations within the nurse educator, nurse executive-administrator or clinical nurse specialist tracks. In addition, students may pursue nurse practitioner tracks in: Adult-Gerontology Primary Care, Family or Psychiatric Mental Health.
For more information on the specific courses involved in the M.S. in Nursing visit the catalog page.
Program Tracks
Adult Gerontology Nurse Practitioner
Family Nurse Practitioner
Psychiatric Mental Health Nurse Practitioner (Across the Lifespan)
Within the Post-Master's Certificate Program, students may also choose from among these same tracks, as well as Acute Care Nurse Practitioner.
Master's Degree Requirements: The Master's of Science Degree in nursing requires 39-48 credits and can be completed on a full-time or part-time basis from 2 years to 7 years depending on the program and student interest.
Students with a prior Master's degree may complete a second Master's with fewer credits. An individualized program plan is completed for every student in consultation with graduate faculty.
Gainful Employment
Nursing certificate programs are subject to Gainful Employment Regulations.
General Information
Students may attend the Master of Science Degree Program with a major in nursing on a full-time or part-time basis. The program is a minimum of three to four terms for full-time students. Selected required courses and electives are available during the summer sessions.
Students taking clinical courses need to submit evidence of the following, one month prior to each clinical course:
current licensure as a registered professional nurse
professional liability insurance (as a student nurse practitioner for NPs)
required immunizations, titers, and tuberculin test
recent physical exam
current CPR preparation
Graduates with the required number of clinical hours are eligible to take the advanced level certification examinations offered by the American Nurses Credentialing Center for clinical nurse leaders/specialists, administrators/executives, or nurse practitioners.
Sage's curriculum prepares nurses for advanced practice roles in a changing health care system, and in their own clinical area of interest. Clinical experience is available in local, regional, and national health care agencies. Courses are offered day, evenings, or in an institute format with alternate week course scheduling.
Admission Requirements
Applications will be accepted no later than March 1 for Fall enrollment and October 1 for Spring enrollment.
Decisions will be made by April 15 for Fall enrollment and November 15 for Spring enrollment. All applicants will be notified by mail.
All application materials including transcripts, letters of recommendation, applicant essay, and resume must be submitted by the deadline date: March 1 (for Fall), October 1 (for Spring).
Applicants to the Department of Nursing must meet Sage Graduate School admission requirements:
Applicants must be currently licensed as a registered professional nurse in the state where they practice.
A baccalaureate degree in nursing from a nationally accredited program or its international equivalent (see below for additional requirements for Foreign Educated Students).
A Registered Nurse with a baccalaureate degree in a field other than nursing and an associate degree in nursing. This is a provisional admission with additional requirements.
A GPA in a baccalaureate nursing program of 3.0 on a 4.0 scale (for those who have not achieved a GPA of 3.0, a small percentage of candidates may be admitted on a provisional basis).
Official transcripts of ALL previous undergraduate/graduate study
Two letters of reference from an academically qualified individual and/or a professional who is master's or doctorally prepared. Letters should identify the professional relationship and reference ethical and professional behavior, clinical competency, and the ability to complete the program successfully.
1-2 page statement of professional goals
Resume or curriculum vitae.
Successful completion of an undergraduate statistics course within three years of admission, or demonstrated competency by a portfolio or upon advisement.
International Students
Foreign educated students applying to the Graduate Nursing Program (ALL TRACKS) must meet all the above requirements for admission and the additional following requirements:
1. Proof of English proficiency. The following tests are acceptable:
Results of the Test of English as a Foreign Language (TOEFL) minimum score of 550 (paper), computerized score of 213 or internet based score of 79
Results from the IELTS (International English Language Testing System) with a minimum score of a 6.5
Results from iTEP (International Test of English Proficiency) with a minimum score of 5
A transcript from the Embassy CES Curriculum indicating a student has passed Level 6.
Applicants who have previously attended a high school, college or university in the United States for more than two years and have earned passing grades in English courses may be exempt from an English proficiency exam.
2. Evidence of NCLEX- RN Pass PRIOR to acceptance to the Graduate Program and a currently registered unencumbered NYS RN license
3. In addition, please check for requirements for international students through the Sage Graduate School Admissions Office.
Post-Master's Certificate Requirements (in addition to Graduate Admission Requirements)
Master's Degree in Nursing
Interview with Graduate Program Director
Bridge to Master's Program
Are you a Registered Nurse with a Bachelor's in a separate field who is interested in pursuing a Master's in Nurse Practice?
If so you may qualify for our Bridge to Master's program. This program is designed to matriculate Registered Nurses with a Bachelor's in a non-nursing related field into our Nurse Practitioner programs. As a Bridge candidate, you apply to our Master's program as a traditional Master's applicant by the deadlines listed above. During the review process your application would be identified as a Bridge candidate and upon acceptance three undergraduate Nursing courses added to your program plan.
Once you complete these three courses, you will be matriculated into the Master's degree program!
Transfer Credit
A maximum of nine graduate credits or 25 percent of the degree program, whichever is greater, may be transferred from another accredited institution toward the master's degree at Sage Graduate Schools if such work was taken within five years of the first course counted toward the degree at Sage. Transfer credit is granted at the discretion of the Graduate Progam Director and the Dean of School of Health Sciences. Transferred courses must be a "B" or better ("B-", "S", and "P" grades may not be transferred). The student should initiate a request for transfer of credit by making a written request to the program director.
Health Alliance Agreement
The vast majority of our graduate level Nursing students are members of our Health Alliance Agreement. As a member of our Health Alliance, you will receive a 10% discount on tuition and referred tuition payments. If you are currently working in the hospital setting chances are that you qualify for our program. You can find a list of our community partners and more information on our Alliance page.
Application Procedure
Sage Graduate School uses a self-managed application process. With this process the student accumulates all of the admissions materials required, including a completed application, all academic transcripts, two letters of recommendation (sealed), a resume, and a goals statement. The package is sent to the Graduate Admissions office with the application fee. Applications are accepted year round.
Facilities
The Department of Nursing is located in Ackerman Hall on the Troy Campus. There are two college nursing facilities, one for Health Assessment, and one for practice in an acute care environment. Most of the clinical experiences in nursing are in the health care agencies in the Capital District. RNs from outside the Capital District may choose to arrange some of their clinical placements in their home community.
Accreditation and Certification
The Sage Colleges is accredited by the Middle States Association Commission on Higher Education.
The Department of Nursing is a member agency of the American Association of Colleges of Nursing, the National Organization of Nurse Practitioner Faculties, the National League for Nursing, and the Council of Deans of Nursing in Senior Colleges and Universities in New York State.
The baccalaureate degree program in nursing/master's degree program in nursing and post-graduate APRN certificate programs at The Sage Colleges are accredited by the Commission on Collegiate Nursing Education (http://www.ccneaccreditation.org). All nursing programs are registered with the New York State Education Department.
The Nursing Department has also been a participant in the John A. Hartford Foundation Baccalaureate Program Partner for disseminating Best Nursing Practices in Care for Older Adults.