Forensic Mental Health at the School of Health Sciences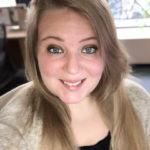 Amanda Henderson's master's degree in Forensic Mental Health from Sage helped her stand out for the highly selective New York State Excelsior Service Fellowship program. Read about Amanda Henderson's Sage experience.
The School of Health Sciences at Sage offers a Master of Science and a Certificate of Advanced Study in Forensic Mental Health to meet the growing demand for programs, services, planning, and professional supervision of clients who have both mental health needs and criminal justice involvement.
In learning about the many issues facing agencies, individuals, and families who are affected by the forensic mental health system, graduates are prepared to provide specialized expertise across the many social systems these clients utilize, including criminal justice, mental health, substance abuse, and social service systems.
Master of Science in Forensic Mental Health
Students pursuing an M.S. in Forensic Mental Health at the School of Health Sciences may choose between a generalist curriculum (39 credits) or an enhanced curriculum (45 credits) with a concentration in Health Services Administration. Both include clinical and non-clinical coursework in social science research, law, psychology, criminal justice, substance abuse, and victimology.
Students who choose the optional Health Services Administration concentration will gain broader disciplinary knowledge and enhanced skills to work more effectively in public and private sector agencies related to behavioral health homes, substance abuse management/treatment, pre-release planning for correctional clients, and Medicaid Redesign Teams (MRT).
After completion of program prerequisites and at least 30 credit hours of study, all students will complete a minimum 240-hour externship in a forensic mental health setting.
Note: While students do complete some clinical coursework, this is a non-clinical degree program. Graduates who remain in New York will not be eligible to sit for state licensure. Students intending to relocate should review the licensure requirements of the jurisdiction in which they intend to practice.
Application Requirements
Official transcripts from all post-secondary institutions attended
Two letters of recommendation
A 1-2 page career goals essay
A current resume
Certificate of Advanced Study in Forensic Mental Health
The C.A.S. in Forensic Mental Health (18 credits) is an excellent option for students who:
Already have a baccalaureate or graduate degree in a related discipline such as psychology, criminal justice, law, or social work, and want to learn more about Forensic Mental Health without pursuing a master's degree
Are working in the fields of criminal justice or law, and want to learn about Forensic Mental Health to work more effectively with their clients
While not working in the field, have an interest in issues related to mental health and criminal justice, and want to gain a basic knowledge of the field